Career Profile: Lessons in Joy from Jeff Kelly Lowenstein
Image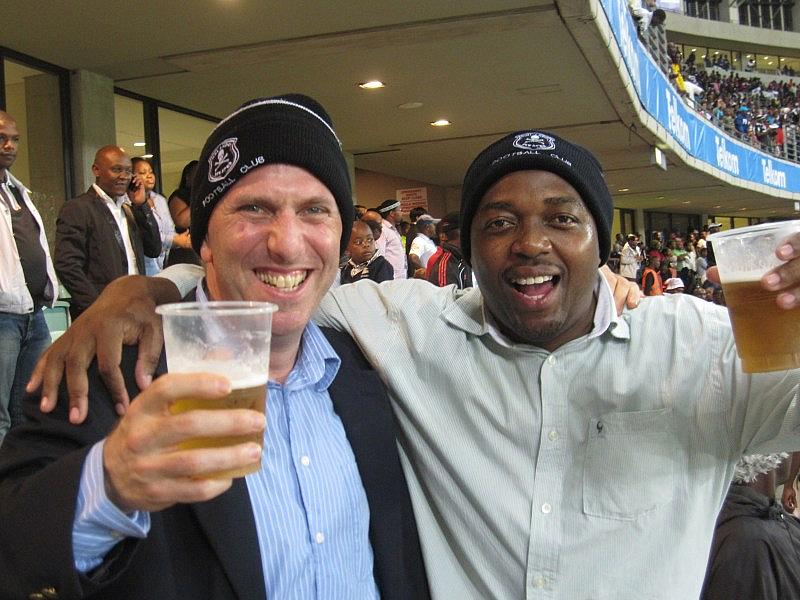 Published on
January 5, 2012
Conversations with Jeff Kelly Lowenstein are punctuated by laughter. It's not just the kind of chuckles that help lubricate conversation. Kelly Lowenstein's laughter is the kind that comes from the gut, the kind born of genuine delight with the world.
I first met Kelly Lowenstein when he joined Reporting on Health over two years ago. We exchanged emails about how to build community and design the site. Even through our online conversations, I was bowled over by his positive attitude.
(Left: Jeff Kelly Lowenstein, on the left, with friend Vukani Cele, at Moses Mabhida Stadium in Durban, South Africa, for a soccer game between the Orlando Pirates and Bidvest Wits. Photo courtesy of Jeff Kelly Lowenstein.)
It's hard to make a living as a journalist and cover stories that you think are important, but Kelly Lowenstein, data and investigative editor for Hoy, the Chicago Tribune's Spanish-language paper, maintains a great attitude about his work. He recently wrote a blog post about covering last month's Climate Change Conference in Durban, South Africa:
"I don't know about you, but there are moments when life feels deep down good, when the hard work you've done on various projects and the people you've surrounded yourself with make you feel that, while there is tremendous hardship, poverty and oppression in the world, which may well be slated for environmental disaster unless we together can make drastic changes in our production and consumption habits, when, despite all that, there are good and decent and admirable people in the world.
"At those moments, I feel draped not in a foolish sense of impossibility, but rather as part of a web that I've woven with other people based on our shared passion and values and dreams."
To help start the New Year right, I talked to Kelly Lowenstein about why he loves his work so much and what sustains him. His lessons are simple but powerful for anyone trying to make a meaningful career as a journalist.
"Be comfortable failing."
While working at The Chicago Reporter in 2007, Kelly Lowenstein got a fellowship with the Institute for Justice and Journalism to write about undocumented Latino workers who became disabled on the job. To better communicate with his sources, Jeff taught himself Spanish. He read Hoy, listened to Spanish radio, and watched telenovelas.
"The downside was that I started imitating those characters," Kelly Lowenstein laughed.
He started working at Hoy in March, 2011, where a colleague finally told him that a verb he used repeatedly was not actually a real word in Spanish. But he was never afraid to speak in Spanish, and not afraid to try and then learn from his mistakes.
"Just remember, you don't have to figure out your whole career. You just have to get the next thing."
Kelly Lowenstein spent 15 years in education, first as a recess aide, then as a teacher and in education development, before he decided to become a journalist. He was 37, with a wife and child, when he started a master's degree program at Northwestern University's Medill School of Journalism. After he finished the one-year program, Kelly Lowenstein struggled to find work. He freelanced and did temp work at Medill while job hunting, but he knew what he wanted to do: report on issues that often went unnoticed in Chicago's media. 
His first full-time job was with a small weekly, the South Shore Community News, where he worked in a three-person newsroom, with the publisher and "layout and delivery guy."
"It was hard financially -- it paid horribly and sometimes the check bounced," Kelly Lowenstein said. But Kelly Lowenstein's goal was to provide news to an underserved community.
"I liked what we were doing," Kelly Lowenstein recalled. "I had a lot of freedom, it was a fascinating community, and I was freelancing actively as well. I was doing what I wanted -- that was progress."
When the South Shore Community News folded in 2005, he got a job at the Chicago Reporter, a bi-monthly magazine where he worked on long-term investigative projects.
"If I didn't get the job at the Chicago Reporter, I wasn't sure what I was going to do," Kelly Lowenstein said. "Sometimes you question the path you're taking. It was difficult, but it was what I wanted to do and my wife was supportive."
"Have fun."
Even when work is challenging – when he was not sure he was making progress in his career -- Kelly Lowenstein remembers that he is fortunate to have a great family and a wife who gives excellent pep talks. That he knows what kind  of work he wants to be doing is a gift. He approaches his life and work, with all its ups and downs, "from a place of profound gratitude." This year, the theme of his personal blog will be "sources of joy."
"Part of what makes me excited about what I do now is that I had a whole other career and switched," he said.
Kelly Lowenstein joined Hoy last March when a former colleague recruited him. The paper only employs 10 people, but it is still the largest newsroom he has ever worked in and he saw the move as an opportunity for professional growth.
"When I went down to the Tribune on the fourth floor, I thought, this place is like Hogwarts," Kelly Lowenstein said. He was charged with being a bridge to the Tribune newsroom to encourage joint projects and collaboration between the two papers. He also works on blog posts, graphics and maps, as well as stories, briefs and investigations.
"I'm very fortunate to be here at Hoy. It's a real good match for the kind of issues I'm excited about and the kind of environment in which I like to work," he said.
Last year, after applying twice previously, Kelly Lowenstein won a grant from the Dennis A. Hunt Fund for Health Journalism. His project, a series unfolding over the year, explores the health of, and access to care for, Latinos in Chicago. Several stories have already run.