Center announces $25,000 in reporting grants from 2022 California Impact Fund
Image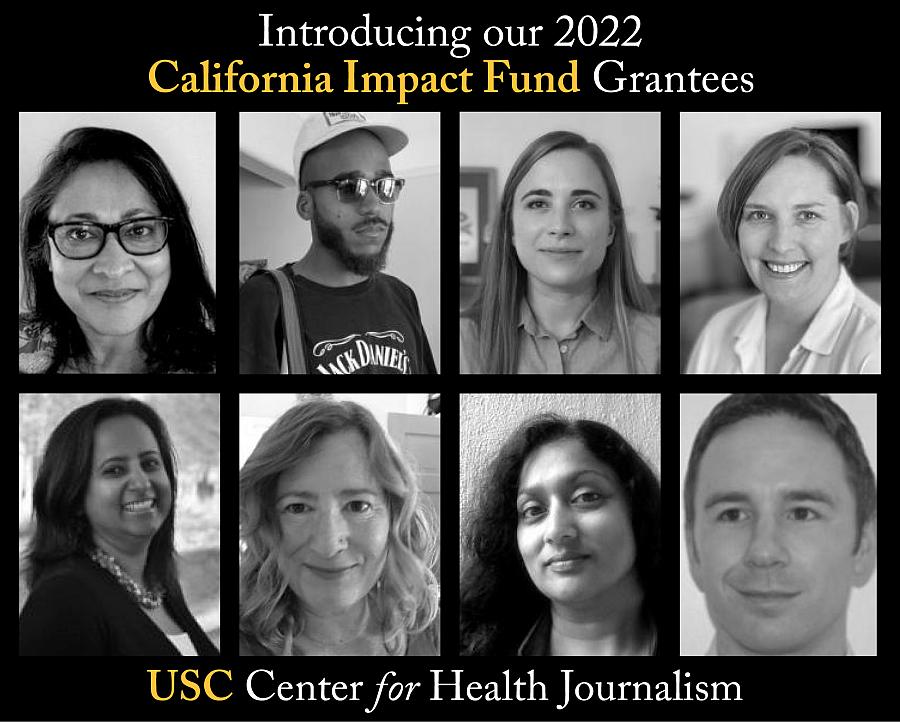 Published on
February 24, 2022
I'm pleased to announce that the Center for Health Journalism has awarded $25,000 in reporting grants from its 2022 California Impact Fund to support eight California journalists as they undertake ambitious explanatory or investigative reporting projects about California's health challenges and opportunities for change. Participating reporters join us from around the state, from the Central Valley to Los Angeles to the San Francisco Bay Area. Half of the newly-awarded Impact Fund grantees are reporters of color.
"This is a moment when it has never felt more urgent to support health reporting that investigates and explores conditions and systems that contribute to the health or ill health of California communities. We are inspired by the creativity of the 2022 California Impact Fund grantees and look forward to partnering with them over the coming months.
"While there's been much focus on the disproportionate impact of the COVID-19 pandemic on communities of color in California, it's certainly not the only barrier to greater health equity across the state," said David Littlefield, public affairs manager at The California Wellness Foundation. "We're pleased to support the California Impact Fund and help elevate these important stories in ways that can advance solutions and change."
The competitively-chosen Impact Fund grantees will each receive a reporting grant of $2,500-$10,000 and ongoing mentoring from two veteran journalists, Amy DePaul, who teaches literary journalism at UC Irvine, and Catherine Stifter, a former radio documentary maker with Capital Public Radio and NPR. Both are former Center for Health Journalism California Fellows. 
The Center also provides the opportunity for engagement mentoring and grants for some of the California Impact Fund Fellows. 
The Impact Fund program and awards are supported by a generous grant from The California Wellness Foundation. The Blue Shield of California Foundation and The California Endowment support the Center's "engaged reporting" initiative, which helps journalists frame reporting around in-depth community outreach and connection. 
The grantees and their proposed projects are:
Meera Kymal and Anjana Nagarajan-Butaney will undertake a storytelling and community engagement project for India Currents and The Desi Collective about domestic violence in California's South Asian immigrant communities, highlighting stories, challenges and possible solutions. 
Lexis-Olivier Ray, an investigative reporter for L.A. TACO, will investigate the health impacts of sanitation sweeps on unhoused residents in Los Angeles.
Lee Romney, a Bay Area freelance podcaster will produce two radio documentaries for KQED, with accompanying print pieces for MindSite News, which will examine historical inequities and the shadows they still cast today in California's mental health system.
Liza Ramrayka, a Bay Area freelance journalist, will report a three-part audio series for KALW about mental  health issues  in the Bay Area's Asian and Pacific Islander communities, with a focus on inequities in access to mental health services, lack of culturally appropriate care, stigma and established or emerging solutions. 
Dan Ross, a freelance journalist for Capital & Main, a Los Angeles-based investigative outlet, will look into how Los Angeles County is faring in its goal of drastically reducing Black infant mortality rates. 
Monica Vaughan, a Fresno-based freelance journalist, will manage and co-report a three-part investigative series with reporters from The Fresno Bee, Valley Public Radio and Fresno's CBS and NBC affiliates on health disparities from air pollution and policy solutions in the San Joaquin Valley.
Taylor Walker, assistant editor of WitnessLA, will report a multi-part series about reasons for the disproportionate impact of foster care on Black children and youth in Los Angeles County and promising strategies to reduce the disparity.
The Center for Health Journalism has trained more than 1,200 journalists since 2005 and provided financial support for hundreds of investigative and explanatory journalism projects. The Center's "impact journalism"marries powerful narratives, data and community engagement to improve health conditions in communities across America.
Read more about the Center here.