Image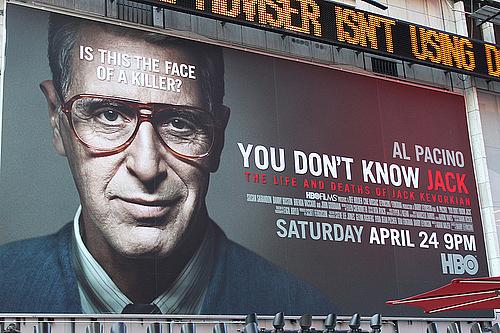 Published on
June 3, 2011
In the Friday edition of the Daily Briefing we bring you the big news today, a report on race and health care, new ideas about AIDS, a toilet story and great listening for your weekend.
Jack Kevorkian Dies: The pathologist was convicted for second-degree murder in 1999 and ignited a national debate on assisted suicide. He died in Michigan, where The Detriot Free Press reports.
Disparate Care: A new federal report says that Blacks receive the worst outpatient care of any race or ethnic group in California. Joanna Lin at California Watch reports.
Can AIDS End? The Economist says that it can, but asks if the world has the will to make it happen. 
In 2005 the disease killed 2.1m people. In 2009, the most recent year for which data are available, the number was 1.8m. Some 5m lives have already been saved by drug treatment. In 33 of the worst-affected countries the rate of new infections is down by 25% or more from its peak. Even more hopeful is a recent study which suggests that the drugs used to treat AIDS may also stop its transmission (see article). If that proves true, the drugs could achieve much of what a vaccine would. The question for the world will no longer be whether it can wipe out the plague, but whether it is prepared to pay the price.
For the fictional version, try Anne Marie Ruff's Through These Veins.
Weekend Listening: This American Life should be a Saturday staple in your media diet. Last week, they aired a show called "The Psychopath Test," a fascinating story about how the our justice system measures the mental fitness of potential parolees.
Tomorrow, they'll air a story about Texas nurses who paid a heavy price for blowing the whistle on a doctor. Here's a quick primer:
Doctors Behaving Badly: Cornered doctor turns on nurses, with the help of a friendly sheriff
Doctors Behaving Badly: Vengeful doctor and his sheriff buddy face Texas-style justice
Q&A with Clair Jordan: Defending nurses who blow the whistle
Business in the Toilet: Students from MIT Sloan School of Management have a big idea for the slums of Nairobi. Jason Margolis at The World explains.
Sanergy Overview from Ani Vallabhaneni on Vimeo.
Get more from ReportingonHealth via RSS, email newsletters, Facebook or Twitter.
Photo of billboard by txefar via Flickr Creative Commons.