Domestic violence is a big driver of crime in Milwaukee. A reporter sets out to trace its devastating toll.
Image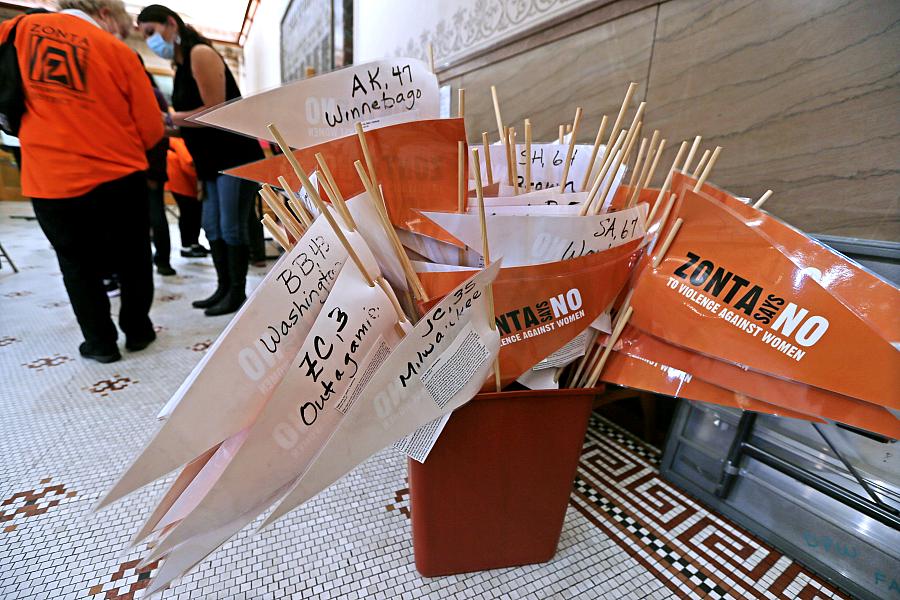 Angela Peterson/Milwaukee Journal Sentinel
Published on
June 15, 2023
The stories stay with you.
The mother fatally shot in front of her 5-year-old son, just days after trying to get a restraining order against her killer.
A mother and daughter stabbed to death by a menacing boyfriend, who started a fire using the child's coloring book to try to cover up his crimes.
The police officer killed by a man who had been accused of repeatedly beating and threatening his wife and burning her with cigarettes.
I am angry and tired — tired of writing the same stories over and over again. 
When Milwaukee County officials announced a new lethality training in 2014, I thought it was the answer. An easily implemented and academically validated assessment to help police identify who is most at risk to be killed by an intimate partner? That is a powerful tool.
An innovative team to review the assessments and provide rapid responses to keep victims safe and hold perpetrators accountable? Even better. 
But despite those efforts, people keep dying.
In Wisconsin, someone — usually a woman — dies every week as a result of domestic violence. In Milwaukee, the state's largest city, dozens of women die or are injured every year. Frequently, those who abused them never faced consequences, never were a high enough priority for police or probation agents to find, or never had the focus of prosecutors, who often declined to file charges without a victim's cooperation. 
Domestic violence, long seen as a crime happening in private, often spills over into community violence. In Milwaukee, bystanders have been killed when they tried to intervene in a situation or when they merely happened to be in the same area when an abuser drew a gun.
The scope of domestic and family violence in Milwaukee's homicide rate has become clearer in recent years. Previously, Milwaukee police routinely classified most homicides as a result of an argument or fight, even if the underlying circumstances of the dispute related to domestic or intimate partner violence.
That's changed, with police officials now estimating as many as 20% of homicides — or one-in-five – stem from domestic, family or intimate partner violence. Earlier this year, the Milwaukee police chief called domestic abuse a "root cause of a significant amount of violence in our city" and dedicated more resources to addressing the problem.
These situations often involve children. They witness prior abuse; some are present during a homicide. These children need care and support to build their resiliency. Witnessing domestic abuse is a recognized adverse childhood experience. So is having a parent go to prison. Those experiences can have profound lifelong health effects, both in physical and mental health.
To quantify the scope of this problem and identify gaps in systems and services, I am building a database of homicides in Milwaukee that are linked to domestic, family and intimate partner violence from the past seven years. I will track key data points — including past contact with the criminal justice system — and pay special attention to the involvement of children, noting if a homicide victim was a parent, if a child also was killed in the same incident, and if a child witnessed the homicide or earlier instances of abuse.
But data is nothing without the personal stories of those most affected. Each death is a life lost, a family shattered and a community shaken. I always have sought to center the voices of victims and surviving family members in my work and will do the same in this project, which is supported by a grant from the Center for Health Journalism's 2023 Domestic Violence Impact Reporting Fund.  
I also plan to work closely with local organizations who are doing direct service work with domestic violence victims and survivors. 
The Asha Project, a culturally specific agency which serves African American women and others in the city, is launching a new outreach campaign, building off successful campaigns decades earlier. The Alma Center in Milwaukee and The Rainbow House are piloting a warmline for those who cause harm and want to stop. Sojourner Family Peace Center, the largest provider of victim services in Wisconsin, is undertaking a new effort with advocates, forensic nurses, prosecutors and police officers.
If successful, my reporting will help my community to understand the full scope, toll and cost of domestic violence, so together, we can better support survivors and make a healthier, safer city for everyone.