Harsh legal restrictions on abortion spur a movement for DIY care
Image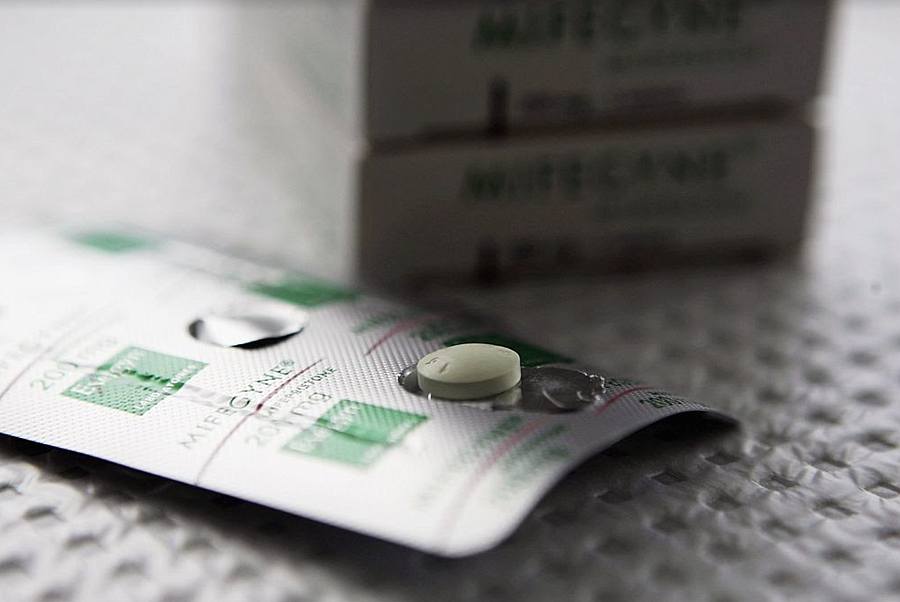 (Photo by Phil Walter/Getty Images)
Published on
September 29, 2021
Carrie Baker ordered abortion pills online from several different pharmacies. Some took only four days to arrive but cost nearly $500 with expedited shipping. Others cost $110 but took up to three weeks from an overseas pharmacy.
Baker, chair of American studies and professor of the study of women and gender at Smith College, didn't want the pills for herself. She was vetting online pharmacies and cataloguing the cost of the pills, payment methods accepted and delivery times on behalf of Plan C, a website that provides detailed information about medication abortions. 
Plan C is part of a growing movement to help women get abortions in spite of increasingly harsh legal restrictions. The movement seeks to educate women online about how to safely self-manage medication abortion. Activists also are navigating legal grey areas, connecting women to providers and pharmacies out of state or across the globe.
"It's about putting the power back in women's hands," said Baker, a contributing editor at Ms. Magazine who writes about abortion.
Underground efforts to help women end a pregnancy may be as old as abortions themselves. While today's self-managed abortions are a lot safer than they once were, the reproductive care movement is operating under a fraught and rapidly changing legal landscape. 
A recent Texas law bans abortions before many women even know they're pregnant. In December, the U.S. Supreme Court  will hear arguments on a case that poses perhaps the biggest threat to constitutionally protected abortion rights in place since the 1973 Roe v. Wade decision.
If the court overturns Roe, it may not make much practical difference for women in 15 states and Washington, D.C., where there are laws protecting the right to abortion. 
But 22 states have laws in place — or waiting to go into effect — that will severely limit abortion rights in the absence of Roe. In those states, women will be thrust back to an age when they had to take matters into their own hands. Inducing their own abortion, legally or otherwise, may be the only option for many American women.
Some states are already locking down avenues to self-managed abortion by imposing restrictions on abortion pills and online services. 
But the new digitally powered grassroots movement could be harder for lawmakers to completely suppress.
Abortion at home
Nearly 40% of all abortions in the United States, and 60% in the first 10 weeks of pregnancy, are medically induced, according to the Guttmacher Institute. The American College of Obstetricians and Gynecologists deems medication abortion safe for most people up to 70 days, or 10 weeks, gestation. During that period it is effective more than 99% of the time. Complications are rare, occurring in approximately 2% of cases. 
Medication abortions involve a combination of two drugs: mifepristone, which blocks progesterone, a hormone essential to pregnancy, and misoprostol, which induces uterine contractions. The drugs are typically taken at home over several days.
Despite abundant evidence that medication abortions are safe, U.S. Food and Drug Administration drug safety rules require that mifepristone be dispensed only in person at certain health care facilities, by specially certified providers.
Advocates have long argued that the drug safety program — typically reserved for medications with "serious safety concerns" — should not apply to abortion medications.  
"There is no scientific or medical justification for requiring women to travel to a hospital, clinic or medical office to pick up the medication they will take at home," said Dana Northcraft, director of innovation and partnerships at the Expanding Medication Abortion Access Project. 
During the pandemic, the FDA announced it was suspending enforcement of in-person prescribing requirements for mifepristone. The change enables telehealth consultations and distribution of the drug by mail under the supervision of a certified prescriber or through a mail-order or an online pharmacy. Studies show no safety or efficacy declines because of remote prescribing and dispensing.
Now, after a battle spanning the Trump and Biden administrations, the FDA is reviewing mifepristone restrictions. Lifting them permanently would make it easier to get medication abortions via telehealth. But that won't help women in many states.
"Although telemedicine has the potential to improve access to abortion in places where services are limited, Texas and 18 other states prohibit the use of telemedicine to provide medication abortion," said Kari White, associate professor of social work and sociology at the University of Texas at Austin and the principal investigator of the Texas Policy Evaluation Project. "The state's telemedicine ban is part of a web of restrictions, including laws that require an in-person visit for an ultrasound at least 24 hours before an abortion, that prevent the use of telemedicine for abortion care."
Working around the law
Where telehealth abortion isn't allowed, there's Aid Access, a Netherlands-based nonprofit founded in 2018 by Dr. Rebecca Gomperts. Her previous venture, Women on Waves, performed non-surgical abortions on a ship in international waters to bypass abortion prohibitions around the world.

The nonprofit works with U.S. doctors to write prescriptions and mails the medications domestically. In states that limit telemedicine for abortion pills, Aid Access works around the restrictions by having European doctors prescribe the medications, which are shipped to the patient from India. 
The doctors comply with the rules of their home countries — for example, Dutch law doesn't prevent doctors like Gomperts from providing telemedicine services to patients in other countries. In the U.S. it's illegal to import medications from overseas, but Americans do it all the time to get medications that aren't FDA-approved or to save money on prescriptions. The FDA does not generally enforce the prohibition for limited personal use.
Aid Access served nearly 60,000 people in its first two years of operation. According to a published analysis, the highest rates of abortion requests came from Louisiana and Mississippi — two states that require patients to take abortion pills in the physical presence of the prescriber.
At least five states explicitly criminalize self-induced abortions, which means women could be arrested for trying to end their own pregnancy. But so far, no one has been prosecuted for ordering or obtaining abortion pills online, according to If/When/How: Lawyering for Reproductive Justice.
To avoid running afoul of Texas law, Aid Access now offers women in that state  "advanced provision" medication so they can have it on hand in case they need it early in pregnancy. This could be especially important if Texas passes a proposed law limiting abortion pills after seven weeks gestation.
Activist networks have sprung up to help women pay for medication abortions, which cost anywhere from $75 to more than $1,600. Women might turn to a local abortion fund, the National Abortion Federation or a nonprofit clinic such as Planned Parenthood, which doesn't turn patients away if they can't pay. In some states, Medicaid covers abortion.

One of the biggest barriers to self-managing medication abortions is lack of awareness that it's even an option. Plan C recently took a truck tour of West Texas, using a roving billboard to promote the availability of abortion pills. The nonprofit SASS (Self-Managed Abortion; Safe and Supported) trains women to teach others about self-managed abortions. 
The ability to self-manage an abortion and work around legal limitations may be cold comfort compared to a clear right to choose reproductive health care. But for women with virtually no legal access to abortion, these versions of DIY care can at least provide a safe, effective option.