The Health Divide: The media shouldn't choose whom to call a 'community activist.' The community should.
Image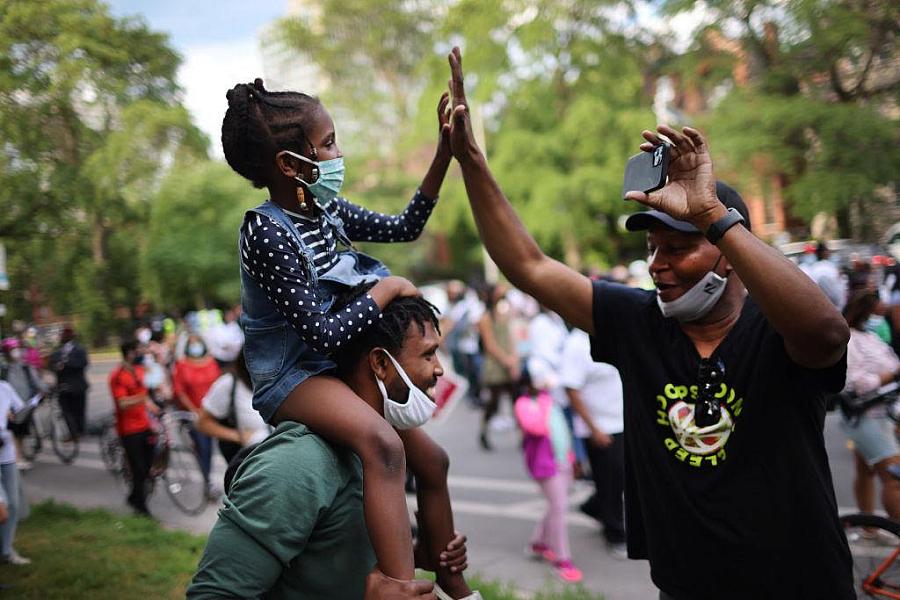 (Photo by Scott Olson/Getty Images)
Published on
June 5, 2023
Community activists are people who work to bring about positive political or social change by disrupting systems of oppression or unfair laws. That might mean tackling barriers to health in a community —pushing for more green spaces or healthier food options in neighborhoods beset by liquor stores and fast food joints, for instance.
They have a public servant mentality. They understand teamwork and how to bring people together to resolve or work on issues in a collaborative fashion. 
The best community activists strive not to be selfish; instead, they believe in selflessness. 
"When it becomes about you as a community activist and you worry more about becoming a celebrity instead of getting the job done, you are no longer a leader," said Earl Ingram Jr., 69, who works in public radio in Milwaukee.  
Ingram has been a mentor to young people and ran a successful youth football league for nearly three decades. He's been outspoken on issues in the community. He also works to resolve these issues. When youth started stealing cars on a record level during the pandemic, he started a program called "Voices of the Elders," which brings in retired men who are willing and able to serve as mentors to troubled young people. 
He embraces the title community activist. Ingram's problem with the title is when the media labels someone a community activist but they have not put in the work. 
"The community knows who the real activists are and before the media puts the camera in a person's face and calls them a community activist, they need to know what they have done and what they do before they give them that title," Ingram said. 
Placing the title of community activist on a person who the community doesn't view as one hurts the credibility of the media organization and makes it hard to build trust.  
An activist is a member of the community who is voluntarily working with others from that community to achieve common goals. Many activists tend to become one because an injustice happened to them or someone they love. 
After the death of George Floyd, activism peaked across the country as young people made their voices heard on everything from police brutality to the wealth gap. 
Floyd's death helped to solidify the Black Lives Matter Movement and new leaders started to emerge. They put on protests. Organized marches. Held rallies. They were disruptors and agitators to a system they believed helped create divisions within this country. 
I loved seeing young people become active in the movement and making their voices heard. I was especially proud when my daughter helped to organize a walkout at her high school, with hundreds of students leaving class midday to protest racism in front of Milwaukee's City Hall. 
Seeing her on the news, holding her banner demanding that young people have a seat at the table when it comes to the educational decisions made in public schools, gave me a proud dad moment. 
While protests, walkouts, and boycotts serve their purpose, participating in them doesn't make one an activist. Real community activists continue to shine a light on problems well after the media has packed up their equipment and moved on to the next story. 
When covering a community you are not familiar with, it may be hard to know who are the legitimate community activists. Talk to people in the community about a given activist and allow them to tell you what he or she has done. When you talk to activists, pay attention to the words they use. When comments transition to "I" or "me," the narrative can change quickly. 
The job of a community activist is not glamorous. Most of the activists I know depend on the community to support them financially through donations to keep doing the work.  
Before you label anyone an activist, keep these things in mind: 
What is their goal and mission? 

Can they effectively bring people together to work on solutions? 

Are they respected in the community, and do they get results? 

What drew them to the mission and how long have they been in the fight? 

Are they involved in more than one issue? Do they collaborate with other organizations? 

Do they put the cause before themselves or are they ego focused? 
My paper has brought in community activists to speak with reporters and editors during our lunch and learn series and it has opened our eyes into the work they do.  
Typically, these individuals have a pulse on the community that can lead to outstanding stories.  
One of my favorite stories featured the community activist Tory Lowe, who often works with low-income people facing eviction or other housing issues. Reporter Cary Spivak reached out to Lowe because he needed someone trusted in the community to talkabout Youssef "Joe" Berrada, whose companies control about 8,000 Milwaukee rental units and are responsible for most of the evictions.  
When eviction filings fell 36% in August 2020, amid the pandemic, Berrada received credit. Lowe called Berrada a smart businessman and said, "He doesn't want to be the face of eviction during a pandemic." 
Lowe also connected Spivak to tenants facing evictions, and it made for a series of powerful eviction stories.