The Health Divide: One man shares his story of homelessness, and a tribute to the journalist Lori Yearwood
Image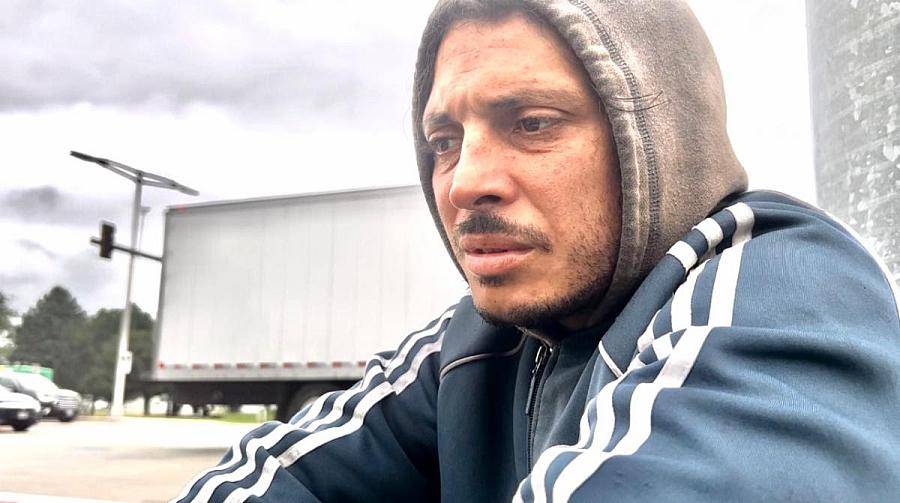 Published on
October 30, 2023
A few dire circumstances led to Jose C. being homeless.  
He lost his construction job late last year. Bills started to pile up, and he began having problems with his daughter's mother. Things got so bad that he moved out of their apartment, even though he had nowhere to go. 
"Leaving my daughter was the hardest thing for me. She will be 10 next month and needs her dad. I don't have anything to give her right now," he said.  
Jose, who did not want to give his last name, said he couch surfed with friends and relatives for weeks before he wore out his welcome. It's a story that sheds light on how hard it can be to escape the grip of homelessness at a moment when some pandemic benefits are ending and America's housing shortage continues.  
When he was out on the street begging for change at a busy South Side Milwaukee intersection, Jose, 43, said a few other homeless men told him about a Mexican woman who could offer him shelter and employment
"She got me a job doing landscaping for her business," he said. "She paid for my food and let me and others sleep in her basement." 
The business owner paid Jose $60 daily for 11 hours of work. She deducted the food she purchased from their wages. 
"She would pick us up McDonald's, bring it to us, and dock us $10," Jose said. "It was hard work, and we should have been paid much more. I knew she took advantage of us, but we had nothing. No place to go and nothing but the clothes on our backs."
When I saw Jose on Sept. 28, he was back on the street hustling for change. He said the woman who offered him the landscaping job fired him and kicked him and others out of her basement. 
Jose said he had been doing roof work during Milwaukee's heat wave in August. He got dizzy and told the woman he felt ill. 
The woman dropped Jose and two other workers off at St. Luke's Hospital.  
Five hours later, after being treated for dehydration, Jose called the woman to pick him up from the hospital. 
"When she picked me up, she didn't say much until we returned to her house. Then she told me and the other two guys that we needed to get our things and get out. She put me out that night with nowhere to go, and I have been out here ever since," he said. 
Milwaukee County and other urban cities nationwide have witnessed an uptick in the unhoused population. More than half a million people experienced homelessness in America last year. While sheltered homelessness has declined over the past decade in America, unsheltered homelessness — those living outdoors, in cars, in abandoned buildings, or in other places not meant for human habitation — has continued to rise. 
"People have no idea how hard it is for people who don't have a place to go. You feel like you are under attack by everyone and everything. It's hard. So hard," Jose said. 
Housing is a human right
In 2022, Milwaukee County was recognized by the U.S. Department of Housing and Urban Development for having the lowest unsheltered homeless population per capita of any community in the nation.   
In 2021, county records show that 17 unsheltered individuals were counted, representing a 70% reduction from 2020. (However, when counting those who are the sheltered unhoused, the number stands at 817 as of 2021. It should be noted that individuals who are unhoused and transient are hard to count, and the number is often higher.)  
Milwaukee moved to a holistic approach to improving health outcomes in the community by looking through the lens of social determinants of health. County officials said affordable housing ends homelessness. 
But it's more complicated than that. Untreated mental illness, addiction, poverty, eroding work opportunities, and declining public assistance also account for some of the unhoused population. Also, those who have been released from prison may be able to find work but have more problems finding a landlord who will rent to them.   
About 582,000 Americans experienced homelessness in 2022 — about 18 per 10,000 people in the U.S. Pacific Islanders, Blacks, Native Americans, and those of multiple races experienced the highest rates of being unhoused, according to the Department of Housing and Urban Development. 
People who identify as Black made up just 12% of the total U.S. population but comprised 37% of all people experiencing homelessness and 50% of people experiencing homelessness in families with children. 
Placing people in permanent housing is the best way to end homelessness, said Milwaukee County Executive David Crowley, the county's first Black administrative leader.  
Crowley experienced housing insecurities as a child, couch surfing and being evicted with his family four times. He knows how devastating an eviction can be on a person physically and mentally. 
Every eviction he faced is carved into his memory, he told me last year. He came home from school and saw his family's belongings in the yard. He recalled how his mother got the family over to other family members' homes. Sometimes, he was split up from his siblings. Living in cramped quarters made it difficult for him to concentrate on school. He also recalls the embarrassment of going through every eviction. Neighbors were stealing their stuff while it was left unattended.  
"It's something you never forget," he said. 
Aside from the stress on the children, Crowley believes the stress his parents endured from those housing experiences could have contributed to his parent's drug addiction, which in turn led to other mental health problems. 
"When you can't count on having a roof over your head at night, it compounds stress and anxiety and contributes mightily to the poor health disparities we see throughout the region," Crowley said. 
As pandemic benefits end, things could get worse
I have traveled a lot over the past year, and I have seen an uptick in the number of people standing on corners asking for change so they can take care of their basic needs, like eating or buying toiletries like soap and tissue. 
In Milwaukee, I see more white people in predominantly Black neighborhoods standing at intersections with "Please Help" or "I'm a disabled vet" signs. For me, this symbolizes just how dire things are getting. 
This month, things are expected to worsen as millions lose their COVID-19 pandemic benefits. Extended unemployment and enhanced child tax credits have already ended. On top of that, 28 million people will have to start repaying their student loans this month after a yearlong freeze.  
As more of these benefits disappear, cities, states and nonprofits will be busy to ensure those unhoused are safe.  
Milwaukee County started a program, Housing First, to tackle homelessness by removing restrictions on unhoused populations. Typically shelters require those serviced to be free from any drug or alcohol use, with some requiring those being helped to have active employment. Housing First removed those restrictions in order to make housing the priority, and everything else secondary. The program, started in 2015, has helped decrease the unhoused population from over 1,400 to less than 900.  
When I told Jose about Milwaukee's efforts to end homelessness, he had no idea that anyone was doing anything to help this population.
"To be honest with you. I have been out here for over six months, and I have not had anyone talk to me or offer me anything," Jose said.
The main thing Jose worries about is his safety. He has witnessed fighting, drug use, domestic violence, and people stealing others' belongings while they sleep. 
He also has been the victim of violence. Last month, a car stopped near him. The driver let down his window to offer a dollar. When Jose walked up to the car to retrieve the money, someone in the backseat of the car fired paintballs at him. 
The dye from the paintballs ruined his clothes and left bruises on his chest, back, and thighs.
Image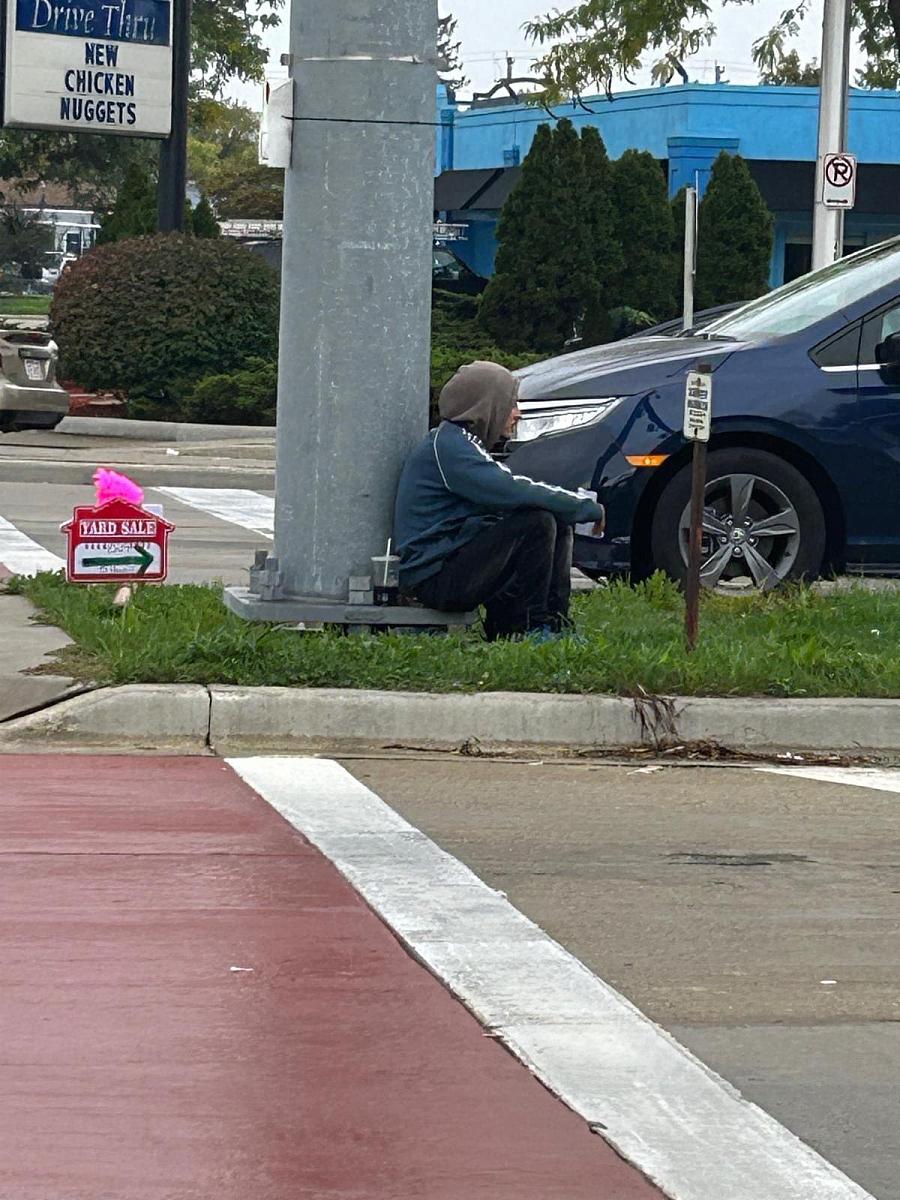 He also has been harassed by police while standing in the middle of the intersection. 
"They mostly just tell me to move, and I end up going to another block. I try to be in a visible space, so if something happens, people can see it happening," he said. 
The main thing people don't understand about being unhoused is how hard it is to stay healthy. The homeless population has a higher prevalence of mental health disorders and chronic health conditions like hypertension, diabetes, and asthma, according to the National Health Care for the Homeless Council. 
Jose said he usually earns enough money to eat fast food. Staying clean is one of the most challenging things. He cleans up and uses the bathroom at gas stations and McDonald's. He also takes medications for anxiety, high blood pressure, and diabetes. He admitted that he has been unable to take his medications consistently. 
"When I was in the hospital for dehydration, they first thought I was having a heat stroke. They tested me for a lot of things. They told me that I must pay attention to my diabetes. I know eating fast food doesn't help," he said. 
I asked Jose if he had used drugs. He said you can get drugs, but there's a cost. 
"I've seen a lot of bad things out here. You want to survive, be safe, and get off the streets because I wouldn't wish this on anyone," Jose said. 
Lori Yearwood was a voice for the unhoused 
Covering the unhoused population was a passion for Lori Theresa Yearwood, a 2022 National Fellow at the USC Center for Health Journalism. The Center provides each reporter we support with a mentor, a senior journalist known as a Senior Fellow. I was Lori's Senior Fellow, and she was one of the most passionate, caring people you would ever want to meet. 
Lori's fellowship reporting project focused on trauma awareness and how it can save the lives of the unhoused. "Denise's Last Days," which ran in Slate earlier this year, was one of the best projects I've ever participated in. She eloquently told the story of Denise Lerma, an unhoused woman in Los Angeles. 
To quote Lori, Denise "died in the context of reversible but unhealed trauma because no one was able to empower her within a health care system determined to diminish her."
Image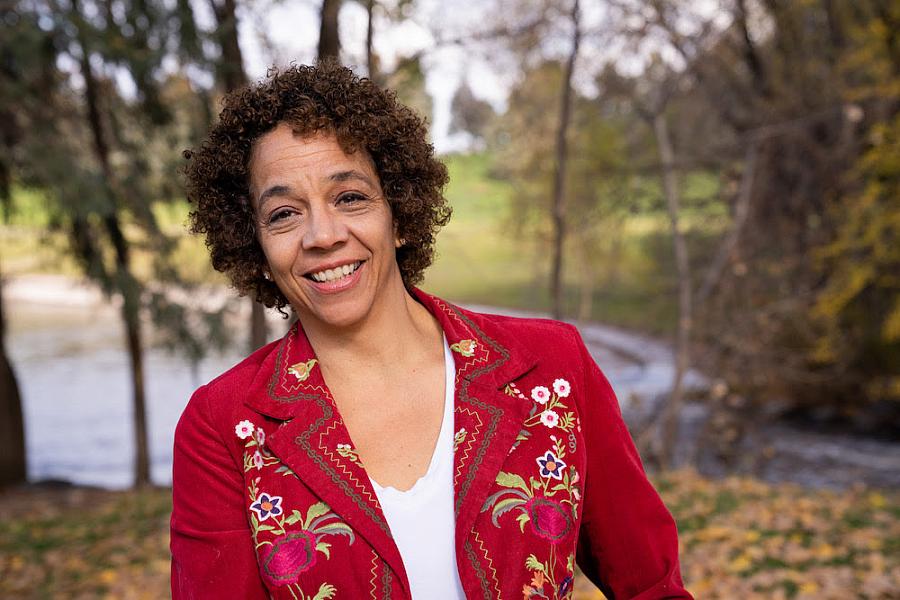 Initially, I suspected Lori would be my most challenging fellow. She turned out to be one of my best friends. 
Lori, 57, died at home in Salt Lake City on Sept. 17 after a battle with ovarian cancer. 
I couldn't believe it when I first heard of her passing.  
I knew about Lori's cancer battle. We had many conversations about it. We discussed it before she went to Mexico for cancer treatment. Although I told her not to worry about her project, she refused to let it go.  
Lori loved writing. She loved storytelling, and she loved being the voice for those who are often ignored in our society.  
Early in her journalism career, she was a reporter at the Miami Herald, The St. Louis Dispatch, and two Syracuse newspapers, tackling stories about those who have been marginalized. 
Her acute awareness of the unhoused came from living on the streets between 2014 to 2017. Lori was also incarcerated as a result of being unhoused, just for trying to bathe in a public river. Her inability to pay fines imposed for being unhoused, led to her incarceration to pay off the debt. Her experience offered a different perspective about what it takes to heal from such a traumatic time. 
Since being unhoused, Lori wrote stories published in The New York Times, The Washington Post, The Guardian, CNBC, and Mother Jones. She also appeared on various shows, including The Young Turk's "The Damage Report" with John Iadarola. 
As a freelance reporter covering topics that typically don't make the front page, Lori often worried about how she would pay her bills and even considered going back to a mainstream newspaper.   
What held her back was the fear of being unable to tell the stories of vulnerable populations. 
After she finished her project with the Center for Health Journalism, Lori and I still talked weekly. She would call me when she was on her walks or to talk about journalism and our country's inability to solve its issues of classism and racism.  
Some of our conversations would last a few hours. Some would only last 10 minutes. Every conversation with Lori made me a better journalist because she always thought outside the box. 
Lori and I also shared a lot of personal conversations about life and death. Her biggest fears were not having someone to love and dying alone.  
I told her not to talk like that. I even teased that I would set her up with some of my single friends.  
Lori's death hurts so much because she was so misunderstood. Some considered her difficult, but she was being a reporter. She asked questions that most were too afraid or embarrassed to ask. She challenged editors to look beyond their lens.  
If you were lucky enough to get past Lori's tough exterior like I did, you could see just how sweet she was.  
I miss you, Lori, and I will ensure people never forget about you and your contributions. 
The Center for Health Journalism is launching the Lori Yearwood Fund for Reporting on Homelessness. Center Director Michelle Levander asks that you consider giving to honor Lori's memory and her unique voice. Funds will go toward grants that support journalism focused on the intersection between homelessness and trauma.To learn more about the Lori Yearwood Fund, email us at editor@centerforhealthjournalism.org.