Health Journalism Takeaways from the Annual State of the Media Report
Published on
March 25, 2011
State of the News Media 2011, a comprehensive annual report by the Pew Research Center's Project for Excellence in Journalism, tells us a lot about how health coverage has evolved. Some of the data is predictable, but it's worth highlighting as we think about how we allocate space in our news coverage.
This week at Career GPS, we look at the report and what it tells us about health journalism. Health media job openings, fellowships and grants are at the end of this post. You can keep up with Career GPS via RSS.
Here are some of the basics from the report:
-Online readership has grown and overcome newspaper readership, but local television is still the most popular way that Americans get their news. Still, every medium -- television, radio and newspapers -- except online has a shrinking audience.
-Mobile platforms are becoming more popular for news consumption. Almost half of Americans get local news on their mobile devices.
My favorite part of the report is consistently the interactive "Year In the News" feature. You can create charts that compare coverage of major events or topics. Here are the top five stories of 2010 and how much of the news hole they filled:
Image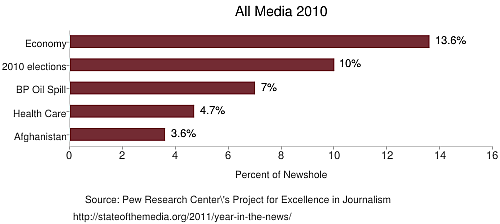 The 2009 data suggests that health care reform was covered significantly less since the bill was passed in 2010. Only 1.9 percent of the news has been about health care reform since March 2010, according to the Pew Research Center.
Image

If we look at health and medicine coverage overall -- health care included -- and compare it to other topics, we see that in 2010 it took up 5.7 percent of the news hole:
Image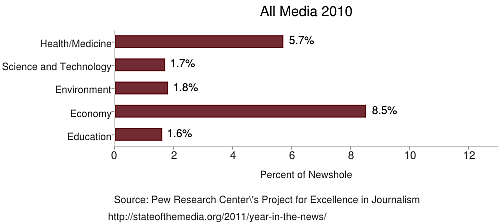 In 2009, during the reform debate, health and medicine coverage constituted more than 10 percent of news:
Image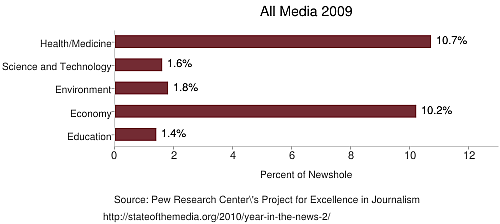 But in 2008, health and medicine took a back seat to elections news:
Image
Tom Rosenstiel, director of the Project for Excellence in Journalism and one of the report's supervisors, explains how the content survey worked. Each piece of content is given one story and one broader topic. So, even if a transportation story touches on health, if the main content is about transportation, it does not count as "Health/Medicine" news. The goal, says Rosenstiel, was to identify the primary subject of each story, so overlap was not part of the analysis. What the content analysis tells you most about, therefore, is the news agendas of media organizations and what they choose to emphasize.
Rosenstiel explains the drop in health coverage this way: "The infrastructure of media is set up to cover Congressional and legislative debate much more than it is to cover the rollout and delivery of health care services. The White House press corps is right there in the West Wing." Covering the delivery of services -- the rollout of reforms, the effect on doctors and hospitals, the actual lives affected -- "is much more invisible. It requires a great deal more enterprise," Rosenstiel says. "To the extent that news is reported in proportion to the ease of getting it, political reporting is easier to do."
I asked Rosenstiel what he thinks health journalists should take away from this data. The point is not necessarily that the media is less interested in health news. "We know from our other research that the cutbacks in newsrooms are happening first in reporting areas where newsrooms feel that audiences will be able to get that information elsewhere," Rosenstiel explains. So, as newsrooms are cut back, they are more likely to reduce their news hole for health than the city government beat. Localized news does not appear in the Associated Press and The New York Times, so media organizations are interested in maintaining those unique services. For health reporters, Rosenstiel says, "If you're going to do it, localize it."
Media business analyst Rick Edmonds told Career GPS about a month ago that health journalism is a "high-priority topic" and says that he would stick with that analysis despite the data in the State of the Media report. Health care reform was a huge story in 2009 and that prevents this year's data from representing a downward trend.
New Job and Internship Listings
Communications Coordinator, Palmetto Health (via AllHealthcareJobs)
Location: Columbia, SC
Status:Full Time
Medium: Communications
Associate Editors, PLoS Biology
Location: San Francisco, CA or Cambridge, UK for training, then telecommute
Status:Freelance
Medium: Journal
Associate Editor, PLoS ONE
Location: San Francisco, CA
Status:Full Time
Medium: Journal
Associate Editor, UBM Medica (via JournalismJobs)
Location: Norwalk, CT
Status:Full Time
Medium: Trade Publication
Marketing Editor - Health, Agora Inc. (via JournalismJobs)
Location: Baltimore, MD
Status:Full Time
Medium: Marketing/Legal Writing
Reproductive Rights Reporter/Blogger, The Florida Independent (via JournalismJobs)
Location: Anywhere in Florida
Status:Full Time
Medium: Online
Fellowships and Grants
Rosalynn Carter Fellowships For Mental Health Journalism
Eligibility: Open to journalists with at least three years of experience and citizenship from United States, Romania or South Africa
Included: $10,000 stipends to report on mental health issues, mentorship to complete reporting project
Deadline: Apr. 18, 2011
From the Website: "Fellowships are tailored to suit the needs, interests, and experiences of each fellow. They also generate knowledge and information to benefit the mental health field and the public. When appropriate, the program requests that fellows conduct one training session related to mental health and journalism for their peers during the fellowship year."
National Health Journalism Fellowship, USC Annenberg California Endowment Health Journalism Fellowships
Eligibility: Open to professional journalists from print, broadcast, and online media, including freelancers. Applicants need not be full time health reporters, but they need to have a passion for health news (broadly defined).
Included: All-expenses paid six-day program in Los Angeles, $200 stipend and upon completion of what are expected to be ambitious, major fellowship projects.
Deadline: May 2, 2011
From the Website: "To stimulate collaboration between mainstream and ethnic media, we encourage applicants to propose a joint project for use by both media outlets. Up to two collaborators for each project may receive a stipend."
Dennis A. Hunt Health Journalism Grants, USC Annenberg California Endowment Health Journalism Fellowships
Eligibility: Open to all journalist members of Center for Health Journalism Digital. Print, broadcast and new media journalists from anywhere in the United States are eligible to apply, as are all past fellows of the USC Annenberg/California Endowment Health Journalism Fellowships.
Included: Provides funding for proposed stories or multimedia projects that illuminate or expose critical community health or community health policy issues and acceptance to the National Health Journalism Fellowship program.
Deadline: May 2, 2011
From the Website: "Proposals can focus on a specific health topic or delve into a confluence of circumstances and conditions that impact health, including environment; social class; crime and violence; urban development; access to health resources or the lack thereof; school absenteeism; transportation or city planning, and and disparities in health. Topics that would NOT be eligible would include clinical trials, medical research, or the latest treatments for a disease or any project involving a population outside of the United States."
California Health Journalism Fellowship, USC Annenberg California Endowment Health Journalism Fellowships
Eligibility: Open to professional journalists from print, broadcast, and online media in California, including freelancers. Applicants need not be full time health reporters, but they need to have a passion for health news (broadly defined).
Included: All-expenses paid seminars in Los Angeles, mentoring for completion of reporting project
Deadline: Aug. 26, 2011
From the Website: "During the Fellowship sessions, Fellows get plenty of time to discuss with experts, and with each other, strategies for covering health news with authority and sophistication. Between the two sessions and for three months after the second session, Fellows confer by phone and e-mail with veteran journalists who guide them through work on major Fellowship projects."
Awards with Upcoming Deadlines
Mental Health America's Media Awards
Eligibility: Open to media professionals and student journalists in print, online, radio, television and film for work published in 2010, $30-50 entry fee
Award: Winners will honored at a Media Awards luncheon on Saturday, June 11, 2011, during the 2011 Mental Health America Annual Conference in Washington, D.C. and given access to all conference sessions, but must pay their own expenses to attend
Deadline: Mar. 31, 2011
From the Website: "Entries are judged by a committee of peers selected by Mental Health America for their knowledge of mental health issues, demonstrated excellence in reporting and editorial experience."
Award for Excellence in Science and Medical Journalism, The Endocrine Society
Eligibility: English-language journalism related to endocrinology and published or broadcast between March 1, 2010 and February 28, 2011
Award: Award plaque and travel to the Society's annual meeting awards dinner in June 2011
Deadline: Apr. 1, 2011
From the Website: "The award recipient is selected by the Society's Advocacy and Public Outreach Core Committee (APOCC). The committee will give weight to entries that demonstrate thorough research, accurate reporting, originality and contribute to the public understanding of endocrinology."
Pfizer Award
Eligibility: This prize is awarded in recognition of an outstanding book dealing with the history of science. The book must be published in English during a period of three calendar years immediately preceding the year of competition (books eligible for 2006 were published in 2003, 2004, or 2005). Edited volumes, as well as works with more than 2 authors, are not eligible. A multi-volume work by one or two authors may be nominated only after the publication of all the volumes.
Award: The award consists of a medal and $2,500.
Deadline: Apr. 1, 2011
From the Website: "The prize committee may consider books where medicine or technology is a central theme. However, both the Society for the History of Technology and the American Association for the History of Medicine award their own prizes and while strict separation of fields is not always possible or desirable, the Pfizer Award should be given to a book that is principally a history of science."
Annual Awards for Reporting on the Environment, Society of Environmental Journalism
Eligibility: Any journalism that is predominantly about an environmental subject and published or broadcast in 2010 with $30-$80 entry fee
Award: $500 first-place, $200 second-place and $100 third-place prizes may be awarded in all categories.
Deadline: Apr. 1, 2011
From the Website: "Honors outstanding environmental reporting. Award is given to encourage journalists to help educate the public and public officials on environmental issues. Results achieved by the reporting may be included."
Educational Opportunities
Brain Science: The Kavli Science Journalism Workshop
Eligibility: Reporters, writers, editors or producers with three years of full-time journalism experience
Program: Program runs Wednesday, June 15 through Friday, June 17. Accommodation, most meals and $750 travel reimbursement are provided.
Deadline: April 15, 2011
From the Website: "The Knight Science Journalism program at MIT is offering a three-day intensive course on the basics of the new brain sciences. The workshop will bring some of the top neuroscientists in the U.S. to explain their work and to become first-rate sources for the attending journalists. "