How are newsrooms divvying up coverage of the 'story of our lifetime'?
Image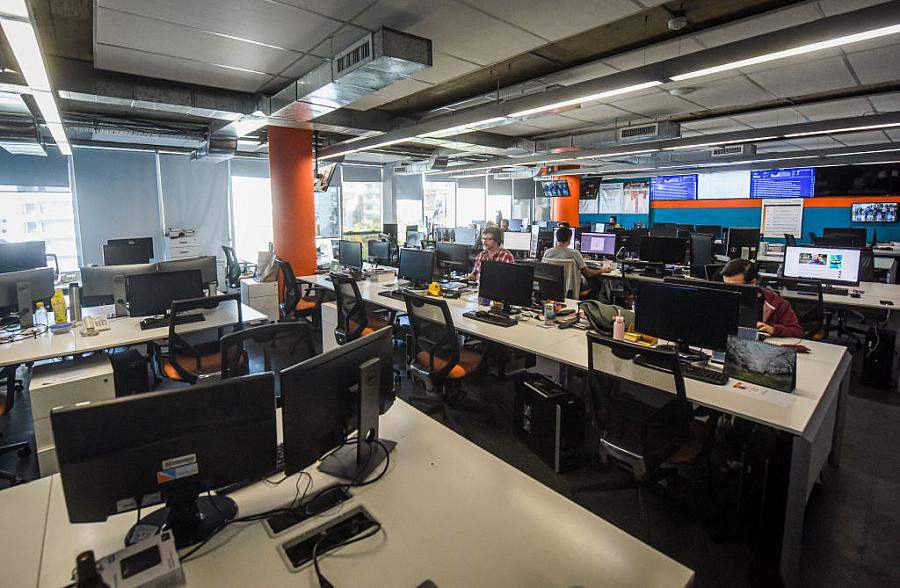 (Photo by Marcelo Endelli/Getty Images)
Published on
April 29, 2020
Question: "Do you have any guidance or suggestions on how to establish newsroom teams for covering COVID-19? Do I cover hospitals while someone else does public health? Who should cover medical staff, research, modeling? I want to have a plan before my editors come up with their own misguided one." — Overwhelmed in Sonoma
**
Every journalist nowadays, it seems, is on the coronavirus beat.
The pandemic is all-encompassing, touching every aspect of life, from health to business, politics to education, sports to entertainment. So nearly every news report is now told through the lens of COVID-19.
So, how are newsrooms dividing up coverage of what is, in the words of one editor I spoke to, "the biggest story" of our lifetime? And what aspects of the outbreak are health journalists focusing on? I interviewed a few of them to find out.
"This is not the time to be territorial over your beat," said Justine Griffin, medical reporter for the Tampa Bay Times.
She has prepared a source list — public information officers, trusted experts, "doctors who will answer the phone" — to share with her colleagues. If a fellow reporter asks to look into a medical-related coronavirus tip, she tells them to go right ahead.
We want to hear your questions about covering COVID-19 — scroll down and tell us or ask your question here!  
While she was the lead COVID-19 reporter when the outbreak started to spread, she said, it's now an "entire newsroom effort — for sure."
These days, she's focusing on "bigger-picture coverage," she said. For instance, she had a story Saturday based on several weeks of on- and off-the-record interviews with hospital workers on the front lines of the pandemic. She's leaving daily stories on, say, the latest number of cases and deaths to other reporters.
"There are so many stories to go around," she said. "Every week I'm talking to my editor and picking out the top five or six story ideas that are most important to tackle, where my expertise as the health reporter on staff would best serve my readers."
Amy Hollyfield, senior deputy editor of news at the Tampa Bay Times, said it's been an "all-hands-on-deck" approach at the newspaper. With no games and live entertainment on the schedule, sports and features reporters have been moved to the news side. The transportation writer has even developed a "mini-beat" of covering the latest in coronavirus testing in the area.
"Frankly, it isn't strictly a health story. It isn't strictly a doctor or nurse story. It's a culture story. It's a lifestyle story," Hollyfield said. "There's the state accountability, the business and economic impact, the life and culture impact of things we're able to do and not able to do."
Editors at the Times have had to juggle assigning all this coverage while working from home (with some of them having to homeschool their kids on top of everything else).
"To be communicating remotely at the same time you're covering the biggest story of your lifetime … it's definitely been a challenge, but I'm proud of how we've adapted," Hollyfield said. "We seem to not be jumping on each other and doing the same stories, so something must be working."
She said she and her fellow editors have had to get creative in divvying up coverage of the outbreak, but in the process have learned just how versatile their reporters can be.
"We've been overwhelmed with ideas and requests, and somehow we're handling it all, because everyone's involved and everyone's game," she said. "What sometimes feels like a small team of breaking news reporters is now a whole newsroom of breaking news reporters."
'Everyone has become a coronavirus reporter'
At the Los Angeles Times, science and medicine editor Karen Kaplan said the reporters she oversees have been writing about the latest in research on such topics as the behaviors of the virus and efforts to find a vaccine and treatment. They have written about machines that can substitute as ventilators and how the outbreak has interrupted other parts of the health care system.
"We've also done a lot of explainers, like 'Why does this virus affect older people so much more than younger ones' and 'Do I really need to wear a mask?' and even 'Can my pets get the coronavirus?'" Kaplan said. "Those types of stories have had the greatest impact with readers, by and large."
Elsewhere in the newsroom, she noted, "Nearly everyone has become a coronavirus reporter of some sort." Teams have formed to concentrate on COVID-19 issues like testing and the impact on hospitals.
"For the most part, people are looking for coronavirus angles on the beats they already had: How do you stop the spread of an infectious disease among homeless people? How are schools adapting to distance learning since they're closed for the outbreak? How is the virus spreading in jails and prisons?" Kaplan said.
What have been the biggest challenges so far of overseeing all this reporting?
"There are way more stories we want to do than there are people available to do them. There is so much pressure from our bosses to churn out as much stuff as we can, but some of it takes time," Kaplan said.
"A close second is that there are so many people working on coronavirus stories that it's hard to prevent overlap," she added.
Newsrooms are also having to cover this monumental story while experiencing layoffs, furloughs and pay cuts due to revenue declines exacerbated by the pandemic.
'Divide and conquer'
With a degree in biology, Lisa M. Krieger, a medical reporter at the San Jose Mercury News, has been focusing on the scientific and clinical medicine aspects of the outbreak. Outside of that, her newspaper has separated coronavirus coverage into breaking news; case count trends; disease clusters and interventions; human interest stories; health policy and hospitalizations; and data analysis and visualizations.
Reporters have had to chip in by covering news outside of their typical geographic areas or beats, she said. For instance, the high school sports writer now reports pre-dawn breaking news.
What advice would she give other newsrooms about divvying up their coverage of this global crisis?
"Divide and conquer," she said. "There's a firehose of information coming from many different directions, and it's easy to feel overwhelmed. COVID-19 is not just about medicine. It touches on almost every beat at the paper."
Challenges vary with newsroom size
In smaller newsrooms that don't have dedicated reporters for beats like health care or education, editors have had to get inventive.
At the Idaho Statesman, with a staff of about 25, the investigative reporter with a background covering medical issues now writes health care stories on the virus, while the high school sports reporter does COVID-themed education news because of his connection to the schools, according to assistant editor Chadd Cripe.  Cripe has been helping with data reporting and posting live breaking news updates using his experience covering college football.
Still, coordinating it all has been a challenge, he admits.
"We don't often cover a topic that involves everyone in the newsroom, and never for an extended period of time," he said. "Add in the fact that almost everyone is working from home and we've had to stagger our editors' hours to ensure 15 or so hours a day of editor coverage each day, and it's almost impossible to keep track of what everyone is doing. We have a Google Hangout every Monday to go over our story list for coronavirus ideas, which helps."
"We use Slack a lot," said the Statesman investigative reporter, Audrey Dutton. "If one of us is thinking we might start doing a story on something, we chat on there so we don't end up simply both doing the same story. It's difficult right now because we're not in the same space. We don't have the natural communication we usually have. We're doing Zoom meetings and Hangouts, Slack all the time, phone calls. So we've managed to make it work."
What would make covering this huge story easier?
Speaking for newsrooms everywhere, Dutton said: "We need more journalists. We need a million more journalists." 
At The Bakersfield Californian in California's Central Valley, reporter and editor Stacey Shepard had been writing about courts, but with those essentially shut down she has become "the primary coronavirus reporter," she said, covering breaking news, like the number of cases and regular briefings from local health officials.
But as with other news outlets, every reporter there is essentially on the COVID-19 beat, she noted: The business reporter covers the economic impacts, for instance, the city reporter writes about the effects on local government budgets.
"I think we wish we had probably five to 10 more bodies," Shepard said of her newspaper, which has about 10 reporters. "There's so much news coming out of this, easily we could have a team double our size doing stories every day. Given our size, we've done a really good job."
"It's almost been gratifying in a way for some of us who've been doing this for a long time," she added. "There's certainly been ups and downs over the years in this business. This, like nothing else I can remember in recent memory, has really galvanized us as a newsroom and, I think, shown how important our jobs can be.
"When you're working as a reporter day in and day out, sometimes you're scraping the bottom of the bucket to cover things. Everything gets ho-hum. You sort of get into these lulls and peaks. And this has really just been weeks now of constant news, important updates, things happening all the time that need to be reported on."
**
**
More from "You Asked, We Answered":

How can reporters stay safe while getting the story during COVID-19?