How an email tipped me off to a regulatory disaster at California's indoor gun ranges
Image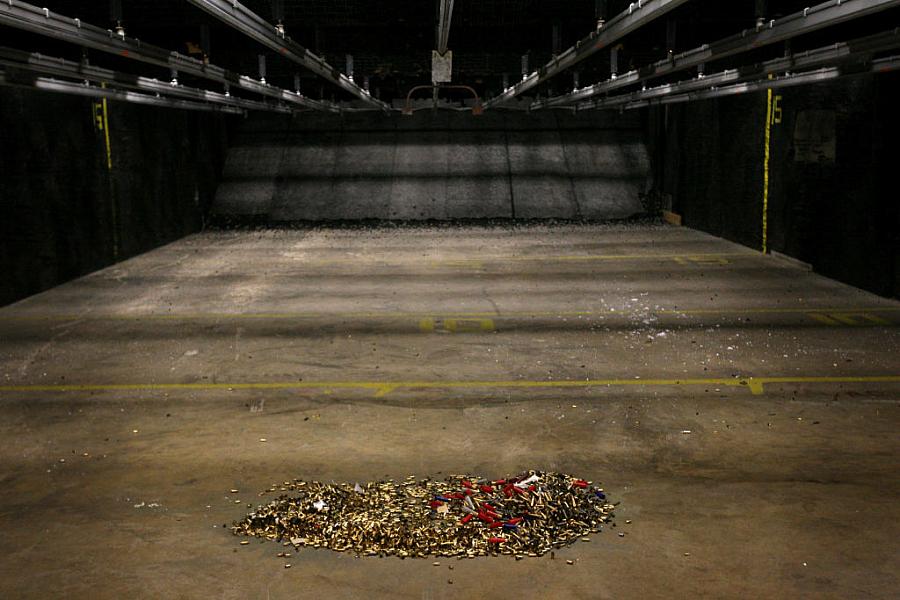 Photo by Rick Gershon/Getty Images
Published on
February 7, 2023
In 2019, I received some public records from the California Department of Public (CDPH) that included a single email referencing children, specifically a troop of boy scouts, who had been tasked with sifting through toxic lead waste at an indoor gun range. 
As an investigative reporter, I am always fascinated by the clues that public records hold about a wider story. Where did this happen? How did CDPH react? What did the incident tell us about the way gun ranges are regulated in California? 
There wasn't much to go on at first. The name of the range was redacted, and even the county where it took place was clumsily smudged out. But it was the tip that ultimately led me to a sprawling two-year investigation that revealed how many indoor gun ranges across California are largely unregulated hazardous waste sites. One even tasked vulnerable children with cleaning up the mess. 
In a subsequent batch of public records, secrets started tumbling out. At a busy facility called The Range in the town of Grass Valley (about an hour from Sacramento in the Sierra Nevada foothills) a gun range owner had regularly tasked a boy scout troop he led with sifting through tons of lead which was imbedded in sand placed behind targets. 
In June of 2017 a concerned parent had sent the public health department a handwritten letter. "I need to inform you of a potentially serious problem involving a boy scout troop in Grass Valley, CA," the letter began. Kids, according to the letter, had been tasked with sifting through lead for years. The accusation was easy to verify. The range owner Jerod Johnson had placed photos on Facebook of children, some as young as 11, with sneakers immersed in toxic sand as they sifted through lead.  
The kids in the photo were involved in a practice referred to as "lead mining" in the gun range industry. Lead can fetch a buck a pound. And tons of the stuff builds up a busy gun ranges. In 2011, in one notorious case, dozens of workers at a range in Bellview, Washington were lead poisoned. Sean Eals, whose blood lead level was 60 times above normal levels, told me his symptoms from the neurotoxin were so severe that "I couldn't sleep, my nerves were so shot that I had trouble speaking."
Lead mining is notoriously dangerous for trained adults. In this case, we were talking kids who were at risk of permanent harm to their brains. 
What should have happened next was obvious, public health experts I spoke to told me. Officials should have made sure that the practice stopped immediately and sought to ascertain if the boys had been poisoned. But Johnson employed what seems like the playbook in California — respond aggressively to allegations of mismanaging lead. "You all better not come charging in here like a bunch of Nazi troopers and doing some investigation over nothing," Johnson told a Nevada County public health official, according to her email account. 
The aggressive stance employed by Johnson appears to have been effective. Parents were allowed to remain in the dark. It took four months for officials to approve and send a vague letter to parents with no details of what actually happened. Despite violating numerous California laws and putting children in harm's way, Johnson was allowed to line edit parts of the letter to parents, toning down a suggestion that scout parents have their children's blood tested for lead. The range owner was never fined or criminally charged. In short, a slap on the wrist. As far as we know, none of the exposed kids were ever even tested for lead exposure. 
As I dug into more public records, a bigger picture began to emerge about lax regulation of many such ranges across California. With the assistance of an California Impact Fund grant from the Center for Health Journalism, I examined thousands of pages of public documents and conducted dozens of interviews with gun range workers, customers, state and local officials, and public health experts.
What I was learning was mind-boggling. Gun ranges known to be exposing clients and the nearby environment to potentially harmful levels of lead have operated nearly free of meaningful regulation, documents from over a two-decade span reveal. Health data from the state's Department of Public Health revealed hundreds of lead-poisoning cases tied directly to gun ranges, as well as exposure to unsafe levels of lead by hundreds of thousands of people who have visited ranges or lived near them.
As I struggled to tell a sprawling story, Mike Gray, my editor at the San Francisco Chronicle, asked me a vexing question. "Joe," he said, "this story is so complex, we have multiple state agencies and local agencies, which one is ultimately responsible?" 
I told Mike that was actually a hard question. I saw the problem of lax regulation as a failure of leadership and communication, no one was really taking responsibility. 
At Cal/OSHA the worker protection agency, the agency issued puny fines and more importantly allowed bad actors to keep operating. 
Some agencies were completely AWOL. At a South San Francisco gun range, which the California Department of Public Health was aware had caused dozens of lead poisoning cases, a San Mateo county hazardous waste inspector took target practice at the range rather than inspect the grounds. 
Air districts across California, the agencies that are supposed to protect the public from airborne toxins like lead, were ignoring indoor gun ranges altogether, claiming they posed no public health threat. The evidence I was gathering showed something else: lead was spreading from dissipated ventilation systems and coating a children's gymnastic facility, seeping into the mud in a stream, and contaminating a kid's park in Sacramento, necessitating a million-dollar clean-up. 
Mike then said something unexpected, "Then we should tell that story." 
It's rare that an investigative reporter is allowed 6,000 words to tell a story (that amounts to a big portion of the front page and four pages inside. All that ink raises a question: Given our short attention span and polarized reality, does comprehensive reporting make a difference? 
Previous reporting I have done about regulators has had an impact. In 2019, Gov. Gavin Newsom signed a bill to protect workers from lead after reporting I did for Capital & Main and KQED on the topic. That legislation has led to dozens of inspections and fines, which would not have happened otherwise by Cal/OSHA. 
Following the recent story in the Chronicle, I'm hearing chatter from sources including regulators that the only way to really protect the public may be to ban lead bullets from indoor gun ranges, especially given pending changes to California lead standards that will be far more protective.
And I'm seeing more tangible signs of reform, too. 
The South Coast Air Quality Management District (SCAQMD) covers a large swath of Southern California. I learned during my reporting that SCAQMD had failed to inspect a troubled gun range, despite evidence of serious contamination gathered by the Department of Toxic Substances Control. Following publication, the district told me "South Coast AQMD's investigation of lead emissions from firing ranges is ongoing. The investigation has expanded to numerous facilities throughout our jurisdiction, and we have conducted over 40 site inspections. We have also begun collaborating with other air districts to attempt to develop a uniform approach to enforcement for all gun ranges."
The Bay Area Air Quality Management District (BAAQMD) had previously provided the confounding statement to me that "an Air District permit may be required if more than 44,000 rounds of small-caliber ammunition are fired per day. We believe the average number of rounds fired at a gun range is about 3,000 rounds per day." Now, following publication, the agency is revisiting that policy. 
A few weeks after the story, BAAQMD spokesperson Kristine Roselius emailed me, "Hi Joe. I first want to thank you for your article in the SF Chronicle, which was very informative." More importantly, Roselius let me know that as part of a statewide rethinking the issue, "the Air District will be revisiting whether permits and health risk assessments may be required at Bay Area gun ranges."