How I reported on absenteeism in a low-income community that already felt stereotyped
Image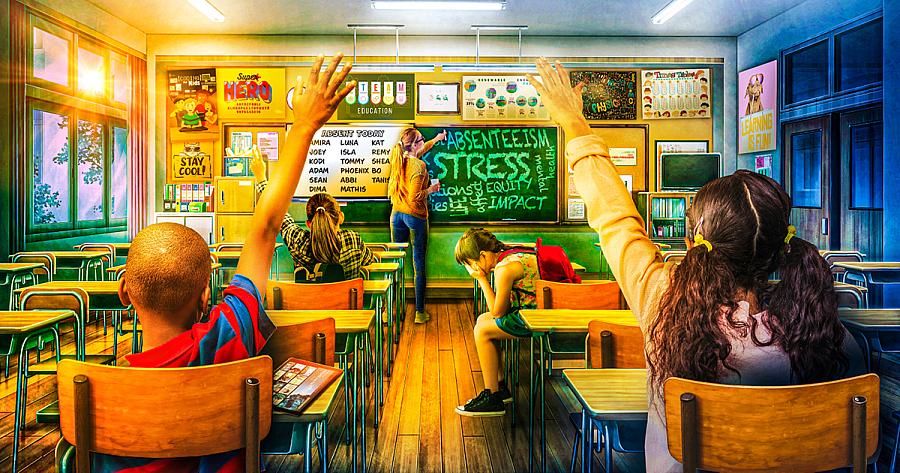 Published on
September 8, 2023
Approaching a community that already feels misunderstood, forgotten, fearful or mistrustful of institutions is not something a reporter should take lightly. 
I knew this would be the case in East Palo Alto, the community I chose to cover for my 2023 California Health Equity Fellowship project on chronic absenteeism in school. 
I'm sensitive to the narrative around the East Palo Alto-area as an epicenter for poverty or violence. The community is certainly so much more than that. It's tight-knit and diverse. There is a palpable sense of pride. 
But it is a low-income pocket of the Bay Area. Some 86% of students in the Ravenswood City School District during the 2021-22 school year met the definition of socioeconomically disadvantaged, which means that are eligible for free or reduced- priced meals or they have parents or guardians who did not receive a high school diploma. Nearly 47% of district children have experienced homelessness. 
For a long time, test scores have slumped at schools in the area, which lies in the shadow of Stanford University and wealthy Silicon Valley school districts on the other side of Highway 101. During the 2021-22 school year, there was a huge jump in the number of students who weren't coming to school. The state average was high that school year, 30%. But the figures were over 50% in the Ravenswood district and East Palo Alto Academy charter high school.
I am a local reporter and I've been covering the school district since 2021, so I was not coming in as a total outsider doing spot coverage. 
So how do you approach talking to members of a marginalized community? I knew it would be important to clearly explain to sources from the get-go why I chose this project. I knew I'd be asked, Why East Palo Alto? Why Ravenswood? My answer: the figures for chronic absenteeism — which means missing at least 10% of the school year — were significantly higher in this area and I wanted to explore why so others could understand the reasons without coming to conclusions based on stereotypes. We know that missing school affects students' learning and success long term, so this is an important topic to the community. What solutions are there? 
In my previous reporting, I'd worked with trusted leaders in early childhood learning programs in the area. They turned out to be good connectors to sources who might be hesitant to respond to a cold text message, or who don't speak English, are undocumented or are just wary of the press. 
I also took steps to make sources comfortable. These included meeting in person and agreeing to keep interviews off the record initially. I came to a photo shoot with one source I'd already met so they'd feel comfortable with the photographer. 
I understood that some sources needed to remain anonymous: If your employer tells you not to talk to a journalist, you could lose your job or face other retaliation if you become identifiable in a story. Of course, as the reporter I needed to know who the person is to make sure a story is sound. I used some of my off-the-record interviews purely for my own understanding of the community and school attendance trends. 
Since the majority of the community speaks Spanish, I knew it was important to translate the story so we were speaking to the community members, not about them. I speak some Spanish but leaned on a colleague who could speak more fluently to help me translate a community outreach survey and to act as a translator with people who didn't speak English. 
We hoped to translate the copy in-house to cut down on costs but few staffers in our newsroom are native Spanish speakers and already have limited bandwidths. I put out an all-newsroom call for possible translators and one helpful editor recommended someone she'd worked with. The translator, a local familiar with the area, was available and able to do the work well with a fairly quick turnaround time. 
Other reporting challenges
The biggest hurdle from the start of the project was that the school district said it didn't have the resources to pull a vast amount of notes on the reasons for student absences, something I was particularly interested in. 
School board presentations conveyed that absences were mostly illness-related (COVID-19, RSV and the flu), but no numbers were provided. 
The Ravenswood district does not keep a detailed database on the causes of students' absences, which is similar to practices in other districts in the area I contacted. Instead, missed days are recorded and marked as excused or unexcused. Notes on absences are kept within individual student records, but the districts do not keep such notes consistently. 
I requested absence notes, but Ravenswood officials declined, saying it would put undue burden on its staff and violate student privacy — even though I'd requested that any identifying information be redacted. I consulted with media lawyers through the California News Publishers Association and they confirmed that the district didn't have to release the information because it was data that wasn't already compiled and would impose a significant burden on staff time. 
Even more disappointing was that a startup, EveryDay Labs, that worked with the district on solutions to chronic absenteeism wasn't given permission by the district to release the data to me. 
But there was a caveat. EveryDay Labs had general data from its customers it could share with me. For example, its CEO told me that during the 2021-22 school year, about 10-15% of California families that received interventions through EveryDay Labs texted the company's family support bot or team. When the chatbot asked questions about barriers to getting to school, the top reasons were physical and mental health issues, followed by food and housing insecurity. Transportation was much lower on the list.
In the 2022-23 school year, there was a big increase in questions related to mental health and wellness (15%) and fewer about physical health. Fewer than 3% of questions were related to COVID.
I felt some level of peace to have concrete data that supported what I was hearing anecdotally from multiple sources. 
---
Read the series here.