How limited access to health care hurts mothers and babies in South Texas
Image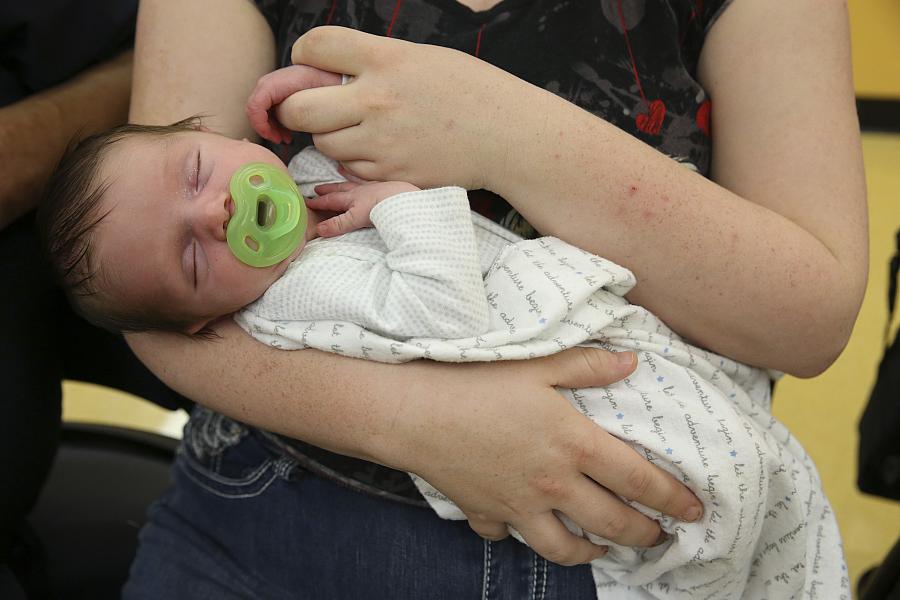 Published on
October 28, 2019
In Texas, a mother's chance of delivering her child by cesarean section and a baby's chance of experiencing health problems early in life may have a lot to do with the place she gives birth.
South Texas, a triangular region at the southernmost tip of the state, is home to nearly 5 million people. Yet huge swaths of the area lack general hospitals, including those with critical labor and delivery services. South of the San Antonio metropolitan area, there are few hospitals with departments geared toward the needs of expecting mothers. 
The area, including the Rio Grande Valley and other border communities, is known for its booming trade economy and rich blend of cultures. But it also is beset by other problems that could complicate life ― and health outcomes ― for expecting mothers and their newborns. Prevalent health issues like diabetes, a lack of education and high rates of poverty all coalesce to exacerbate the dearth of services. 
For the 2019 Data Fellowship, the San Antonio Express-News will examine how the lack of services and other socioeconomic realities worsen health outcomes for pregnant women and their babies. Our investigation for the 2019 Data Fellowship will fall into two main areas of focus: how limited access to care influences a mother and her fetus's health before delivery, and how those same gaps can harm newborns after birth.
We will examine how the health care landscape in South Texas serves as a microcosm for the lack of OB-GYN services in rural areas across the nation. According to the American College of Obstetricians and Gynecologists, less than half of women living in rural areas in the U.S. can drive to a hospital offering OB-GYN services within 30 minutes. 
Of the 254 counties in Texas, 35 have no physician, and 80 have five or fewer physicians, according to a report by Texas A&M University. Depending on where a mother lives in South Texas, it might take more than an hour to reach a hospital. For mothers and babies facing health problems, that can pose serious risks. 
A preliminary analysis of state data shows that the percentage of babies delivered by C-section in some South Texas communities is significantly higher than state and national averages. Health safety groups also consider high C-section rates as an indicator that hospitals are poorly managing pregnancies of expectant mothers. And, once mothers undergo surgical deliveries, some doctors require that all future deliveries be cesarean ― even though repeat C-sections come with serious risks, like higher chances for blood loss, placental abnormalities and infection. Those major surgeries come with higher price tags, too.
At the same time, infants die at alarming rates in pockets of South Texas. Parts of the area are also plagued by another problem: low birth weights. Such births are associated with higher infant complications, including problems with feeding, gaining weight and warding off infection. These babies also tend to struggle to regulate their body temperatures and may suffer from neurological, gastrointestinal and respiratory problems. 
Using data from the U.S. Centers for Disease Control and Prevention, the state department of health and researchers, our reporting will analyze markers including rates of cesarean sections, low-birth weights and pre-term births to illuminate health care disparities for mothers and their babies in South Texas. We will also seek to expose the limitations of the data in Texas, a state that made national headlines for sloppy data collection on maternal deaths. 
The stories we produce will analyze what is working — and what isn't — when it comes to caring for mothers and babies in Texas's rural communities. Are understaffed hospitals leading to poorly managed pregnancies? How does a lack of insurance play into women's access to prenatal care? What happens when doctors aren't within an easy driving distance? When a hospital shutters OB-GYN services, where do women go? 
In addition to answering those questions, we want to make sure our reporting serves the women in our community. We plan to build a searchable database that will allow readers to search for OB-GYN services at hospitals across South Texas, including prenatal care, delivery and whether hospitals offer vaginal births after c-sections, otherwise known as VBACs.