As I quickly learned, California's north coast is a tough place to find mental health help
Image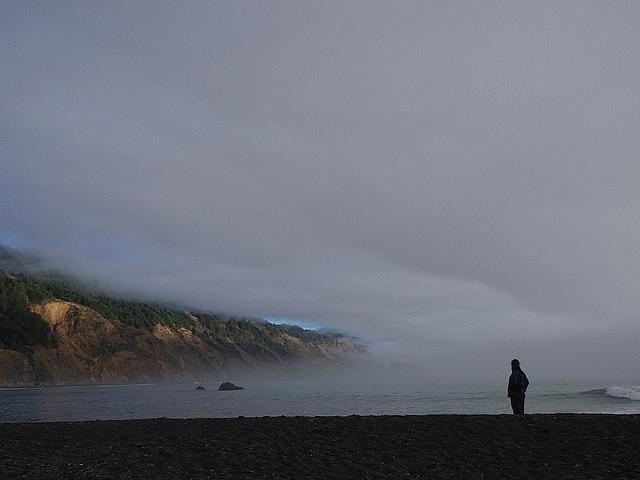 Published on
October 9, 2018
When I first began working in Northern California's Mendocino County, I counted my lucky stars I was working in such a beautiful part of the state. My commute to work was largely free of any traffic and the backdrop was a slate gray Pacific Ocean, covered by the fog that feeds gobbled centuries-old redwoods.
After a few months, my perspective began to change. The commute, though traffic-free, was dangerous, winding and long. Getting to the grocery store (there's only one), to the gym (also only one), paying astronomical prices for gas and the only decent cup of coffee in town were frustrating inconveniences.
Then came the feelings of isolation and loneliness. Most of the community on the South Coast is over 55, far out of my age group. The water frequently shut off. The power often went out. The internet was sparse. After about six months on the coast, I stopped caring about the food I was consuming, about what I wore. I stopped working out and I stopped reaching out to people.
I became depressed.
Luckily for me, I found part-time work in Solano County, a three-hour drive away, but with many more resources for me to take part in. Half of the week I was at home with family and friends, and half of the week I spent in the forest, lonely and waiting for the weekend to come.
After this experience, I began to ask myself questions. Where is the nearest hospital? Where could I get counseling services? What would they cost? Who can help me?
And if I was asking myself these questions, surely there were other people in more dire situations. What if I had a chronic mental illness? What if my car broke down halfway through my drive? What if the phone lines went down? These might be shoulder-shrugging questions for many people, but not here in a rural county. If I had a chronic illness, I wouldn't be able to make every appointment. If my car broke down, I would wait on the side of the road for hours. If the phone line went down and I had an emergency, I couldn't make the call.
I began to understand why covering this area is so important. Mendocino County is rural. Its residents are struggling with the most basic issues many take for granted just a few hours away. And in 2017, Mendocino County overwhelmingly voted to increase local taxes in an effort to provide better mental health services in the county.
But what was the county really going to do with those funds? That was my biggest question. And were the voters aware of what they were actually voting for?
It seemed to me voters saw the term "mental health" and didn't think twice about it. They wanted better services and hoped the tax would somehow take care of it. But how many were aware of the actual situation? Did people know how many died of suicide here? How many didn't have access to care and why? How big of an issue was stigma in a small community? What had stood in the way of adequate services for so long? Did it all just boil down to money, and would this tax usher in a new era of mental health services in Mendocino County?
The truth was far more complex. In Mendocino County, a continuum of care was non-existent for many years. People were shuffled from office to office and back again, entering and exiting doors they'd seen before.
As a result, people were people. They were unable to access care because they didn't have a car, because they heard from a neighbor there were no services, or because they'd tried to get services once but never received the care they needed.
With the backing of the USC Center for Health Journalism's California Fellowship and my assigned mentor and my editor, I began to crack this shell. I started to speak with law enforcement, hospital staff, mental health experts and county leaders to hear each of their perspectives. And everyone had a different take on the matter. 
Law enforcement officers expressed the need for a properly trained individual handling severely mentally ill; hospital staff said they needed a proper place to keep those individuals. For the county administration, it came down to gaining the trust and confidence of the public and county leadership, and for the public it was a need to access services conveniently.
The stories I wrote for the California Fellowship mapped out the troubles of accessing mental health care in California, in rural Mendocino County, and specifically on the South Coast. We published the articles in the Independent Coast Observer each week in August 2018, a total of five articles. We decided to publish them one after another to hopefully garner public attention and interest. 
When I first began the project, the information I received from mental health experts was confusing. It takes years to become an expert in such a system, and I didn't have that time. I found that continually clarifying and repeating my questions to sources would get me the right answers.
As I spoke with county administrators, they were largely concerned with following procedures and navigating the complex Medi-Cal reimbursement system. But there was little to no talk about outreach. They seemed at a loss to find a way to increase access to care, which has only recently been a focus since the Affordable Care Act passed. The only method they had were mobile outreach units. These units, I might had, were led by someone who refused to talk to me, since he was concerned about losing his job should he say something the county didn't like. How effective are these units? That's one question I was unable to answer.
I believe this series can help the right people get to work. But one problem I faced, ironically, outreach. A small paper on the outermost southern and coastal part of the county, we have a small, select readership. We publish in print; our online version is only a PDF of each printed publication, and it is behind a paywall. It can feel underwhelming to publish a story and not get much immediate response. It can feel disheartening to publish a story and not get any response at all.
It's too soon to tell what, if any, effect the articles written might have. My only hope is someone will see their own story in what I've written and come out and tell it themselves. I hope, in some small part, writing about mental health will continue to conversation and embolden people to speak up. 
"Silence is the deadly part," said Sonoma County Supervisor Shirlee Zane, whose husband died by suicide in 2011. She's right.
"We don't know what we don't know," said Sheriff Tom Allman, whose brother died by suicide in 2005 and who now leads the oversight committee for the mental health tax measure. He's also right.
[Photo by Rebecca.Shiraev via Flickr.]