Immigrant workers endure brutal labor conditions as California burns
Image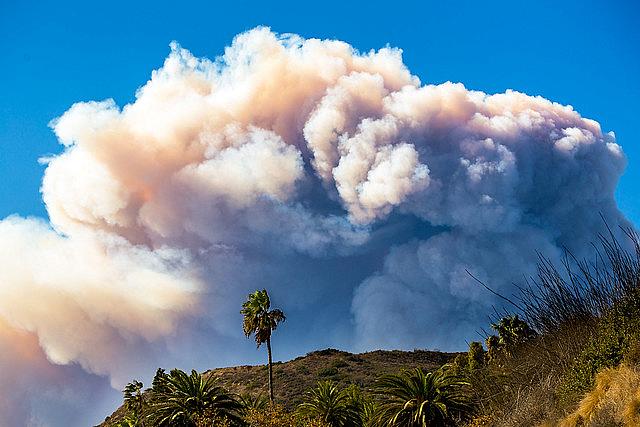 (Photo courtesy of Peter Buschmann/USFS)
Published on
August 7, 2019
When the Woolsey Fire started last November, Eladio Osorio was standing in front of a Malibu labor center, trying to drum up work. He and the other day laborers could see the black smoke unfurling in the distance. Then a man pulled up and said he had a special job for them.
"'I need help, maybe four or five people to help me keep the fire away from my house,'" Osorio remembers him saying.
Osorio had never fought a fire before, and he didn't have any gear. In an interview with La Opinión, one of Los Angeles' Spanish-language newspapers, he said the man drove Osorio and several other laborers to a tony house in Malibu. Osorio says he could see the wildfire in the distance, burning behind the hills. He and the other laborers protected the house for 24 hours, sleeping in shifts and spraying everything down with garden hoses. "I prayed to all the gods I could think of and asked them not to leave me," he says, "because I didn't want to burn."
I first heard about this story from Nancy Zuniga, the program director at the nonprofit El Instituto de Educación Popular del Sur de California (IDEPSCA). Zuniga and her colleagues have interviewed hundreds of day laborers and domestic workers about health and safety issues following the Woolsey Fire, and Osorio was one of them. He and other laborers described how the smoke stung their eyes and scratched their throats. "It raises a lot of questions," Zuniga said in an interview. "Whose health here is more important? What is unsafe, and for whom?"
Climate change is fueling increasingly extreme weather events, and someone needs to defend communities against them and clean up after them. In California, that person is often a low-wage immigrant worker with little training or support. These workers play a disproportionate role in disaster cleanups throughout the U.S., and they're routinely subjected to wage theft and hazardous conditions. Journalists have covered this in the aftermath of hurricanes Harvey and Katrina, but no one has investigated these "second responders'" role in California's wildfires. With the help of the 2019 National Fellowship, I plan to investigate labor violations during wildfire cleanups and hold the right institutions accountable for them.
While many immigrant workers, like Osorio, are hired by individual homeowners, others are hired by a convoluted network of subcontractors under the auspices of large corporations, which are in turn awarded multimillion-dollar government contracts. These are the labor violations I'm most interested in investigating. Throughout California, for instance, domestic workers are hired by both individual homeowners and subcontractors to scrub down damaged homes, some of which are contaminated with asbestos, charred bottles of bleach, corroded car batteries and other chemicals. Low-wage immigrant workers also play a key role in tree removal and debris removal and are not always provided with state-mandated gear and safety. In the aftermath of the Tubbs Fire in Santa Rosa, a KQED investigation found that laborers rummaged through burned-out homes without protective gear.
With the Fellowship's help, I hope to track government contract money, determine who is actually at fault when a worker is denied wages or hurt on the job, and help effect changes where they are needed.