The Mental Health of Asian Immigrants: "Building the plane while we fly"
Published on
March 14, 2010
On a Saturday morning, four people wait outside the front door of a converted mini-mall in Rosemead, CA. Ten minutes later -- the doors open exactly at 9 a.m. -- the two women and two men file into the lobby to sign in for their appointments at the Asian Pacific Family Center. The front desk is covered with pamphlets in the many languages of the significant Asian immigrant populations of the San Gabriel Valley. The clinic operates in Vietnamese, Mandarin, Cantonese. Cambodian Chiu Chow, Japanese and Korean, serving over 1,700 immigrant Asian Pacific outpatient families per year.

Using the Diagnostic and Statistical Manual of Mental Disorders (DSM), the standard manual for professionals diagnosing mental health illness, clinicians might find that Asians have lower levels depression and other mental health problems. But diagnosing across cultures and languages means that patients do not always fall neatly into the standard diagnostic paradigms, says Terry Gock, Ph.D., M.P.A., director of the clinic. Gock spoke to the California Health Journalism Fellows this weekend about creative treatment options for mental illness in the Asian immigrant population. Asian immigrants describe and experience mental illness in very different ways, he says. Instead of saying that he is angry, for example, a Chinese-speaking patient might say (in translation), that his "liver is on fire"; instead of saying that he is sad, he might say that his "heart is not feeling well."

The Asian Pacific Family Center offers culturally appropriate services that go far beyond simple translation. Professionals there understand, for instance, the heavy burden felt by entire families when mental illness is diagnosed. The resulting pressures can easily lead to secrecy, denial, and a lack of medical attention for ill family members.
Glenn I. Masuda, Ph.D., the center's associate director, has spent 23 years working at the clinic. He remembers growing up in South Central Los Angeles and asking his mother, "What's crazy?" She responded by telling a story about a onetime high school sports hero who lost control and began repeatedly hitting a tree with a baseball bat. Bloodied, he was taken away by the police. "Then what happened?" Masuda asked. "His sisters never got married," she told him.

Though he did not realize it at the time, he says, this was his first introduction to mental health issues among immigrant communities. The stigma and cultural mores are important to recognize when providing services. Outreach is essential to prevention, he says, and "diversity competency" is a must.

Dr. Gock is himself an immigrant from Hong Kong who got his undergraduate degree from California State University at Chico. "I thought I knew America from the Hollywood movies I saw in Hong Kong," Dr. Gock says, "and boy was I wrong." Instead, he felt intense isolation and alienation as a studious newcomer, "plucked down in a dorm where everyone was drinking around me." Remembering the help he received from a few sympathetic professors and a host family, he says, "What I feel I do now is just paying back and paying forward to do my little part for immigrant families here."

The Center's new models are gaining federal recognition as effective tools. Its parenting and youth programs, for instance, teach conflict resolution strategies for immigrants who have different ways of settling disagreements. Most conflict resolution strategies in the United States rely on face-to-face discussion, while most Asian cultures prefer the help of intermediaries so that no one loses face. So the center helps youth turn to trusted teachers to intervene before tensions boil over. Much of their work is pioneering, with all the uncertainties that implies.

"We're building the plane while we fly," says Dr. Gock, "however, we are considered the experts."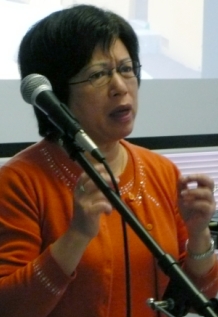 Stella Ho (left), a mental health educator, is an immigrant from Hong Kong  who struggles with mental illness herself. "In the beginning I sought help from a private psychiatrist," Ho told the Health Journalism Fellows -- in translation from Cantonese. But in Hong Kong, visiting a psychiatrist carried with it significant stigma which made it difficult to find a job and maintain friendships and family relationships. The Center, she says, provided not just treatment but also helped her family to understand her illness and accept her. But her long battle has left scars, especially as she tries to make friends. "No matter where I go, I still often believe they can see that I have a mental illness no matter how I look or behave," Ho says. "My therapists and doctors try to make me understand that mental illness is not my fault." [You can read more about Ho in a Nov., 2009 Los Angeles Times article "Center Helps Asian Americans Combat Mental Illness"]

Jennifer, who prefers to be identified by her first name only, is a 16-year-old first-generation Chinese American. She remembers how difficult it was to deal with her mental illness because she had a hard time overcoming cultural and language barriers to communicate with her parents. She tried therapy and family counseling with six different places, never feeling comfortable enough to keep going back. Eventually she began to lash out in anger and admits having had thoughts of suicide and murder. But when she came to the Center, she found treatment that works for her. Three years later, she smiles broadly as she tell Fellows that her relationship with her parents is greatly improved. Today, she is active in youth activities in the San Gabriel Valley.

"Everything we do here is based on research, evidence-based practices," Matsuda says, "but everything we do, we have to tweak it and tweak it and tweak it."