New report will look at challenges facing Black boys in one Indianapolis neighborhood
Image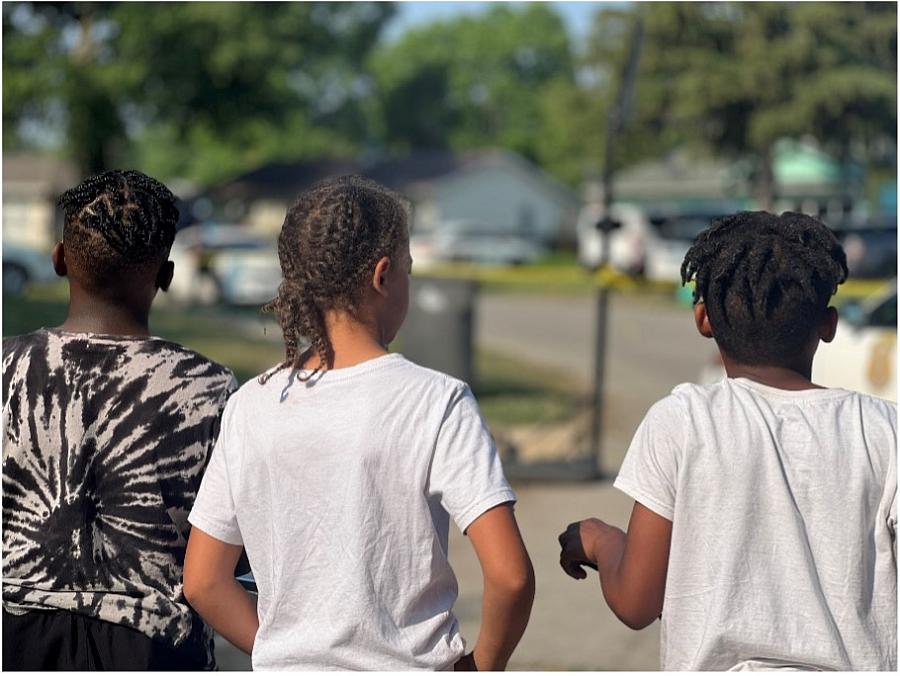 Jade Jackson/Indianapolis Recorder
Published on
November 3, 2023
On Friday, June 9, 2023, there were three separate accidental shooting incidents across Indianapolis. Two out of the three were boys. 
Police confirmed that they were 8, 11 and 13 years old.
That following weekend a 12-year-old boy was shot in the early morning hours at an Airbnb house party. 
Riley Children's Health say they have seen an uptick of accidental and intentional child gunshot victims over the last five years. 
When you look at reports on education for all children according through Indiana's Learning Evaluation and Assessment Readiness Network (ILEARN), they show that Hoosier students in grades three to eighth are still largely falling behind in English and mathematics. 
Compared to 2022 ILEARN data, Black students improved overall in each category. However, the growth was small, ranging from as little as 0.6% to as high as 1.8%. The 1.8% gain was in math.
Compared to other students, Black children are significantly behind academically. 
It's imperative to recognize that the challenges faced by Black boys in particular extend far beyond the classroom. They encompass a range of critical issues, from early childhood development, education and health disparities. 
When you take the average Black male child born a little above or below the poverty line in Indianapolis, the outcomes for his future appear limited. 
By focusing on one predominately Black neighborhood in Indianapolis — Martindale-Brightwood — I want to report on the current state of our Black boys based on all of these factors.
This focused reporting can then be compared to the rest of the Hoosier state.
In 2020, the maternal mortality ratio for Black Hoosier women was 208 per 100,000 live births, compared to 108 for white women and 71 for Latino women. 
Historically underserved communities are exposed to overlapping inequalities in medical care. They also lack access to other opportunities — such as employment and education — that are linked to higher risks of maternal mortality. 
According to Indiana Schools Bullying, Safety Staffing and Arrests Report for 2022, there were 1,291 total arrests off of school grounds reported for the 2021-2022 school year. 
Of the overall student arrests, 68% were male. Of those arrested, 26% percent were Black, second behind white students. 
It is important to remember that 84% of Hoosiers are white, compared 10% who are Black, according to the 2022 Census. 
The Martindale-Brightwood neighborhood has been known to be a hot spot for crime. 
For 2023, the Indianapolis Metropolitan Police Department received 1,288 calls from January to mid-July, with 46218 the second highest ZIP code in Marion County for domestic violence calls. 
There are so many stories to tell here. My project for the 2023 Impact Fund for Reporting on Health Equity and Health Systems will focus on the current state of our Black boys in this neighborhood. 
The truth of the matter is Black boys are severely behind. 
My hope is that this reporting can be used as a reference for city leaders to implement policies for change. I also hope it can be used by community leaders making a difference in the Martindale-Brightwood neighborhood to create better outcomes for our Black boys. 
The Indianapolis Recorder, the fourth oldest Black newspaper in the country, is in the heart of the Martindale-Brightwood neighborhood.
Hearing police sirens every day as a reporter is not the same as it for the young Black boys seen running around the community, because this is their home. 
There are established organizations in the neighborhood whose mission is to improve the outcomes for these boys.
Often times though, you have a divide between the people meant to serve and the people who are being served. I plan to highlight a deeper reality of why people being served also struggle with those services. 
The bigger picture is showcasing the influences that sway our boys to negative outcomes and what can be done to change their trajectory. 
The state of our Black boys is also the state of our future Black men.