Obamacare Enrollment Campaign Works To Break Through Information Fog
Image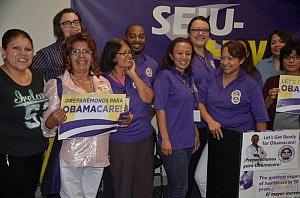 Published on
September 5, 2013
with Lily Swartz
The Esperanza Health Center plays a lot of roles in the north Philadelphia community it has been serving for 25 years. It offers Zumba classes for women and cardio kickboxing classes for anyone who's game. A community kitchen is used as a classroom to offer lessons in healthy eating and to help diabetics create meal plans that work. The on-site fitness center is shared with other community groups that need gyms or safe places for kids to play after school. And a team of counselors works at the clinic and other settings in the low-income neighborhood to test people for HIV and counsel those who have it.
Now the center is taking on another assignment: With federal funding, Esperanza is deploying staff members and volunteers, all of whom speak Spanish and English, to help community residents get ready to be enrolled in health insurance through the Affordable Care Act, better known as Obamacare.
They're going to churches and gatherings in the largely Latino and African American community to explain how the program will work. They're training teachers and staff members at businesses and nearby agencies, including a crisis pregnancy center. The goal is that when online health care exchanges begin operating October 1, residents of north Philadelphia will have the information they need to use these marketplaces to shop for health insurance—and to get federal tax credits to help pay for it.
Similar drives are underway across the country, as community clinics, health care advocates and faith-based organizations make a push to find the uninsured and help them get ready to obtain it. They're confronting a challenging mix of hostility from Obamacare critics, an uninformed public and an advertising campaign launched by Americans for Prosperity, a conservative political action fund bankrolled by the Koch brothers, which aims to deter people from signing up.
In California, a state where political leaders, civic organizations and the public strongly support the health reform law, a new poll shows both the problems and the potential. A Field poll released Aug. 21 found that only 48 percent of low-income residents eligible for free coverage and 33 percent of moderate-income residents eligible for subsidies knew they'd be eligible for benefits when coverage begins Jan. 1.
On the other hand, 66 percent of voters said they think the law will be successful and 65 percent they'd like to know more about benefits, including 83 percent of uninsured voters, 82 percent of African-Americans and 79 percent of Latinos. Covered California, the agency administering the state's health insurance marketplace, will begin a "full-scale" advertising campaign in early September and will spend $85 million by the end of next year on TV, radio, print and digital advertising, said spokesman Santiago Lucero.
As I reported earlier this week, The California Endowment, a statewide foundation that works to expand health care access, has pledged $225 million to promote the law and grassroots organizations, including the Service Employees International Union, are mounting their own efforts to enroll low-income Californians.
Nationally, Enroll America, an organizing effort led by veterans of Barack Obama's presidential campaigns, has deployed 90 field organizers in 10 key states, a number that will rise to 150 by Oct. 1, said Jessica Barba Brown, the group's communications director.
Using census information, data purchased from consumer loyalty programs and micro-targeting technology, Enroll American field organizers can pinpoint zip codes and even blocks where people without health insurance are most likely to live.
"We're knocking on doors, making phone calls and going to high-traffic events in low-income neighborhoods where there are lots of uninsured people," said Trey Daly, Enroll America's Ohio director. "Having lots of good data helps us to focus our outreach efforts and be as efficient as possible."
Enroll America's staff of data geeks applies analytical models that help them estimate how likely it is that any individual will be uninsured. "If people are low income, if they work part-time instead of fulltime, they're more likely to be uninsured," says Daly.
In Texas, Enroll America's 23 field workers are working with volunteers and collaborating organizations to reach the nation's largest pool of uninsured. About 6 million Texans—nearly one resident in four— are uninsured, yet Gov. Rick Perry has refused to allow Texas to expand its Medicaid program or to operate its own online health insurance marketplace.
Despite the hostility of the state, enrollment organizers are working closely with city health departments, school districts, community clinics and food banks, as well as groups like the Texas Organizing Project and churches, said state director Mimi Garcia. The organizers believe face-to-face conversations can break down confusion and distrust about the program.
"The insecurity and stress of being uninsured is ever-present in people's lives," Garcia said. "When we say that starting Oct. 1, you're going to have the opportunity to purchase insurance and there will be people who will be able to help you—that's powerful."
In north Philadelphia, outreach workers for Esperanza Health Center don't really need high-tech technology to locate the uninsured, says Karen Norris, the clinic's director of HIV care and social services. "We have a dense population in a small area and everyone we work with knows someone without insurance," Norris says.
The clinic received a $75,000 federal grant to help pay for three part-time certified application counselors and to train 10 current workers to do outreach. The grant was part of $150 million being provided by the Health Resources and Services Administration (HRSA) to 1159 health centers around the country to enroll uninsured patients and neighbors in insurance.
Organizations like Esperanza, with deep roots in the community and a cadre of outreach workers and volunteers, are well-positioned to connect with area residents and help them navigate the process, Norris says. Clinic staff already does canvassing to promote HIV testing, so residents "are used to someone in scrubs standing on their porch," she says.
The outreach work is challenging right now because the exchanges where people can purchase insurance in each state won't open until Oct. 1, Norris said. And when they do open, Pennsyslvania residents won't be able to get free insurance through Medicaid since the state has declined to take part in its expansion.
So far, 19 mostly western and northeastern states plus the District of Columbia, with a total population of 134 million, have agreed to expand their Medicaid programs to include people with incomes up to 138 percent of the federal poverty level. Fifteen states with 91 million people, including Pennsylvania, Texas and Ohio, have decided not to expand Medicaid, denying low-income residents the opportunity to obtain free health coverage.
West North Carolina Community Health Center, a community clinic that serves the area around Asheville, got a $142,000 grant from HRSA to beef up its staff of outreach workers and enrollment specialists. They will be screening their patients and neighbors to assess their income and eligibility, said Scott Parker, the clinic's director of collaboration.
According to census data, almost 13,000 residents in the area served by the clinic have incomes below 100 percent of the federal poverty level, Parker said. They won't be able to get Medicaid since North Carolina isn't expanding the program to people who aren't disabled. The clinic will continue to serve this group for free and hopes to keep serving on a fee-paying basis some of those who obtain coverage.
North Carolina Blue Cross Blue Shield has devoted three full-time staff members and trained 150 employees to speak at public events and to barnstorm the state in a "mobile health reform education unit," said Director of Marketing Bruce Allen. The campaign aims to let existing customers know they may be eligible for subsidies and to tell the currently uninsured they're required under the law to get insurance.
"It's a complicated law and there's a lot of misinformation out there," Allen said  "But in general, we've found that even when people don't get great news from us—they're not eligible for a subsidy, for example—they're still  happy to hear that subsidies are not just for the 'very poor,' but can help the middle class."
This blog is part two of a series on Forbes.com. Part one is available here. For more posts from Rob Waters, click here.