One Man Saved From Homelessness
Image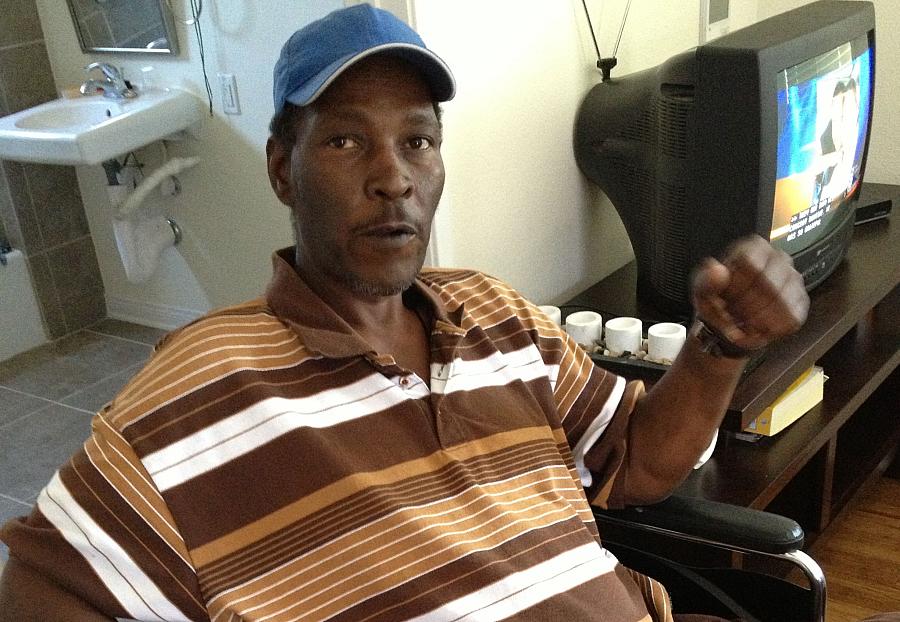 Published on
July 18, 2013
UNIVERSITY OF SOUTHERN CALIFORNIA — On a Monday afternoon, Willie Jordan wheeled himself into his boxy apartment near downtown Los Angeles. He showed his new belongings: a mahogany brown leather love seat, a queen-size bed with a metal headboard, and a small television.
"This is my home," he said while sitting in his wheelchair. "My neighbors and I are friends."
Jordan, 53, is one of the tenants in a newly renovated apartment building with governmental rental subsidies to families and individuals who have a disability, like him, or have been chronically homeless and struggled with serious mental illness. 
Known as Housing for Health program, it is part of the LA County Department of Health Services that collaborates with nonprofit developers, community-based organizations and other government agencies to provide housing opportunities for homeless or nearly homeless population. The city government buys up apartment buildings — some had been foreclosed — renovates them and offers each apartment unit at a rent that tenants can afford.
According to Marc Trotz, director of Housing for Health, permanent supportive housing improves health status of homeless people, and it provides them housing stability, greater independence and economic security.
"It takes this amazing partnership," Trotz said, "and now these individuals have safe and affordable housing, which is a critical step in breaking the cycle of homelessness."
The housing program, at least at Jordan's building, does not have an on-site building manager. Instead, someone comes once a week to check in with tenants and make sure the property is well maintained.  
Trotz described it as a "roving model," allowing the tenants to involve themselves in maintaining their apartments, such as cleaning their own place and consider it as their own.
On the brink of homelessness
For years, Jordan worked as a cashier for Mobile gasoline station in Pasadena, California. After he had a serious parasitic infection in 2011, it left him jobless and unable to walk.
With no savings and a place to go, he said, his last resort was to live on the streets. "My toes just rotted off, and I could not move around anymore," Jordan said. "I would have been homeless right now. Guaranteed."
But while he was getting his treatment in a county hospital, he met a case manager who worked for LA Department of Health Services and introduced him to the Housing for Health program.
Jordan now gets $221 a month from his Social Security's Supplemental Income (SSI) for his disability. About 30 percent of it goes to his rent, including his utility bills.
While only a small portion of his SSI is left after rent, which he says that "going to a movie may be [financially] difficult," he gets proper health care through assistance from a health case manager who regularly comes to pick up and bring his medicine as well as help him buy his groceries.
"I like it here a lot. We got a basketball hoop in the back and there's a shopping mall nearby," Jordan said. "It has changed my life."