One way or another, the federal government is still bent on pushing Medicare into private hands
Image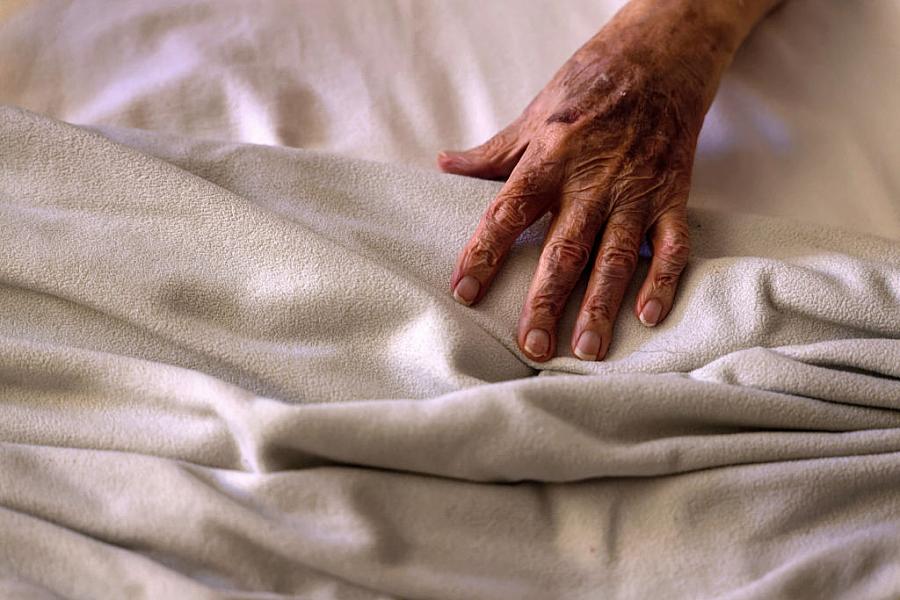 (Photo by John Moore/Getty Images)
Published on
June 22, 2022
By the end of this decade, the government aims to put the last group of seniors, some 35 million of them still in traditional Medicare, into some version of managed care. That means in eight years, 64 million Americans age 65 and older will get their care from either an "accountable care organization" or a Medicare Advantage plan that will be responsible for managing their health needs, deciding what services they will get, which ones they'll pay for, and most important for Medicare, attempt to reduce the overall cost of health services for seniors — and presumably saving the government gobs of money. (Accountable care organizations are tasked with caring for groups of patients, with financial incentives to hit quality benchmarks and penalties when costs balloon.) 
The shift would also complete the privatization of what has been a popular and successful social insurance program since 1965. Whether that underlying goal will be realized remains to be seen, but at the very least, millions of seniors still in the traditional fee-for-service program and presumably happy with their care need to know what's in store for them. Seniors, who will be automatically "aligned" as Medicare calls it, in these plans beginning next year, can opt out. One catch is that they will lose their primary care doctor and must find a new one who is not participating in this five-year demonstration project.  If it is successful, it may be scaled up so all primary care doctors could eventually be in this new arrangement.  
No longer will it just be pitchmen Joe Namath and Danny Glover, whose ads have helped steer nearly half of the Medicare population into privatized plans. The government will steer the rest into managed care. Under the government's new program, called ACO REACH (which stands for Accountable Care Organization Realizing Equity, Access and Community Health), Medicare will likely become increasingly privatized. As Politico put it, these models "are part of a long-standing bipartisan effort to shift providers away from fee-for-service health care toward new models that promote cooperation between providers and insurers." Today, they include private equity firms that aim to profit from managing care. Insurance companies and private equity firms are now teaming up with physician groups to invest in these new accountable care businesses, generating profits for all involved if they can save money for the government. They also argue that patients win if and when they hit improvement benchmarks for the quality of their care.
Transforming Medicare into a program managed by private insurers has been a long-sought goal of politicians, dating back to House Speaker Newt Gingrich in the 1990s and embraced by successive administrations. The Biden administration is no exception and has set a goal of placing all Medicare beneficiaries in one of these so-called "value-based care" arrangements by 2030. In my view, such a move would fulfill Gingrich's prophesy of letting "Medicare wither on the vine."  
Ironically, the current threat at Medicare's doorstep emerged with the passage of the Affordable Care Act in 2010. That law, which made it easier for poor and sick Americans to buy private health insurance, also set up the Center for Medicare and Medicaid Innovation, a program with little government oversight designed to "innovate" new ways to pay for care that save money for the government. Since then, the Innovation program has created some 53 models of care looking for the ideal combination of ways to cut costs and improve outcomes for beneficiaries. The Centers for Medicare and Medicaid Services (CMS) says it is currently testing 21 models. Others were discontinued because they did not meet the requirements for expansion. Last October the agency announced it was trying yet again and expects all Medicare beneficiaries, including the millions still in fee-for-service, to be shifted into what it called a "care relationship with accountability for quality and total cost by the end of the decade." Whether yet another new program will achieve Medicare's objectives remains to be seen.
Critics of these programs fear that these programs will seek to save money by limiting health care services, some perhaps unnecessary but others not. If they succeed, investors can keep a portion of the savings as profit. 
Some Medicare beneficiaries may already find themselves enrolled in older, similar Medicare managed care programs, which raises the question how much patients know about how their care is managed in Medicare. Letters sent to patients of Sutter Health in California, patients of Clover Health in New Jersey, and patients of Cascadia Community Care Alliance in Oregon, suggest they might not know very much. They received nearly identically worded letters from these health plans advising them that their doctors had become part of a Medicare "direct contracting entity." (While ACOs have been provider-based organizations contracting directly with Medicare, DCEs do not have to be, and some are controlled by insurers and financial companies.) The letter notes that while their Medicare benefits have not changed, their doctors have asked the plan to help "see that you get the right care at the right time." That's a phrase used to entice Americans into managed care arrangements decades ago. That identical wording sent by organizations operating in three different parts of the country suggests a coordinated strategy to keep patients from leaving. The letters say patients can still go to any doctor or provider who accepts Medicare and notes their Medicare benefits have not changed. The 99 direct contracting entities will be folded into ACO REACH if they're successful, said David Pittman, a senior policy adviser for the National Association of ACOs, an industry trade group. "The concept behind the ACOs is that if we make doctors accountable for all spending, they will keep patients out of hospitals and emergency rooms and give more efficient care," Pittman said.
The government is allowing private equity firms to invest in these new care organizations and share any profits that accrue from managing care. Despite the bullish rhetoric that has historically been attached to accountable care organizations — improving the quality of patient care, lowering health care costs — private equity firms are not known for their social altruism or desire to pare government expenditures. Critics of these programs fear that these programs will seek to save money by limiting health care services, some perhaps unnecessary but others not. If they succeed, investors can keep a portion of the savings as profit. 
Whether any of these changes will reduce Medicare's expenses and improve the health of its beneficiaries, especially people of color whose health CMS is targeting for improvement, is a big unknown. "The middlemen are more interested in their own financial well-being than the health of the people they are managing," said Dr. Ed Weisbart, who once served as chief medical officer of a managed care organization and now is chair of the Missouri chapter of the Physicians for a National Health Program (PNHP). "The investment community is not investing for some noble interest. They're not investing to improve the public's health."   
Indeed, the modest changes the federal government announced to this "direct contracting" model in February (including the name change to ACO REACH) may cause little disruption for the investment community, now already a large stakeholder in the Medicare business. Shortly after CMS announced changes to its model, Veda Partners, whose business is providing policy analysis to institutional investors and venture capital firms, told its clients "most of the so-called reforms highlighted by the agency in its press releases are largely superficial in nature or merely reiterate preexisting protections for beneficiaries … In our estimation, the reforms are one part a public relations exercise intended to placate the Biden administration's critics on the left and one-part modest revisions that should not tangibly impact the for-profit entities currently participating in the model." The firm also noted the program "has come under fire from progressive lawmakers and activists as a supposed backdoor 'privatization' of fee-for-service Medicare." 
PNHP is pushing back against these new arrangements. Late last year, members sought to deliver a petition to Health and Human Services Secretary Xavier Beccera, signed by some 10,000 people protesting these new care entities. Beccera refused to see the delegation. They left the petition with a guard hoping it would reach him. Several weeks later Medicare officials did have a phone call with PNHP representatives, during which CMS continued to voice their support for these new models of care.
The core issue in this debate is as it always has been: How should doctors be paid and who should profit most in a health system that is basically a for-profit endeavor rather than a public good as in most other peer countries? 
Similarly, PNHP and other Medicare advocacy organizations have gotten little support from Congress, where many members are firmly in the Medicare Advantage and managed care camp, thanks to the industry's campaign contributions and strong lobbying. The Better Medicare Alliance, which bills itself the leading voice for Medicare Advantage plans, knows how to stroke congressional egos. Its "Medicare Advantage Champion of the Year" awards go to members of both parties who have "demonstrated exceptional commitment to supporting seniors' choice of Medicare Advantage coverage," and in recent years members of Congress have signed letters of support for MA plans that bolster the alliance's advocacy efforts.  Seven members of Congress who signed the Alliance letter also signed a letter sent by Rep. Pramila Jayapal, D-Washington, and 53 House colleagues to the Biden administration that "calls for eliminating these profit-first Direct Contracting Models, restoring care for millions of seniors, and ensuring Medicare remains a reliable public benefit that offers the highest quality of care to people across America," according to the press release.
The core issue in this debate is as it always has been: How should doctors be paid and who should profit most in a health system that is basically a for-profit endeavor rather than a public good as in most other peer countries? We are going after the wrong culprit if we're trying to reduce this country's health care costs, as Kip Sullivan, a lawyer and member of the advisory board of Health Care for All Minnesota and James Kahn, professor emeritus of health policy at the University of California, San Francisco, wrote in STAT last year. "Per capita health care costs in the U.S. are high compared with other nations because the prices at which medical services and drugs are sold is excessive." They went on to highlight the now-classic Health Affairs article "It's the Prices Stupid," which concluded "the difference in spending [between the U.S. and other countries] is caused mostly by higher prices for health goods and services  in the United States." In an interview, Sullivan told me, "managed care aggravated the real problem, which was excessive prices. It obsessed about quantity when it should have been obsessing about price." 
That raises the underlying but key question: Will this latest Medicare experiment, which brings in more private equity firms that want a piece of the program, really solve Medicare's cost problem, or will it simply hand over more of the program to private companies seeking to grow their profits? Is this solution really in the best interest of America's seniors and their health, or another clever instance of American companies mining the health care system for fresh profits?
Veteran health care journalist Trudy Lieberman is a contributing editor at the Center for Health Journalism Digital and a regular contributor to the Remaking Health Care column.