A reporter looks at the challenges and fears facing Latino survivors of domestic violence along California's Central Coast
Image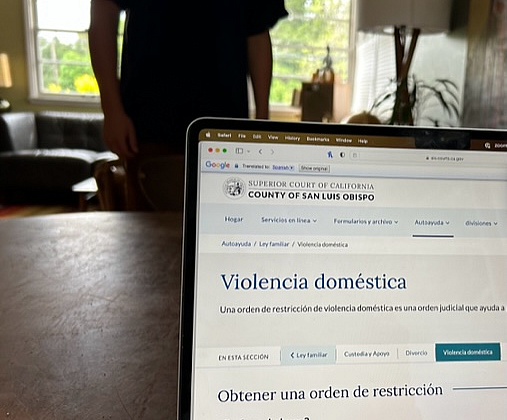 Published on
June 14, 2023
Melodie Rivas is the legal director of family law services for the San Luis Obispo Legal Assistance Foundation, or SLOLAF, along California's Central Coast. One hundred percent of the work she's doing right now is helping her clients obtain domestic violence restraining orders. At least half of her clients are Spanish speakers, with limited or no English. 
Rivas does not inquire about their citizenship or immigration status. "It does not matter to me if you're here on an expired tourist visa; it does not matter to me if you traveled the terrible and dangerous route to get to the United States and survived that. If you're here and you need help and you meet all of the other requirements, we are good," she said. 
However, Rivas understands that when undocumented people go to the courthouse, it can be very confusing. "It's ridiculously complicated even for English speakers," she said. But aside from navigating a complex legal system, the experience can make people very fearful. "If you have some kind of undocumented status, you might be afraid you're going to be turned in, that someone's going to find out about you," Rivas said. She wants her clients to know they can trust her. "I can't promise what somebody else is going to do, but I can let them know that they're safe with me." 
The biggest fear, however, is one shared by all survivors of domestic violence: the fear of triggering your abuser even more when that person is given notice that there's a hearing coming, Rivas said, "which means you've to find a way to be safe in that time period, because the most dangerous time for survivors is when they're leaving." 
These are just some of the dangers and challenges I'll be exploring among undocumented communities in San Luis Obispo County for a new reporting project, supported by a grant from the 2023 Domestic Violence Impact Reporting Fund.
Rivas is understanding of how survivors might waver in their decision making. "If we get all the way to the point of a hearing, and I'm helping you, and we get to the courthouse, and you're like, 'I don't want to do this anymore,' we don't do it anymore. And if you want to come back to me a week after that, and say, 'I want you to help me again,' I will help you again." Rivas said she is there, as much as she can be, for all those changing moments, "because it does sometimes take a while for a survivor to leave their abuser permanently — for them really to do all of the steps that are required to get there." 
Rivas and another SLOLAF legal director recently spoke at a townhall meeting hosted by SLO County UndocuSupport, a group that provides advocacy and support for undocumented people and immigrant families here in San Luis Obispo County. Chelsea Ruiz, UndocuSupport's program manager, said the group recently completed a two-year project with undocumented community members in various locations in San Luis Obispo County. They spoke with more than 130 undocumented people — 87 whose primary language is Spanish, and 44 whose primary language is Mixtec — about their primary needs and concerns. 
UndocuSupport found that affordable housing was the number one issue for undocumented people. Many families might be housed together in one small apartment. With everyone working at least one job — and often two — child care is a major concern. But one overarching theme emerged again and again: fear. Fear of losing their apartment, fear of the one car breaking down, fear of a child getting sick, fear of being too sick or injured themselves to work. 
"Sexual assault and intimate partner violence are definitely an issue for this community, but it's very taboo," Ruiz wrote to me in an email. The stress of these situations — the difficulties with accessing housing, child care, transportation, medical care, and other social services — only make domestic violence more likely and mean fewer options for survivors. 
UndocuSupport is conducting more focus groups in July and August, which I will be able to attend. My hope is to work with them to facilitate a community engagement discussion around domestic violence. Ruiz put me in touch with Kirsten Rambo, the executive director of ASISTA, a national organization that assists immigrant survivors of violence. She also connected me with Lisa Fraser, the executive director of the Center for Family Strengthening, a local organization serving San Luis Obispo County, who in turn connected me with an important advocate and SAFE coordinator who works closely with undocumented people in San Luis Obispo's North County. 
The primary group working with domestic violence survivors in San Luis Obispo County is Lumina Alliance or Alianza Lumina — both the Spanish and English are part of their name — and the entire content of their website can be accessed in Spanish. They have a 24/7 crisis hotline and offer "case management, restraining order assistance, legal assistance, accompaniment and advocacy, emergency shelters, transitional housing, individual and group therapy, and robust prevention education."
I'm making in-roads as far as gaining access to these communities. Speaking to undocumented survivors and allowing them to tell their stories in their own words — the harm they endured, the help they sought, the support they received, and the helpfulness or limits of that support —will make this story more powerful and relevant.