Reporting on the frontlines of the Bay Area's overdose epidemic
Image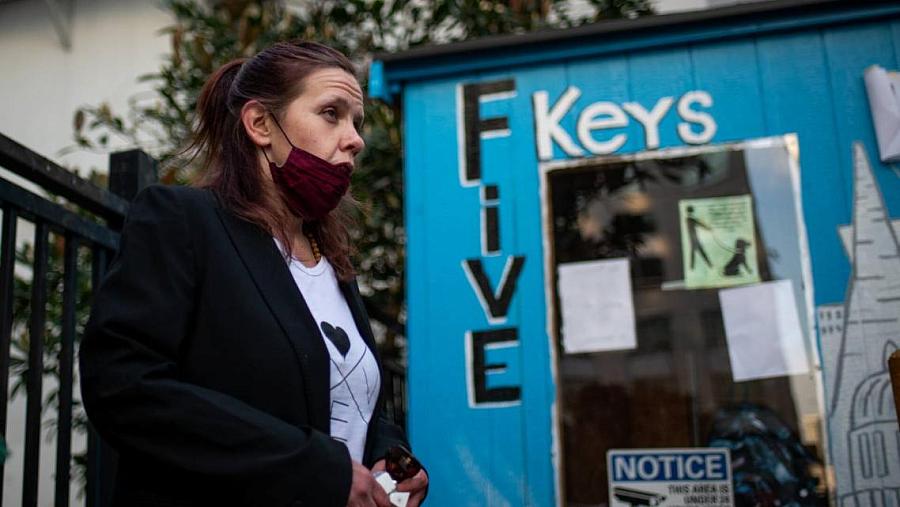 Published on
March 29, 2023
When Laverne Taylor started working at Hotel Whitcomb, a hotel sheltering unhoused people during the pandemic, she saw how stability could change people's lives. Some residents set up tents in the hotel rooms or tried starting fires to stay warm, because they were so accustomed to living on the streets. Hotel staff showed guests how to use remote controls for hotel television sets, and how to shower.

Like other nonprofit staff throughout the state, Laverne also found herself on the frontlines of a devastating crisis unfolding in San Francisco that had only worsened during the pandemic. Far more people have fatally overdosed in San Francisco than died from COVID-19. Taylor said she used CPR on guests more than a dozen times, attempting to revive people who had overdosed. 
"It's like a scene from a bad movie where people are trying, and trying, and trying until someone pulls them off," Taylor said, describing the day one of the hotel guests fatally overdosed.
That story about Hotel Whitcomb, which I reported for the Center for Health Journalism's 2021 Data Journalism for KQED in 2021, turned into a story about vicarious trauma, and the mental health toll for workers tasked with regularly reversing overdoses. After that story, I continued to report on low pay and high turnover among nonprofit staff in the social service sector as well as efforts by workers to organize for better working conditions. Many of the nonprofit employees I've spoken with say they love their jobs, but say understaffing and lack of support hurts their clients.

My project for the 2023 California Health Equity Fellowship will focus on workers providing services for some of the Bay Area's most vulnerable residents. This four-part series in partnership with KALW public radio will put a spotlight on the workers who provide treatment, harm reduction supplies and basic services, and care in the emergency room. Listeners will hear from workers on the mental health challenges they face, what drives them to continue this work, and what solutions are needed on the local, state, and national level to make their jobs sustainable. 
The series will start in West Oakland, where nonprofit staff and volunteers hand out sandwiches, sterile syringes, and Narcan to unhoused neighbors. State funding approved in 2019 allowed the group to hire a full-time staff member, but that funding stream is set to expire in June, and without support from the city, that nonprofit and others are scrambling to find ways to keep going. 
The next segment in the series will continue to look at how a staffing shortage in treatment providers is creating additional barriers to recovery. This piece will take listeners to San Francisco, where advocates say people still cannot receive treatment on demand. By spending time with a treatment provider in the city, listeners will also get a rare glimpse of what it looks like when people experiencing substance use disorder seek help, and the obstacles that can get in the way. 
This series will also look at solutions. In recent years, an increasing number of nonprofit workers have also been organizing to improve their own working conditions, and in the next few months a few nonprofits will begin the difficult process of bargaining for their first contract. This segment will focus on that effort and the push for higher wages in one Bay Area nonprofit.

The last segment in this series will examine a partnership with a county emergency room and harm reduction experts. The idea of this program is that bringing the perspective of people with lived experience with addiction can make a real difference for patients who've previously been looked down or judged in medical settings. 
The series would be incomplete without exploring safe consumption sites. Workers reversing overdoses in the community every day understand what's at stake, and seeing the government fail to act takes an additional toll. 
The same week Gov. Gavin Newsom vetoed a bill in August to allow a pilot program for cities to create safe drug consumption sites, people who battled overdose deaths in California gathered around the state to remember people who had fatally overdosed so far that year. 
"Almost everyone here has probably saved at least one life this year," said one worker from St. James Infirmary. "I'm not naive enough to say [safe consumption sites] are the solution to a deeply systemic problem. But we're running out of options and the government doesn't care."
As lawmakers and city leaders attempt to address overdose deaths throughout the state, it's important to hear directly from workers on the challenges they see every day. In doing so, this project will bring attention to structural and systematic issues that make it more difficult for their clients to get help and stay safe.