In reporting on health challenges faced by Mixtec immigrants, gaining trust proves crucial
Image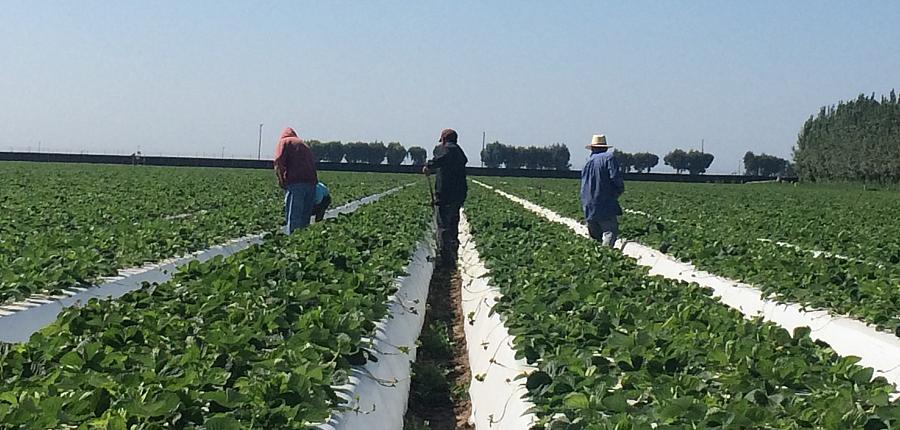 Published on
October 19, 2015
The first time I saw Inocencia, she was walking down the street together with her daughter and granddaughter. She is a Mixtec indigenous immigrant who lives in Oxnard, California. She only speaks her native language, Mixtec, and, three years ago, she was diagnosed with depression. My interview with her probably had the greatest impact on me of all my work during my fellowship project.
She could barely explain what she felt, how sad she was, and how difficult it was for her to understand what was going on with her health. She spoke in her native dialect during our conversation, and her daughter, Norma, served as an interpreter and translated to Spanish. Other bilingual indigenous immigrants told me that they sometimes find it impossible to translate some concepts from English to Mixtec. There's no word in Mixtec to refer to some illnesses or to explain some sensations. That is why in many occasions mentally ill patients who speak Mixtec are just considered crazy. There's a huge stigma when it comes to mental illness.
According to the Indigenous Farm Workers Study, 165,000 Mexican indigenous immigrants live and work in the fields of California. An estimated 80 percent of them, like Inocencia, do not speak English or Spanish. They only communicate in their native tongue. The cultural and language barriers make it difficult for them to access health care.
For me, giving a voice to Mexicans that don't speak Spanish and work in the Ventura County fields is important — not many people talk about them and not many people know what they go through. Telemundo is a television network that produces content for Hispanic immigrants in the United States. Much of our audience belongs to an underserved group and I believe that our work should help empower our community. That was the objective of my fellowship stories. But achieving that goal proved to be more difficult than what I had expected. It took me six months, from beginning to end, to produce these stories, which is a record for the fast rhythm in which we work at Telemundo, a network generally focused on breaking news.  
At the beginning I thought that my biggest challenge was going to be finding the right data and statistics: How many indigenous undocumented immigrants live in California? What are their main health problems? How many hospitals or clinics offer services in their languages? But as I started my reporting I learned that although the sources of information are not plentiful, there are is credible research about this community done by academics and non-governmental organizations.
The Indigenous Farmworkers Study was one of the most helpful sources. It has the most recent available information about indigenous peoples from Mexico who work in California's agriculture sector. The study is a partnership between a group of farm labor researchers and the Indigenous Program of California Rural Legal Assistance (CRLA).
Another good source of information was a study from the National Center for Farmworkers. They have plenty of facts and data about migrant health, population estimates, and a history of America's agricultural workers and the migrant health movement (great background information for my project since most of the indigenous immigrants in California are farmworkers).
Other studies such as "The Health of Migrant Oaxacan Farm Workers in California" and "Indigenous and Mestizo Mexican Migrant Farmworkers: A Comparative Mental Health Analysis" were also a good read.
So finding facts and data, plus insights from previous research, turned out to be easier than I'd thought. The real challenge came when I started to look for characters for my three stories. Monolingual indigenous immigrants are, in general, very private. This is a community that has been isolated for centuries, since the Spanish colonizers arrived in Mexico. Now, as immigrants in a country where they don't understand the language, many of them tend to self-segregate from the rest of the population. And so I found it very difficult to win their trust.
I visited Oxnard around six times, three of them without a camera: I traveled north from Los Angeles just to meet people, explain to them what we wanted to do with this project, and how their testimonies could hopefully help their community. I went with an interpreter to most of these meetings. Some of the people I met rejected my proposal and refused to give me an interview. It's one thing to talk to a reporter while he or she takes notes, it's another to appear on camera. Most of the indigenous immigrants are in the U.S. illegally and are very wary of showing their face on TV.
I overcame that obstacle by getting in touch with a group called The Mixteco/Indígena Community Organizing Project (MICOP) or "Proyecto Mixteco." This is an organization that unites indigenous leaders and allies to strengthen the Mixteco and indigenous immigrant community of Ventura County, estimated at 20,000 people. MICOP's majority-indigenous staff builds community leadership through education and training programs, language interpretation, health outreach, humanitarian support, and cultural promotion. According to their website, MICOP reaches approximately 5,000 individuals a year and they are well known among the community.
Proyecto Mixteco representatives helped me find sources for my stories. I talked to some of the volunteers in the organization and asked them if they knew someone who didn't speak English or Spanish and was going — or had gone through — a health problem without appropriate care. Most of them knew one or two people that could help, and so we went to visit them. Proyecto Mixteco workers already had the community's trust and by having them introduce me to potential interviewees, I could start building relationships.
Another key piece of these stories was Dr. Sergio Aguilar-Gaxiola, a UC Davis academic who, for the past four decades, has studied the lack of health services available for this community. Anyone who is working on a story on underserved indigenous immigrants in California should contact him. He gave some very helpful context to better understand this group. He recently published a new research called "Community Defined Solutions for Latino Mental Health Care Disparities" that I strongly recommend. 
I would say, however, that 70 percent of the job was simply about getting to know people, explaining them what the project was about and trying to gain their trust. In the process, I ended up feeling quite close to some of the immigrants I met, and I believe that helped me tell their stories in a better, more personal way.
As for Inocencia, once she started telling me how her depression felt, she would not stop. Behind her apparent reluctance to talk at the beginning, there was some eagerness that came with being listened to. I learned that, despite their history of repression, this is a community that's proud of their language and culture and will do everything to preserve them (just as they have for the past 500 years). That is why health services need to adapt to their needs, as Dr. Aguilar Gaxiola has pointed out in his research: "Failure to treat the Mixtec and other indigenous groups as their own unique culture with culture-specific priorities will continue to alienate them from decision-making opportunities that can lead to changes in their living conditions and health."
Watch and read Julio Vaqueiro Borbolla's fellowship stories here: