Series puts new face on the opioid epidemic: Orange County seniors
Image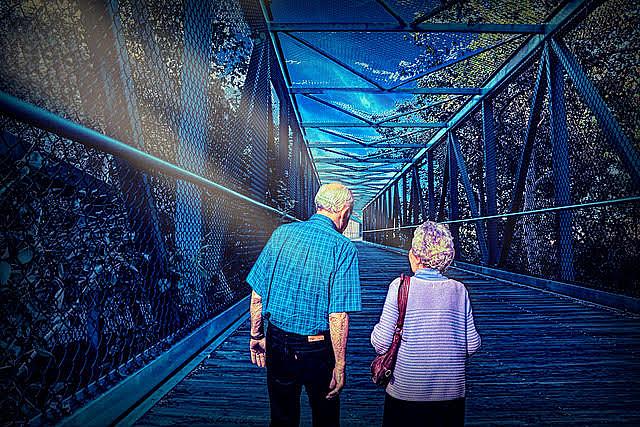 Published on
June 27, 2018
Elderly people living in a retirement community were dying of alcohol and drug overdoses, especially opioids, at the highest rate of any city in Orange County. That was the starting point for my deep dive into opioid use and abuse in Southern California, and my main pitch for the 2017 California Data Fellowship.
But as often happens when you really dig into a subject, I ended up in a somewhat different place.
Along the way I learned that the opioid crisis is much more complicated and layered than many people think, even advocates working to stem abuse and overdose deaths. Some of what I learned made it into my three stories broadcast and published by KPCC; much did not, so I'm grateful to have a space here to share. 
My original question — Why are OC retirees dying from opioid overdoses at the county's highest rates? — stemmed from a pair of reports released in 2017 from the Orange County Health Care Agency that compared the rates of drug-and-alcohol-related, and, specifically, opioid-related, overdose deaths and hospitalizations among Orange County cities. Several things stuck out: 
1. People living in wealthy communities seemed to be dying and landing in the hospital at higher rates than less-wealthy communities;
2. 45-64-year-olds were dying at the highest rates; and
3. Laguna Woods had the highest average rate of drug-and-alcohol-related overdoses from 2011-2015 (the most recent available data at the time of the report), and the second highest average rate of opioid-related overdose death rates (Laguna Beach had the highest).
What I thought I knew of the opioid crisis at the time was that it was mostly hitting people who were down-and-out or young and reckless. When I looked for other reporting on older people and opioid problems, I didn't find much. 
I requested updated data from the Orange County Coroner's office and files on the deceased. What I found was complex, starting with this fact: Half of the opioid-related deaths in Laguna Woods between 2011 and 2015 were ruled suicides. 
In fact, half of all opioid-related deaths among people aged 65 and older in Orange County from 2014 to 2016 were ruled suicides. 
Together, these facts brought up a whole new set of questions. Were opioids leading people to commit suicide? Or did the deceased have major, underlying health problems that led them to take their lives? If the latter, considering the age and reported illness of some of the deceased, how does this pattern fit into the broader "opioid crisis," if at all? 
I took these questions to experts, community health workers and advocates, and to community members in Laguna Woods and elsewhere around the county. Many were as surprised and perplexed by the data as I was.
As one source, an expert on the opioid crisis, told me: The problem isn't going away anytime soon and there are hundreds of stories to tell. It's ok to just focus on one, or a few.
But there have been increasing questions raised in the media and among experts about the connection between opioids and suicide. Still, the data is sketchy and the links are unclear. It's an issue I'm still pursuing. 
In the meantime, I found so many other, worthy, little-reported aspects of the opioid crisis to pursue. I went after a wide range of stories and talked to dozens of experts, patients, family members, advocates, treatment providers and doctors. Opioid use and abuse is an extremely sensitive subject, and ultimately I followed through with the stories for which I was able to find compelling characters.
As one source, an expert on the opioid crisis, told me: The problem isn't going away anytime soon and there are hundreds of stories to tell. It's ok to just focus on one, or a few.  
The initial data and my starting questions about older people and opioid use led me to a story about chronic pain sufferers and how the crackdown on opioids has left many without good options to manage their pain. Some have turned to the black market, putting their lives in danger. Others have committed suicide.
My KPCC colleague Michelle Faust and I also published a chronic pain sufferer's week-long "pain diary," in which she reported her daily struggle to cope with debilitating back and nerve pain after she swore off opioids.   
My initial questions also led me to a story about the Laguna Woods Cannabis Club and to seniors looking for safer alternatives to powerful prescription pain medications. 
On the solutions side, I reported a story about a nationwide effort to get emergency department doctors to take a greater role in trying to curb the opioid crisis by providing medication-assisted treatment to ER patients with signs of opioid addiction or dependence. 
My reporting was greatly enhanced by a series of engagement activities I did with help and a grant from the Center for Health Journalism, and the help and guidance of KPCC's engagement team. I learned a ton and found some key sources through the online queries we sent out and through several in-person conversations we held with experts and community members in Orange County and LA. 
I also found a lot of sources through old-fashioned reporting techniques. The mix of both methods is key to getting stories right and finding the right people to tell them. 
I also learned that, for some stories, data can be a great starting point but can ultimately hide complexities that can only be fleshed out through further reporting. When it comes to the national opioid crisis, the depth and quality of data varies widely from state to state, and even county to county.
My advice to future fellows: Seek out the data. Take your time exploring it. Then ask lots and lots of questions about it. 
[Photo by bluesbby via Flickr.]