Southeast Asian American refugees still struggle with accessing care, 45 years later
Image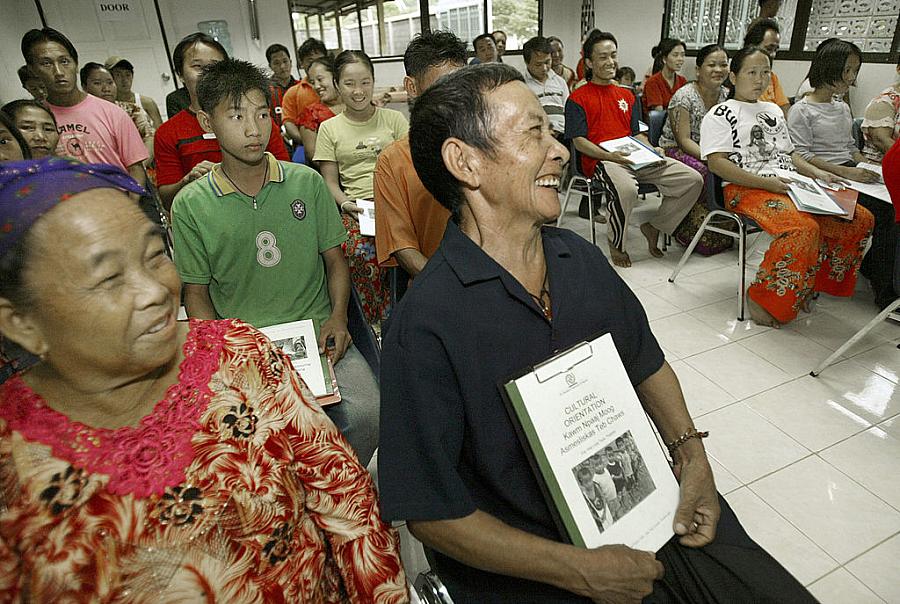 (Photo by Paula Bronstein/Getty Images)
Published on
March 24, 2020
Southeast Asian refugees began mass migrating to the United States in the 1970s following the end of the Khmer Rouge regime in Cambodia, the Vietnam War and the Secret War in Laos.
Under the Khmer Rouge regime, more than 2 million people died from starvation, overwork or disease; others were killed for being enemies of the regime. After the end of the Vietnam War, thousands of Vietnamese escaped the country on boats to flee communist persecution. And the Secret War consisted of a nine-year bombing campaign that made Laos the most heavily bombed nation per capita in history.
As a result of fleeing from those conflicts, Southeast Asian Americans have higher rates of certain mental and physical health conditions compared to the general population.
A 2005 study from the American Medical Association found that nearly 99% of Cambodian refugees experienced near-death due to starvation. Another study from the University of Nebraska-Lincoln's Department of Psychology found that 70% of Southeast Asian American refugee respondents were diagnosed with post-traumatic stress disorder. The community also faces high rates of undiagnosed chronic illness tied to trauma, as well as contemporary living and working conditions.
Yet more than four decades after the community began arriving in the country en masse, many immigrants still struggle to access culturally competent and sensitive health care.
It's not just refugees that suffer from their past traumas. Research has shown that the children of refugees have been shown to suffer from intergenerational trauma passed down from their parents.
In addition to families dealing with health conditions stemming from having fled war-torn countries, the Southeast Asian American community in recent years has endured heightened levels of stress and anxiety as a result of a spike in immigration detentions and deportations under the current administration. For deported individuals, being sent back to a country they fled is a retraumatizing experience. In many cases, deported individuals have little to no memory of fleeing those countries as young children, and the experience of being sent to a place where they have little to no ties is traumatic.
Despite the prevalence of these conditions and illnesses, community members don't always seek help or get the care they need. The stigma attached to seeking mental health care is often a barrier to addressing mental conditions and illnesses. 
The community is also less likely to have health insurance compared to the general U.S. population, although a recent report shows that the Affordable Care Act resulted in a decline of uninsured rates among Southeast Asian Americans. But even with an overall increase to health care access, the group still grapples with health disparities because of the lack of culturally and linguistically appropriate services. 
The impact of this lack of health care access, however, goes beyond the community members who seek and need it.
Paul Hoang, a mental health provider in Orange County, had previously worked as a mental health clinician in Illinois more than a decade ago and saw clients who drove five to six hours — even in blizzards — for treatment. He said he was the only Vietnamese mental health clinician in the state at the time, and the demand for his services led him to relocate to Southern California due to burnout. He hoped to find more support for Vietnamese mental health providers there.
Hoang arrived in Orange County to find that the region was home to only a few bilingual and bicultural mental health professionals who could serve the Vietnamese community. He also found that the there weren't any organized groups of these providers in the region, so he established a group that in part aims to help the limited number of mental health professionals who serve the large community avoid burnout.
My 2020 California Fellowship project will explore the implications of the lack of access to culturally competent and sensitive health care among Southeast Asian Americans, the limited number of bicultural and bilingual health care providers that serve that community in Southern California, as well as the broader U.S. My reporting will also take a look at previous and current efforts to address this issue, and what an ideal model of health care for the community would look like.