SXSW Interactive: Long-Form Works on the Web
Image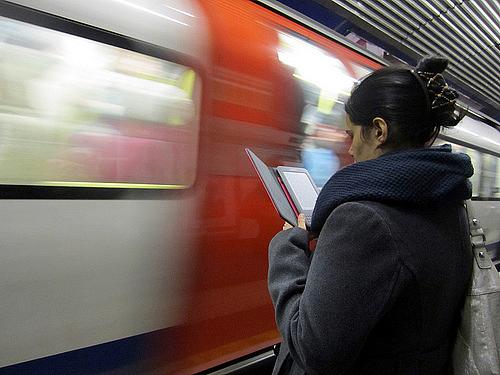 Published on
March 12, 2012
Here at Reporting on Health, we've discussed long form journalism - how to do it and what to read - quite a bit lately.
It's a topic of interest this year at SXSW Interactive as well. On one hand, you could see this new interest in longer, more immersive experiences as a backlash to the quick hits of Twitter and Facebook. But a panel about "the new long form" presents an alternative point of view. Instead of a doomsday account of declining attention spans and the death of reading, the two speakers presented examples of how magazine-length features work well on the web. The way people use 140-character tweets to share longer reads and the popularity of the Longreads' Twitter account shows that there is a demand for engaging, long writing, said The Atavist founder and editor Evan Ratliff.
But is investing in long form content a good bet for online publishers? A reporter on a regular beat writing short and often generates much more traffic than the reporter who produces big, long investigative stories, said Slate editor David Plotz. But some advertisers will buy space because "long form is really special, it really distinguishes [companies] from the competition." For certain advertisers, being around these kinds of reports is great way to develop a brand. Long form, said Plotz, also creates a community of readers. Readers have the sense of "I'm reading this at Slate, I'm in the Slate community."
While Slate publishes stories at various lengths, The Atavist publishes "the longest long form," said Ratliff. Their pieces are shorter than books but longer than magazine features. They are digital first, designed specifically for reading on mobile devices, tablets and e-readers, and are sold individually on different platforms. The stories include multimedia elements to enhance the narratives. One story about rocks from the moon that were given as gifts some 30 years ago, for example, begins with footage of the rock being collected instead of a traditional text lead. Another Atavist story called Blindsight is about a movie producer who struggles to recover from a devastating car accident. It illustrates the main characters' medical conditions with visuals and videos that readers can click for a hybrid reading-viewing experience.
On Slate, Plotz wrote "Genius Babies" in 2001. It was a very early example of crowdsourcing and was published in increments using reader input and sources. Ultimately the story, about a sperm bank for Nobel Prize winners, was turned into a book. "The Mouse Trap" by Daniel Egber is about the ubiquity of one animal in disease research labs. It ran in three parts and had multimedia features. These kinds of stories, said Plotz, are given gravity by their length. His team is required to spend a month or more on a long piece every year.
One more reading example comes from a panel about health care innovations created in developing countries. Jaspal Sandhu, who manages the health portfolio at the Gobee Group, recommended "Kenya's Startup Boom" in Technology Review which explains how mobile phones are changing health care in the country.
(Photo "Reading Kindle at Old Street Tube" by Annie Mole in Flickr Creative Commons)