Telemedicine is proving to be a key piece of protective equipment for emergency departments
Image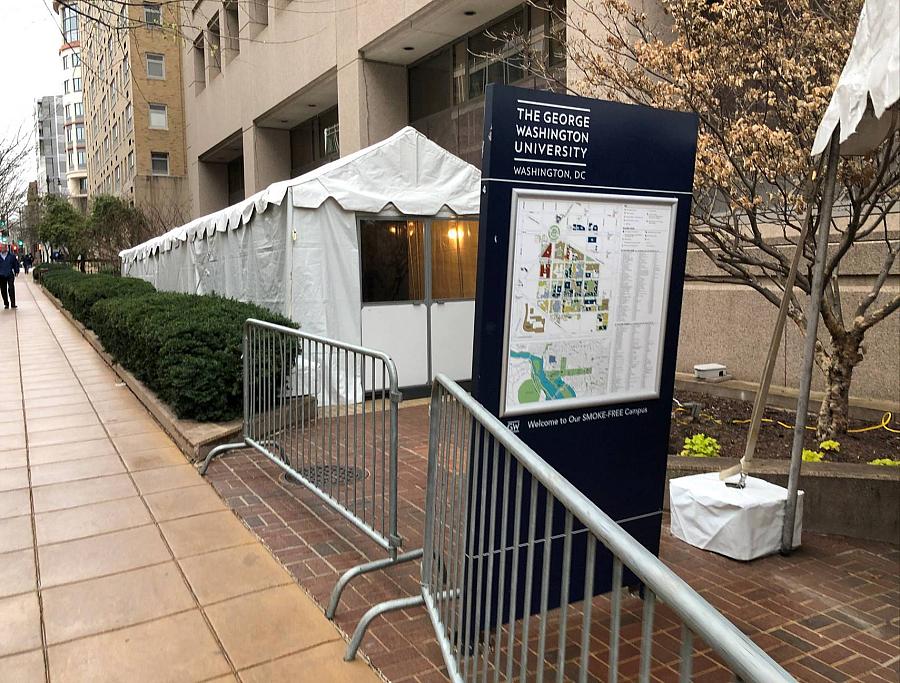 To protect front-line workers and save valuable personal protective equipment, emergency departments across the country are creating new ways to see patients via telehealth — even when they show up in person.
Take Thomas Jefferson University Hospitals in Philadelphia, where ED patients are screened in a new outdoor tent.  
If they require immediate care for COVID-19, they are taken at once into an isolation room in the emergency department where providers can treat them. If not, a medical assistant or nurse will give them a mask, check their oxygen level and, if they appear stable, direct them to a private video screen. In a video chat, a doctor, nurse practitioner or physician assistant will evaluate them for possible COVID-19 or unrelated conditions.  
"Think of it like FaceTime, but more secure," said Dr. Judd Hollander, the associate dean for strategic health initiatives at Sidney Kimmel Medical College at Thomas Jefferson University. "They'll talk to them, look at them, see how fast they're breathing, how well they answer questions, how long they take between breaths."
Within seconds of the video call, a very sick patient could be rushed into an isolation room inside the emergency department. But less ill patients could receive further testing in the tent and head home — all without ever seeing a doctor in person.
Amid the coronavirus pandemic, emergency department telehealth is an important measure to protect critical front-line providers from unnecessary face-to-face interactions with COVID-19 patients, while saving scarce personal protective equipment, physicians say. In March, the Centers for Medicare and Medicaid Services took emergency steps to ease government restrictions on ED telehealth and allow reimbursements for these visits, changes that are contributing to a rise in virtual visits nationwide.
"Improving the ability for patients to communicate with their doctors remotely during this national emergency can save lives," said Jeffrey Davis, the directory of regulatory affairs for the American College of Emergency Physicians, a professional organization that supports the government's temporary expansion of telehealth policies for emergency departments.
Pandemic changes law, reimbursements
A government regulation known as EMTALA requires that clinicians evaluate all patients entering the emergency room, regardless of their ability to pay. Prior to COVID-19, these evaluations had to be performed in-person.
In late March, though, the temporary emergency order from CMS changed that, allowing clinicians to evaluate patients via a video chat. 
The order also relaxed some of the regulations around telehealth, such as allowing hospitals to use devices that are not integrated with electronic health records. That ease of use tackled another internal obstacle: health care workers' reluctance to use cumbersome telehealth platforms. By making it easier to do virtual visits — sometimes as easy as tapping a patient's room number on a tablet — providers have been quicker to embrace the protective measure.
"In some ways, the virtual visits bring the human — and empathy — back to the bedside. They can see me smile or laugh and they really appreciate it."                                                     — Dr. Alexei Wagner, Stanford University Medical Center
Around the same time in March, Medicare announced it would expand the type of visits it would reimburse to include more telehealth, and many private insurers said they are following suit.
While the primary goal of the change is to protect health care workers from infected patients, the move can also keep patients safer, especially in outbreak areas where other patients and front-line workers might be infected.
The video calls are especially effective for COVID-19 patients, since the patient's blood oxygen reading — which can be quickly evaluated by the nurse or medical assistant present with the patient — can be even more telling than listening to the lungs. For example, if a patient's reading is 98% — in the healthy range — listening to the lungs isn't necessary. But, if a reading is at a potentially dangerous 86%, the patient could be critically ill and would need to see a provider quickly.
Other telehealth innovations
Along with the telehealth tent call set up outside the emergency department, there are also innovations happening inside as well.
At Stanford University Medical Center's emergency department, for example, there are now iPads in patient rooms, all connected to a central iPad in the physician zone.  While the initial exam is still done in person using personal protective equipment, subsequent visits, questions and visits with specialists can all be done virtually. 
While the move was originally undertaken to minimize providers' exposure, it's had unexpected benefits, said Dr. Alexei Wagner, the assistant director of adult emergency medicine. For one, the ease of logging on virtually means providers and specialists are checking in with patients more frequently.
Patients have also reported that seeing their physician without the "alien" appearance of mask, face shield, goggles and gown has been comforting, too. Wagner recalled a patient with signs of dementia who was able to have a more relaxed conversation when she could better read his facial expressions. 
"In some ways, the virtual visits bring the human — and empathy — back to the bedside," he said. "They can see me smile or laugh and they really appreciate it."
Health care workers are also able to loop in family members on the video conferences which can keep otherwise isolated patients connected and help with difficult care conversations. The technology can also virtually bring in specialists, palliative care teams and translators, all without putting these individuals at risk with an in-person encounter. 
"If there are silver linings that have come from COVID, one is the rapid expansion and adoption of digital health as a reasonable and acceptable tool to take care of patients," Wagner said.
What's next?
While there are no official figures on the numbers of emergency rooms using telehealth in this expanded way, emergency department leaders say interest is widespread. 
Hospitals that already had some telehealth components before the pandemic were able to ramp up quickly. But the easing of restrictions that came with the emergency order is allowing others to quickly jump on board.
As a result, innovations are happening across the country, from Robert Wood Johnson University Hospital in New Jersey launching "video robots" in its outdoor tents to Massachusetts General Hospital attaching iPads to COVID-19 patient's IV poles. In Washington D.C., The George Washington University Hospital is remotely monitoring discharged COVID-19 patients via thermometers, pulse oximeters and emails.
And, in New York, Mt. Sinai Health Systems uses telehealth in a number of ways, including an app in which patients can video chat with an emergency department physician, Dr. Brendan Carr, the chair of emergency medicine, said in this March video.
Consumers have come to expect this kind of technology in other aspects of life; health care just took a little longer to catch up, he said. "The barriers have been regulatory, the barriers have been cultural, some of the barriers have been based in payment," he added.
It's unclear whether some of those barriers will reappear after the pandemic subsides. It's possible the government could tighten regulations again.  Providers say they're also concerned about whether payments will actually come through, given the patchwork of changing policies.  
Perhaps the biggest boon of telehealth for emergency departments is that it makes it easier for patients to get a virtual primary care appointment, said Hollander at Thomas Jefferson University Hospitals. If more patients can access primary care providers — even virtually — there may be fewer patients using the emergency department for their primary care needs.
Even if there are regulatory changes in the wake of COVID-19, some aspects of telehealth will no doubt stick around in emergency departments, according to Dr. Neal Sikka, an associate professor of emergency medicine at George Washington University School of Medicine, who focuses on telehealth and innovation.
"I absolutely think telehealth will be a larger part of how we care for patients post COVID," he said.
**