Time for Hollywood to make disabilities more than just Oscar material
Image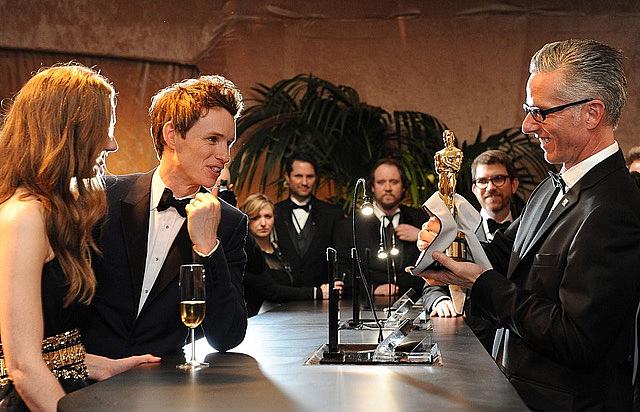 (Photo: Valerie Macon/AFP via Getty Images)
Published on
February 7, 2020
RSVP for that Oscar party. Print your Oscar ballots. And get ready to discuss the related #OscarSoWhite and #MeToo topics that arise during the season.
This year, though, consider two new hashtags gaining a little bit of momentum. They both beg tough questions that the entertainment industry should answer: #DisabilityisDiversity and #IncludeUs.
John Lawson, an actor and filmmaker who lost his hands in an accident, summed it up perfectly in a recent tweet: "In the last three decades, half of the men that have won @TheAcademy Best Oscar for a male leading role have won for playing a disability. #Oscars #DisabilityisDiversity #TheMoreYouKnow #IncludeUs #OscarSoAbled."
Eddie Redmayne won for playing Stephen Hawking, the famed scientist who lived with Lou Gehrig's disease until his death in 2018.
Jamie Foxx won for playing Ray Charles, the musical legend who lost his sight at a young age.
Colin Firth won for playing King George VI, who throughout the film works to overcome a speech impediment.
The list goes on, and it's not just male actors, either. Many women have won the award for playing someone with a disability, going all the way back to 1957 when Joanne Woodward played a woman with multiple personality disorder in "The Many Faces of Eve" and 1962 when Joanne Woodward played Anne Bancroft, the visually impaired teacher and companion of Helen Keller in "The Miracle Worker."
In all of these cases, the actor playing the person with the disability is acting as if they have that disability.
"In 93 years of Oscar nominations, 61 (nominations) are for actors portraying characters with disabilities. 27 actors are winners and only two of those are actual performers with disabilities," Lawson wrote me.
Those two actors? Marlee Matlin in 1986, and Harold Russell all the way back in 1947.
So why do so many able-bodied actors look for roles where they can portray a person with disabilities? For one, it's a way to draw instant sympathy from the audience. "Give 'em a limp and an eyepatch!" screenwriting coach Blake Snyder counseled would-be Hollywood storytellers to make their characters more sympathetic, and it is clearly a mantra for Oscar hopefuls everywhere. Based on Lawson's calculations, nearly half of those actors nominated for portraying someone with a disability went on to win.
But it remains extremely rare for a person with an actual disability to get a chance to act with that same disability on screen. Between Marlee Matlin's Oscar-winning performance in "Children of a Lesser God" in 1986 to Zack Gottsagen's inspired and inspiring performance in "The Peanut Butter Falcon" in 2019, there's a massive gulf, filled with actors mimicking the real-life disabilities of people with Alzheimer's, AIDS, and asymmetrical vision loss. And that's just the first letter of the alphabet!
We have come so far when it comes to representation on screen that we now have widespread social media and even mainstream media outrage when a white actor pretends to be part Hawaiian and part Chinese. The Guardian captured the problem succinctly in writing about Emma Stone's portrayal of just such a character in "Aloha" in 2015:
I thought pretending to be people you're not was the whole point of acting? Up to a point. I mean, it might be a bit odd to see a black actor playing, say, Don Corleone. So it would be nice if an Asian-American actor could be found to play an important Asian-American role, on the rare occasions one comes up.
Lawson has a phrase for the same type of thing happening when an able-bodied person takes a role that could have gone to a performer with disabilities, known as PWDs in the community.
"It's what has been coined, 'cripface' and is currently accepted in film and television, where representing another race or ethnicity has long since been considered taboo," Lawson wrote me.
It's not just mimicking someone else's ethnicity that raises hackles. Think about the criticism that has been leveled at the lack of roles for women 40 and over in Hollywood. (Go watch "Searching for Debra Winger.") And then there's the ongoing conversation about how older male actors are repeatedly paired with women their junior by decades. Maggie Gyllenhaal, one of the greatest actors working today, told The Wrap a few years back:
"There are things that are really disappointing about being an actress in Hollywood that surprise me all the time. I'm 37 and I was told recently I was too old to play the lover of a man who was 55. It was astonishing to me. It made me feel bad, and then it made me feel angry, and then it made me laugh."
(Maggie smiled at my daughter once in a Venice Beach restaurant and made me a loyal fan ever since.)
By contrast, there is much less notice paid — not to mention little social media outcry — when an actor puts on sunglasses and pretends to be blind or sits in a wheelchair and pretends to be mobility impaired.
To be clear, this is not to take away from the totality of some of these performances. Anyone who has seen Joaquin Phoenix portray the alcoholic and mobility-impaired cartoonist John Callahan in 2018's "Don't Worry He Won't Get Far On Foot" would have to have a hard heart not to be moved.
But could the role have been just as deftly portrayed – even more so – by an actor with an actual physical impairment? That's an open question.