Time, trust and patience: Telling the story of young lives imperiled by toxic stress in Ferguson
Image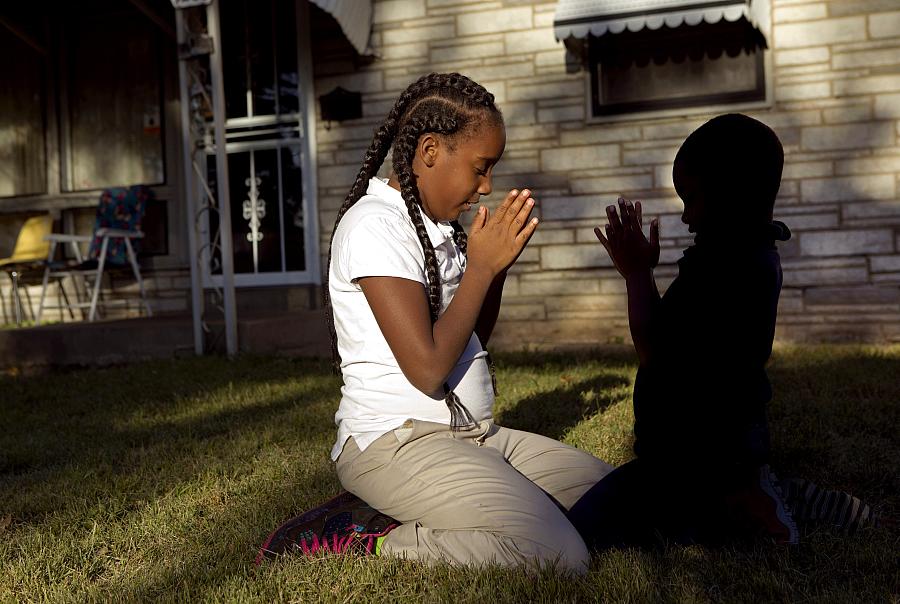 Published on
July 21, 2016
[St. Louis Post-Dispatch reporter Nancy Cambria spoke to journalists at the 2016 National Fellowship on Thursday. To mark the occassion, we're reposting the following essay in which Cambria recounts how she overcame big challenges over months of reporting on how stress and trauma are impacting vulnerable families in Ferguson, Mo. — Ed.]
If ever there was a group that might seem weary of reporters, it was the families living in the Canfield Green apartment complex and the surrounding neighborhood of tiny post-war ranch houses.
In August 2014, this tiny, highly segregated and poor community in the southeast corner of Ferguson, Missouri, was besieged by media from around the world after Michael Brown was shot and killed by police officer Darren Wilson. Brown's body lay on the street in Canfield Green for several hours on a hot summer afternoon amid simmering tensions about whether he had put his hands up in surrender.
As protests broke out over night and emotions escalated into looting and the arson of a nearby QuikTrip the next day, the reporters moved in.
There were massive cable trucks and hovering media helicopters. High profile television journalists claimed squares of sidewalk. One cable outlet camped their truck inside hastily purchased chain-link fencing, like a castle surrounded by a moat.
There were also legions of less-visible media folk. Some of them were from large mainstream institutions like The Washington Post, The New York Times, The Los Angeles Times, The Guardian, NPR and Huffington Post. Of course, there were also many of my colleagues from The St. Louis Post-Dispatch.
Some of the reporters were "lone wolves," self-declared independent journalists who came to Ferguson on their own representing every form of self-interest or political cause such as the Communist Party. At one point an Internet porn star came with her video equipment to bring the inequity and injustice of Ferguson back to her fan-base.
Every journalist there served some purpose in covering the news. They were dealing with an unpredictable breaking news event with unsettling pushback from police. At times their safety was at risk. They were charged with covering the unrest, and that was their lens for reporting it. 
And yet the people living in the neighborhood told me that the presence of so many reporters asking the same questions repeatedly about the unrest and Brown's death truly wore on them.
While reporters were just trying to the do their job, many residents were futilely seeking refuge from the chaos and trauma — and the journalists.
I had learned from therapists at a Red Cross drop-in center that many residents were deeply distressed with the unrest near their doorsteps but were also experiencing post traumatic stress triggered by the violence and protesting. They had lived in poverty much of their lives. The noise, the chanting, the looting and the massive police presence caused them to relive other past traumas including violence, homelessness and previous encounters with police, courts and jail. The constant questioning and presence of the media only added to their stress.
To give a sense of just how "close to home" these events occurred for residents, their nearby Target parking lot a half-mile up the road became command central with dozens of police and armored vehicles. Many resided in houses with yards that backed up to West Florissant Avenue where police were positioned atop fortified vehicles and used the scopes on their rifles to scan crowds of protesters.
At night pepper spray was shot out of equipment resembling flamethrowers. The chemicals lingered in the air for hours. After dark people began shooting off guns off on side streets and ducking behind cars parked in their driveways. The police were too busy — and perhaps ordered not to venture into the side streets — to answer distress calls.
In my own reporting, I heard stories of parenting amid such stress, and we printed those details, but they mostly got buried in the onslaught of breaking news each day. Mothers and grandmothers described rolling towels under their door cracks to prevent tear gas from seeping inside to children and adults with asthma. One mother accidentally drove her car through a cloud of pepper spray as she ferried her son home from football practice. Three children buying snacks and soda described being trapped in the QuikTrip as looters with guns bolted in. They hid with staff in a storeroom before making a run for it out the front door. Therapists told me the elderly and sickly were afraid to leave their homes and get their medicine. Streets were shut down and schools closed, further isolating residents from supports — and needed free breakfasts and lunches — not to mention the comforts of a daily routine.
So, a year after Brown was killed and things appeared to have calmed down in the neighborhood, you'd think the last thing residents wanted was more attention from reporters. Or did they?
One year after Brown's death, urgent new questions arise
Last August, at the one-year anniversary of Brown's death, Post-Dispatch photographer Laurie Skrivan and I began intensive reporting in the neighborhood for our project "The Crisis Within: How toxic stress and trauma endanger our children." After seven months of intense reporting we found it was complicated to gain access in their lives, but in a way, residents were deeply relieved to finally be asked and given a voice.
As part of my 2015 National Fellowship through the Center for Health Journalism, we hoped to examine the stresses in the neighborhood and how it was affecting families. We knew all about the stress from the protests, looting and police response. But we also wanted to see the stresses inside the homes — the things the therapists had told me about in the days after Brown was shot and killed.
The question was, how do we imbed ourselves to "show, not tell" the tale of toxic stress and child welfare in a neighborhood that had become burnt out on the press? How do we get families to speak with us who, even before Michael Brown's death, were distrustful of attention? Letting strangers in the home, for example, could bring scrutiny from the Children's Division or the housing authority — or as Post-Dispatch and other local and national reporting would later reveal, from police who served up past warrants on petty municipal charges that landed them in jail.
But the odd thing was, even though the deluge of press was finally gone, the residents were also bitter the press had abandoned them. It appeared to them — and understandably so — that many reporters came there only to see the next big protest or fire.
That latter emotion was the one we discussed when we approached families about the project. We told people from the start we wanted to write about the things we missed. The things people didn't know about their lives.
When we mentioned the words "stress" and "parenting," it was like a light went on for many mothers and grandmothers.
They knew, deep down, that their lives were harder. There was truly pride in their survival skills, but also frustration that they were so deeply disrespected for being poor and living in Ferguson. The irony was that some parents had moved to Ferguson to get away from neighborhood violence in St. Louis, and initially thought the suburbs would be better for their children. They lamented how neighborhood schools had been shut down in St. Louis, prompting them to move. But instead of a refuge in Ferguson, they found their children and grandchildren immersed in similar trauma they had endured as youngsters and adults.
So photographer Laurie Skrivan and I decided to go about our work in a very personal way to get at the stress and frustration in households that were mostly run by women.
Finding families willing to share their struggles
First off, we were both very aware that this project was going to take a lot of time not only to find the families, but to follow how their lives unfolded. We knew that time was going to be an ally because sticking with the families for so long would demonstrate to them a big commitment on our part to tell their stories accurately and fairly. We told our families from the start the report was not going to run any time soon and that our primary lens on their lives was always going to focus on stress. That gave everyone room to breathe and develop trust.
We also knew this type of project was going to involve deep connections — connections developed from making ourselves available to meet with people and speak with them on their own terms. Though I first sought introductions through various agencies working with families in and near Canfield Green, I quickly learned those connections had limitations. Mothers particularly seemed obliged to talk to me on behalf of the agency and not really from the heart.
It fell on us to find families on our own. Laurie spent the first few days of our reporting just hanging around the neighborhood with her camera.  She had an advantage here in that she was known in the neighborhood because of her earlier photography in Ferguson. She wasn't hard to miss with her camera. Laurie also has a tremendous gift for relating and talking to children.
Our first connection was made very easily when Laurie met Darlene Evans walking her five youngest children down the street in an apartment complex adjacent to Canfield Green.
Darlene said she was not comfortable letting her children outside alone because a random gunfight had erupted just days before, breaking up her daughter's outdoor birthday party. Darlene told Laurie her family could not sleep at night and that the children were sleeping in her bedroom with her out of fear. Laurie spent the night with the family to take photos, and she forged a bond that proved priceless throughout our reporting.
Darlene was often pressured by her five adult children to stop talking with reporters. And there were weeks when there was "radio silence" from Darlene, which we had to respect. But that early bond endured, and Darlene eventually returned calls and welcomed Laurie and myself back into her home, even after she suffered a devastating health emergency.
We met another mother, Natasha Brown, at a candlelight vigil for Jamyla Bolden. Jamyla, 9, was shot through a bedroom window and killed in late August while doing her homework, about two weeks after we began reporting in the neighborhood. At the vigil, Natasha's daughter, Akeelah, then 8, was openly devastated at the death of her friend. A photo of her crying in distress at the vigil went viral.
It was no time for interviews, though two of the photographs taken that night became an integral part of our report. We made a point to touch base with Natasha and Akeelah the day of Jamyla's funeral. Laurie met them early to photograph them getting ready. At the funeral I asked to sit next to Natasha and Akeelah. I took it slow and didn't ask them a single question beyond getting a cell phone number and a nod from Natasha that we would talk soon. I simply showed them that I was there to watch them grieve and understand their loss.
When I contacted Natasha after the funeral, I told her I wanted to talk about her struggles and what it was like to raise children in Ferguson. She said she felt that nobody truly understood what mothers like her go through. We had some initial conversations and photos, but then the cell phone calls went unreturned.
When she eventually called, I learned the family was in crisis, technically homeless because the electricity had been turned off and they felt unsafe living in their house. Natasha sent her two daughters to sleep with a friend at nights. During that time Natasha told me she was in no shape to talk to me in any formal way. Our calls, ironically, were stressing her out. I would tell her about places to go to try and get power assistance, and she would get angry because she'd already tried them. She told me was driving around desperately from one agency to another, and it became clear the safety net for families like Natasha's was flimsy despite a region-wide 2-1-1 emergency call center for such emergencies.
A lot of our cell phone calls during the crisis ended in hang-ups. Both Laurie and I got used to hang-ups.
And yet, I gained some of my most powerful quotes during those panicked calls while also knowing there was a risk Natasha would cut ties with us and we would have to start over. When the family eventually did get financial help to put the power back on and move back home, our interviews became easier and we could fill in her and her family's history. Even then, there were weeks when the family took a break from us, and we had to accept that.
As we spent time with our families, we got to know things about them that didn't come out at first. For example, both Natasha and Darlene acknowledged they were sexually abused as children and teens, sometimes by relatives. This came out when I asked them to take an ACEs survey, a measure of childhood traumatic events that is also an indicator of toxic stress exposure. Both scored an eight out of 10, indicating very high levels of trauma. I navigated this one revelation carefully and checked with them numerous times about putting this in print. I really left it up to them.
Again, giving them time to breathe and reflect on what that would mean to them within the dynamics of their extended families was critical. I had one of the most profound conversations with Natasha as she reflected over this early period of her life — a trauma she really hadn't voiced but realized was an essential part of her childhood and the stress she carried into adulthood. Ultimately, only a sentence or two went into the story, but I left that night feeling confident Natasha was secure in putting her family's story in print, and she wanted to do so as a sign of strength for Akeelah and her older sister.
The importance of balancing storytelling with privacy
Throughout the reporting process, I was deeply concerned about protecting the children as we wrote the story.  There were very pertinent details about their children and toxic stress that did not make it into print to protect their privacy. But there were some things we felt necessary to disclose, such as the details surrounding the death of Destiny Sonnier's father.
We met Destiny, then 9, through Akeelah. She lived just across the street and often played outside with her little cousin. Destiny, in a way, was the most vulnerable child in our report. Her father had been murdered two years prior and her guardian grandmother was in poor health. But Destiny also showed tremendous self-awareness and grit.
Destiny's grandmother, Mardie Sonnier, had granted us permission to write about her granddaughter because, like Natasha and Darlene, she knew kids like her granddaughter were dealing with unfair burdens.
One day, Laurie was photographing Destiny playing with her cousin outside when they stopped doing cartwheels and knelt and prayed not to get shot. That detail was shocking for readers, but it was also a ritual that had clearly given the children great comfort amid their stress.
We were very worried our reporting would add to Destiny's stress. Chilling details about her father's murder had been in earlier newspaper reports when she was younger, but she had been shielded from them. We were certain Destiny was independent enough now to seek out the story after publication and read it.
About three weeks before publication we met with Mardie and told her we could not leave out the details of the murder and that Destiny likely would learn of them. We told her now was likely the time to have a conversation with her granddaughter. This was tough for Mardie, and she struggled with it, as did we.
Ultimately, my editor Matthew Franck and I made a critical decision about this special report and its focus on identified children. Though we were writing about the disturbing developmental and biological consequences of toxic stress on children, we felt obligated to write a solutions story that demonstrated the youth in our story were not necessarily victims, but had great chances to overcome this public health issue. That solutions story detailed numerous programs and factors such as positive relationships that can protect children from toxic stress, even when they cannot get out of poverty and neighborhoods besieged by violence.
Indeed, Darlene's youngest children, ages 2 and 3 at the time, were at risk of suffering the effects of toxic stress. But they were given a great gift when a therapist through the Missouri First Steps program worked with them on speech and language skills during our reporting, and then ultimately helped their mother enroll them in early childhood programs to get them ready for school.
Akeelah, a girl who was named for a movie character who had overcome poverty to win a spelling bee, had a family that could laugh through nights without heat.
And Destiny's life was clearly made better by critical programs at school.
I chose to end the story with the prayer circle led by Destiny's grandmother that took place most school mornings in their kitchen. It was a sign of hope and comfort. And yet, Destiny's circle of friends and support was shrinking and she had no control to stop it. Readers are left to wonder, will Destiny prevail over such stress? 
I hope so. Though my life is very different from the adults in Ferguson I interviewed for this special report, we connected deeply over one critical fact: Children shouldn't have to suffer the burden of so much stress.
Read Nancy Cambria's National Fellowship series: "The Crisis Within."
Photo by Laurie Skrivan, St. Louis Post-Dispatch.