Access Denied: Oklahoma's Health-Care Crisis
Image
Published on
October 3, 2011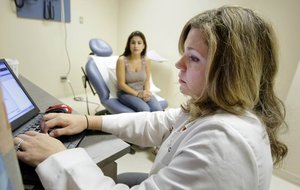 Editor's note: Shannon Muchmore wrote this story as part of the California Endowment Health Journalism Fellowships, a program of the University of Southern California's Annenberg School for Communication & Journalism.
It's a relatively slow morning for Debra Odom as she tends to her patients in the dermatology clinic.
She treats some skin tags and other benign growths, then helps a patient who has called with a medication problem.
She sits with the patients and asks them how they are doing. She knows about them and takes time to make sure they understand how to take care of themselves.
Odom is not a doctor, but for those who came in to see her one recent morning at the University of Oklahoma's Family Medicine Center in Tulsa, she was exactly what they needed. She has been a physician assistant for about eight years.
"I just wanted a career where I knew I could help people," Odom said. "But, I also knew I wanted to be a mom."
Federal health-care reform is expected to increase the number of insured Oklahomans in coming years. As doctors become stretched to provide care, mid-level practitioners such as nurse practitioners and physician assistants will become essential.
These practitioners work alongside physicians, assisting them and talking to patients about their symptoms, medications or anything else related to why they are at a doctor's office or hospital. Physician assistants can prescribe some medicines, and in most states they can do nearly anything else a physician delegates to them.
Role of practitioners
The law creating federal health-care reform includes physician assistants in the definition of primary care providers and encourages them to be a part in innovating health care.
Health-care reform often uses a team-based approach that physician assistants say is ideally suited to their scope of practice.
Dr. Charles Foulks, chairman of the department of internal medicine at the University of Oklahoma School of Community Medicine in Tulsa and a practicing physician, says physician assistants are necessary to his job.
"They're absolutely invaluable as a partner," he said. "I look at them as an extension of my practice."
Foulks said he always introduces his physician assistants to patients personally and tells them anything the physician assistant says should be regarded as something the physician is saying. Physician assistants can spend more time with patients and often establish a better rapport with them than a physician can.
Physician assistants receive the same training as physicians, just less of it. They typically receive about 30 months of post-graduate education before they can join a practice or work in a hospital.
Most are trained as generalists, but specialization is becoming more common in the field, said Meredith Davison, associate dean for academic services for the OU School of Community Medicine.
"Their information is not as much in-depth, but they know enough to know when they've reached their limit," she said.
About 1,100 physician assistants were practicing in Oklahoma as of 2010, and visits to them totaled about 3.6 million in the year before. In 2009, their largest specialty was emergency medicine, with 95 out of about 900 physician assistants in that area that year, according to the American Academy of Physician Assistants.
The coming physician shortage combined with methods promoted by federal health-care reform will boost the role of physician assistants and nurses, and they are working to ensure that federal and state regulations allow them to play the largest role they can in the future of health care.
Team-based health care
Many reform measures use a team approach to care, emphasizing a collaborative effort between physicians, physician assistants, nurses, specialists and even social workers. One of these models is a patient-centered medical home.
In Oklahoma and in most states, physician assistants will be able to lead these organizations, which manage preventive care, chronic diseases and other health issues while moving patients between emergency departments, primary care givers and specialists.
Nursing organizations are concerned with what they view as attempts to restrict patient access to their services, and some have formed the Coalition for Patients Rights, which seeks to promote the work that nurses can do outside of direct supervision of a physician.
Mindy Whitten, a nurse practitioner at the Warren Clinic and legislative chair for Oklahoma Nurse Practitioners, said they can help with the physician shortage by acting as primary care providers.
They can prescribe medicine under supervision and can treat all ranges of conditions for all ages.
"We are actually trained to provide care across the spectrum," she said.
Oklahoma has about 900 nurse practitioners, and most of them have a doctorate. About 90 percent of all nurse practitioners accept Medicare and Medicaid, and about 20 percent practice in rural areas, Whitten said.
Her office uses a team-based approach to care with its two nurse practitioners and two physicians, she said.
"We all collaborate and talk about patients and what we need to do," Whitten said. "And that's where health care needs to go."
Odom said many people she encounters don't understand the role of a physician assistant and a few people she sees insist they need to see a physician.
For the most part people are nice but need some education about the role of a mid-level practitioner, she said.
Davison said physician assistants are a more diverse population who can relate to a wider set of patients and are ideal for the vaulted team-based approach to care.
"When you're seeing a PA, you're seeing a physician," she said.
Whitten said physicians and mid-level practitioners shouldn't be competing, but must work together to tackle Oklahoma's coming health-care crisis.
"We need all of us," she said. "We need physicians, we need PAs, we need nurse practitioners to take care of all the sick people in Oklahoma."
Photo credit: Michael Wyke/Tulsa World