California County Seeks to Eliminate Health Safety Net for the Undocumented
Image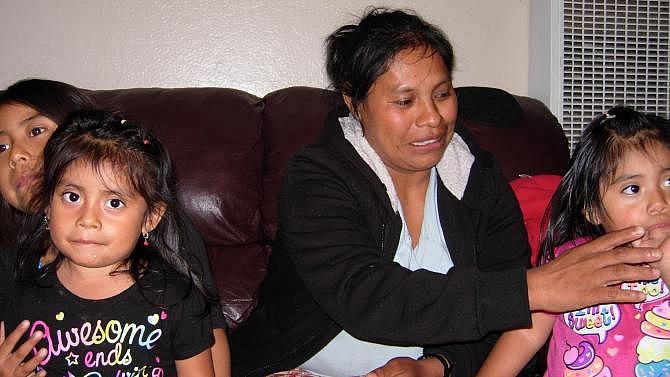 Published on
February 24, 2014
Natividad, a farm worker in California's San Joaquin Valley, lives with her children and three other families in a cramped house in the city of Fresno. We use only her first name, due to her immigration status. Natividad can't read or write, and speaks only Mixtec, an indigenous language from Southern Mexico. She has diabetes and high blood pressure, and when she feels very sick, she heads to the Community Regional Medical Center. She always carries a written note that asks for an interpreter.
"I don't understand a lot of what the doctor says," said Natividad, through an interpreter. "But I take my prescription for my medicines."
Natividad is one of 17,000 patients who were treated last year at the Community Regional Medical Center, through a Fresno County health program for the poor. By law, all California counties have to offer a minimum of health services free or at very low cost to uninsured, low-income residents who do not qualify for health insurance financed by the federal government, and cannot pay for private insurance.
Fresno County was forced to offer this service to undocumented immigrants, after a lawsuit in 1984. According to the California Department of Health Services, only 9 counties in the state offer these programs to undocumented immigrants.
In Fresno, patients have to fill out application forms every 3 months, and they sometimes have to travel long distances because they can only get care at one hospital, in the city. Natividad says that even so, she has been able to see diabetes specialists through this program, while only paying a few dollars.
"Otherwise I would have to pay a lot of money, and if I didn't have that money, I could end up in jail," Natividad said.
After 30 years, Fresno County officials are taking steps to end its indigent health care program, arguing that the county can no longer afford it. Even now, the county is not paying the entire cost. Community Regional Medical Center says the program costs a total of more than $100 million dollars. Currently, the county partially covers these costs by paying the hospital a fixed amount of $21 million per year, and $14 million of that amount comes from the state of California.
David Pomaville, director of public health for Fresno County, estimates that these state funds will disappear now that the Affordable Care Act is in effect, because most patients in the indigent care program now qualify for federal health insurance, Medicaid, known as Medi-Cal in California.
"We simply don't have the resources within the department to fund the Community Hospital contract," said Pomaville. "We've looked at where we could cut other services. And we believe that cutting other services would be very harmful to the community: tuberculosis control programs, communicable disease investigation programs."
It's not clear how Fresno County is estimating the amount of state funds that could be lost. Mari Cantwell, from the California Department of Health Care Services, says that if Fresno County chooses to keep the indigent program open, the state will continue to cover part of the costs, but she doesn't know yet how much this amount will be.
There are thousands of people in Fresno County who do not qualify for the Affordable Care Act, and the majority of them are undocumented. There is not an exact number, but some estimate that at least 5,000 of those currently covered by the Medically Indigent Services Program are undocumented. They are the ones who would continue to depend on the county program. But Fresno County asked a judge to dissolve the order from 1984 that requires undocumented residents to be covered.
The Sierra Vista network of community clinics is fighting the county so that undocumented patients can continue having a right to the program.
"It's going to be a real tragedy for patients who need specialty consultation and hospitalization services because if the county is able to avoid this obligation, an obligation that we think is very strongly embedded in law, we have no idea what will happen to the ability of patients to seek out secondary care," said Steve Schilling, CEO of Clinica Sierra Vista.
The clinics can offer primary care to undocumented patients, but Schilling says patients with asthma, cancer, diabetes or other problems requiring specialized care would have to go to the emergency room and pay the full cost.
Anthony Wright, director of Health Access California, an advocacy group, says that Fresno should reorient the existing safety net to cover the remaining uninsured, instead of getting rid of the program.
"It's unfortunate that Fresno is considering going backwards in what provides indigent care for those folks who fall through the cracks and are not eligible for the Affordable Care Act. There's more Fresno can do in the positive (direction)," said Wright.
According to a 2010 report by Fresno Healthy Communities Access Partners, the county's safety net does not currently cover even half of the indigent adults in the county, which the group estimates are at least 40,000. The report cites barriers for registration, such as strict eligibility limits and burdensome documentation requirements.
Fresno is the only county that is currently seeking to end its safety net. Riverside County in Southern California covered 36,000 indigent patients last year, and has no plans to cut services to undocumented patients, which county officials estimate number about 5,000. The Riverside program costs more than $135 million a year, according to county officials.
In Fresno's case, a judge will hear arguments on February 26th, to decide whether the county must continue covering costs for specialty care for undocumented patients. Natividad, the farmworker, hopes the judge says yes, for the sake of many in the immigrant community.
"I feel that they don't care about us (immigrants), and maybe that's why they want to close this program, but there are a lot of people that use it and need it," said Natividad.
Health advocates say a court decision in favor of undocumented patients could help create or expand safety nets in other parts of the state and the nation.