Day II: Health problems persist when options are limited
Image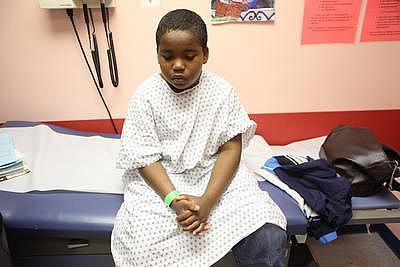 Published on
December 3, 2019
In some hardscrabble East Bay neighborhoods, people die of heart disease and cancer at three times the rates found just a few miles away in more well-to-do communities.
Children living near busy freeways in Oakland are hospitalized for asthma at 12 times the rate of young people in Lafayette's wooded housing tracts.
The East Bay's striking health inequities extend far beyond life expectancy and involve more than differences between the rich and the poor. Disparities exist up and down the East Bay's socioeconomic ladder, according to data compiled by the Alameda County Public Health Department for Bay Area News Group.
Middle-class communities in Dublin, Castro Valley and Fremont have higher heart disease death rates than wealthier neighborhoods in Walnut Creek and Berkeley, but lower rates than struggling areas of East Oakland and North Richmond.
These facts have led public-health leaders to advocate to equalize opportunities for healthful living, instead of focusing only on a never-ending battle to treat disease.
Alameda and Contra Costa County health leaders have stepped outside of their traditional roles to tackle the root causes of ill health. That means attempting to ensure people have clean air to breathe, decent housing, walkable neighborhoods, well-maintained parks, violence-free streets, and grocery stores with fresh fruits and vegetables.
"Your choices are shaped by the options you have and the environment you live in," said Dr. Wendel Brunner, Contra Costa County public health director. "We want to create an environment that supports individuals in making good choices."
The new direction also means addressing the health-sapping economic stresses and lack of opportunity and power that plague some communities, said Dr. Anthony Iton, who recently left his position as Alameda County's public health director to head an Oakland foundation's health disparities program.
Iton changed jobs in part because of his frustration at being unable to win widespread political support for such public health initiatives.
Examining asthma rates reveals a stunning pattern. By far, the most hospitalizations occur in low-income communities near the Port of Oakland, along busy Interstate 880 in East and West Oakland, and the convergence of freeways near North Oakland and Emeryville.
The medical staff at Children's Hospital Oakland has worked for more than a decade to bring down asthma hospitalizations, with limited success.
Asthmatic children seek emergency room help there 5,000 times a year.
Nearly one-fourth of them will return within 12 months.
Asthma colors much of John Fitzpatrick Jr.'s young life.
Bronchiolitis first hospitalized the easygoing fifth-grader when he was eight months old. Since then, he has returned to the emergency room so many times his family has lost count.
"He had some scary times when he was younger," said Mindy Benson, the asthma program manager at Children's Hospital Oakland who has treated John for many years. "It was really hard to get his asthma under control."
Now 10, John attends Santa Fe Elementary School. He lives in a two-bedroom rented house in the 94608 ZIP code with his brother, mother and grandmother.
This North Oakland ZIP code has the East Bay's second-highest asthma hospitalization rate. Highway 24 and Interstates 580 and 80 pass close by. Nearly 200,000 cars and trucks use the I-80/I-580 interchange each day.
"Where they live, every day there is soot on the window sills," Benson said. Soot is also in the air that neighborhood children take into their lungs.
Asthma occurs when airways become restricted, making breathing difficult. Numerous triggers exist, including auto exhaust, industrial emissions, tobacco smoke, dust, mold, pets, weather changes, even strong emotions.
John routinely takes six medications to help control his asthma and uses a nebulizer 10 to 15 minutes every morning before he goes to school, and again at night before he sleeps.
"The stuff that works for him has real terrible side effects," including causing frequent headaches and nosebleeds, said his mother, Dorthy Littman. "But he needs that."
John keeps an inhaler in his backpack and sometimes has to stop playing during school recess to use it.
He loves basketball and baseball but has to limit his activities because of breathing difficulties.
"I'll be wheezing," he said. "It's not fun because I want to run, and it slows me down."
The inability to sustain prolonged physical activity has affected his weight. During a recent doctor's visit, he was chagrined to learn that at 4 feet 6 inches tall, he weighed 102 pounds.
"He's gotten extremely overweight," Benson said.
Benson, who has analyzed asthma statistics for years, has noticed a link with low-income communities.
West Oakland youths breathe in diesel exhaust from trucks, trains and ships at the port, and the aging homes near the waterfront become magnets for mold, she said.
John and his mother lived in West Oakland during the first few years of his life. John is allergic to mold and mildew. It was a constant struggle to keep it out of the home.
"No matter how you clean it, it still comes back," his mother said.
John sees Benson once a month to help control his asthma. Because his mother does not own a car, they ride three buses to reach the clinic. John misses a day of school each time, and his mother takes a day off from her job providing home care for the elderly.
Volunteers from the American Lung Association gave Littman a special vacuum and anti-allergen solution to help control dust in their home. But that is a difficult task. Their house has no bedroom closets, so "we've got baskets and tubs with clothes in them because there's nowhere to put stuff," she said. It accumulates dust.
John's older brother walks him to and from school each day. They pass through an industrial area where at times, "it smells like tar or primer or something," his mother said. "John's thrown up a few times on the way to school."
He knows exactly how often. "It's seven times," he said.
Despite the asthma triggers, many families in John's neighborhood cannot afford to move, so county leaders are seeking ways to lessen the exposure to health threats.
One policy that many believe contributes to the high asthma rates is a truck ban on Interstate 580 in the upscale Oakland hills. This funnels large volumes of truck traffic through low-income communities lining Interstate 880 in west and East Oakland.
The ban has existed since the freeway opened more than 40 years ago. In 2000, the California Trucking Association sought to overturn it, but ran into fierce opposition from hillside residents, the city councils of Oakland and San Leandro, and the Alameda County Board of Supervisors. After the public outcry, state lawmakers made the ban permanent.
Alameda County health leaders and others have seized on a different target: the Port of Oakland, where they have fought to reduce diesel emissions from trucks, trains and ships.
The diesel exhaust has led to a cancer risk in West Oakland that is three times higher than the Bay Area average, the Bay Area Air Quality Management District told federal officials in September.
Yet some view this struggle as an improper attempt by Alameda County health leaders and others to rein in a major economic force.
"People see us as operating outside of our purview," said Iton, now senior vice president for healthy communities with the California Endowment in Oakland. "But spewing chunks of carcinogen out of an industry on a day-in, day-out basis that's proven to cause lung cancer, heart disease, and asthma is not good for people living adjacent to these places."
So, he said, the county ought to lessen "the burden of disease that they have to bear in order to support the whole region's economic benefit."
Realigning economic benefits and public health concerns creates new challenges, however. Changes can affect people's livelihoods. Just ask trucker Manuel Lino-Rivas, who lost his job partly because of a victory over toxic emissions at the port.
Rivas is worried. A widower, he has no idea how he can continue to support his 9-year-old son and 14-year-old twins.
"I am broke completely," he said, sighing over a stack of bills.
The family rents a three-bedroom house in the 94621 ZIP code of East Oakland, an area with the East Bay's second-lowest life expectancy: 72 years. Rivas moved to the United States in 1980 from El Salvador. For two decades, he worked as an independent trucker at the port.
That ended this summer when his 1989 truck, purchased several years ago for $12,000, broke down. Now, it makes no sense to fix it.
Beginning Jan. 1, the port will ban all trucks manufactured before 1994. Trucks built between 1994 and 2003 will be required to have filters for particulate emissions. The goal is to eliminate the worst-polluting rigs.
Rivas supports such goals. His own health, he said, was jeopardized as he sat breathing fumes among idling rigs. But he wants better solutions for the truckers.
"I have 22 years working in the port — half of my life," he said. "I don't have nothing. I'm an old man. I'm 56 years old. I go to any factory, and they don't give me job. I pray my Lord I'll drive very soon."
He is not alone. As many as 1,000 truckers could be out of work beginning Jan. 1. A grant fund set up to help them buy new rigs or install filters ran out of money, leaving many with nowhere to turn.
Rivas, who averaged about $24,000 annually as a trucker, says he cannot afford to buy another rig at $60,000 to $80,000 for a 2004 or '05 model. Even if he could afford it, he said, in five years that rig, too, would become obsolete. At that time, only trucks built after 2007 will have access to the port.
Iton and others seeking changes are well aware of the truckers' plight.
"They're extremely low-wage," he said. "They have no health insurance. They have no workers' compensation. They have very limited access to social services that they may need. Many of them are low-income immigrants that are working under those conditions because that's the only work they can find.
"The goal is not to put the burden on the backs of the truckers," Iton said, "but to put the burden where it belongs: on the entities making the profits from the business."
For that reason, a coalition of groups aims to have trucking companies, instead of the independent truckers, bear the responsibility of buying and maintaining clean rigs. The groups want the port to have the power to create operating agreements with trucking firms, which would hire truckers and give them health care and other benefits.
The Port of Los Angeles last year adopted a similar program, but it and the Oakland port campaign are on hold pending the outcome of a lawsuit by the American Trucking Association. The lawsuit has not affected other elements of Los Angeles' clean truck program, which has been credited with removing several thousand dirty rigs from service.
For now, truckers such as Rivas remain independent.
In July, when Rivas developed a gall bladder problem, he decided it would be cheaper to pay $450 for a round-trip flight to see a doctor in El Salvador than to rack up hefty bills in a hospital emergency room here.
In his native country, he spent $20 for an ultrasound and $20 for medication prescribed by a doctor who told him he had inflammation. He figures it would have cost him at least $3,000 for an emergency room visit in the United States.
"That's the only way I can take care of my health," he said.
Twenty-one miles northwest of Rivas' home lives Johnny Fulmore. At age 52, he has had a stroke and two heart attacks. In his North Richmond neighborhood, heart problems are not unusual.
The 94801 ZIP code has the East Bay's fourth-highest heart disease mortality rate. It includes Richmond's Iron Triangle, named because it is bounded on three sides by railways.
Fulmore has lived here nearly all of his life.
His stroke occurred in 2002 while he helped erect a scaffold on the Bay Bridge, a profession he held at various locations for 20 years.
"I was unable to move, talk or do anything," he recalled. Co-workers rushed him to a hospital emergency room.
A year later, he had his first heart attack. Doctors told him he had blocked arteries and performed an angioplasty.
In December 2008, he had his second heart attack. "That one was a little more severe," he said. He had another angioplasty.
In March, doctors did two more angioplasties to ward off additional problems.
The heart difficulties transformed Fulmore's life. He now deals with migraines. Hot weather bothers him. He tires easily, and he takes medication to lower his blood pressure.
His health problems also have affected his livelihood. Unable to continue as an ironworker, he takes odd jobs when he can find them. Recently, he has been on-call as a driver for a funeral home.
"I did construction for so long, that was a hard adjustment," he said. "A pretty nice income was gone. It's been a strain at times, but you keep going on."
Many factors contribute to some communities' high rate of heart disease. Genes and lifestyle choices, including whether people eat healthful foods and exercise, play a role.
But other factors have more to do with the neighborhood than with individual choices, health experts say. How easy is it to eat healthfully and to work out? Do people have access to fresh fruits and vegetables and safe places to exercise?
A growing body of evidence suggests another important factor: chronic stress. This can include everything from job and financial struggles to difficulty paying a mortgage, coping with racism, lacking control over one's life, and worrying about the future.
Stress causes the body to prepare to flee or fight, scientists have found.
Hormones such as adrenaline and cortisol flood the body. Glucose levels rise. The heart rate jumps, and the body remains in a heightened state until the perceived threat passes.
Repeated stress over long periods revs up the cardiovascular system, strains the heart and increases cholesterol and plaque. That can lead to hardening of the arteries, stroke and heart attacks.
For Fulmore, "the biggest stress is just keeping up with day-to-day living and not having normal employment at your disposal."
The North Richmond area shows signs of the economic struggles many of its residents experience. The median household income here is $24,131, compared with $73,125 in Point Richmond, the hilly enclave a few miles away.
A couple of doors from Fulmore's house are what he calls "great big eyesores": two boarded-up, abandoned homes where vandals have removed pipes, brass, electrical wiring, toilets and sinks. The property has been vacant for years.
Economic forces have stripped the neighborhood of other vital resources. It can be difficult to find healthful food in the area, which is dotted with small neighborhood markets.
At the Mom, Pop and Son's store on Filbert Street, owner Nagi Alkahli carries no fresh fruit or produce. When he tried to do so, he said, the health department gave him a hard time because he did not meet safe storage regulations.
"I'm doing pretty good with this," he said, pointing to shelves filled with chips, canned goods and sodas.
Fulmore was in good shape before his heart problems began. An athlete most of his life, he ran regularly and lifted weights.
"I never had major health problems," he said.
While working in construction, he often ate hamburgers, burritos and french fries from food trucks. Not exactly the most healthful lunch, he acknowledges.
"Put some butter on it and fry it up, and that's what they gave you," he said.
Healthful eating rarely rises to a priority in his neighborhood, he said.
"A lot of people are just too busy thinking about: How am I going to make it through this day?"
Fulmore now drives two to three miles to shop for fresh fruits and vegetables at larger chain stores. He regularly visits a farmers market near City Hall. But traveling such distances is not easy for people who lack cars.
Fulmore also leaves his neighborhood to exercise, preferring to walk at the scenic Richmond Marina, although he could visit a park five blocks from his home. "I'm not going to go there because there's a lot of hanging out," he said. "I don't think people in the neighborhood utilize the park as much as they would if they felt comfortable."
In October, a 35-year-old man was fatally shot while sitting in a car at the nearby Shields-Reid Park.
"We've probably had 16 shootings in this area alone this year," Fulmore said.
Many local parks are underutilized because of run-down equipment and a lack of maintenance, said Andres Soto, former project director for the West County Healthy Eating Active Living Collaborative, or HEAL.
During a recent walk through Lucas Park in the Iron Triangle, Soto pointed to a vacant slab where a park building had been torn down. The tennis courts lacked nets, an empty sand pit spread where play equipment once stood and cracks zigzagged across the basketball court. At midday, no one was there.
"This park is hardly used anymore," Soto said. "It used to be full of activity."
Despite the challenges, glimmers of hope exist in this neighborhood. Community residents concerned about high asthma rates have succeeded in restricting flare emissions at the nearby Chevron refinery.
The HEAL project, with a grant from Kaiser Permanente, is working to set up physical education programs in local schools, encourage businesses to provide more healthful lunches, improve park maintenance, and organize walking groups.
On 23rd Street, grocery stores have sprung up with an array of healthful foods. The El Campesino Market offers apples, melons, fresh fish, radishes, cucumbers, pineapples, bananas and baked goods.
Young Latinas, many of them immigrants, walk their children to school and stop at the markets on their way home to pick up fresh meats and produce for the evening dinner.
Fulmore has noticed more homeowners, as opposed to renters, moving into the area.
"We have a lot of problems here," he said, "but there's a lot of good, productive people."
Online
Reach Sandy Kleffman at 925-943-8249 or skleffman@bayareanewsgroup.com. Reach Suzanne Bohan at 510-262-2789 or sbohan@bayareanewsgroup.com.
[This story was originally published by East Bay Times.]