Detroit children dying in culture of violence
Image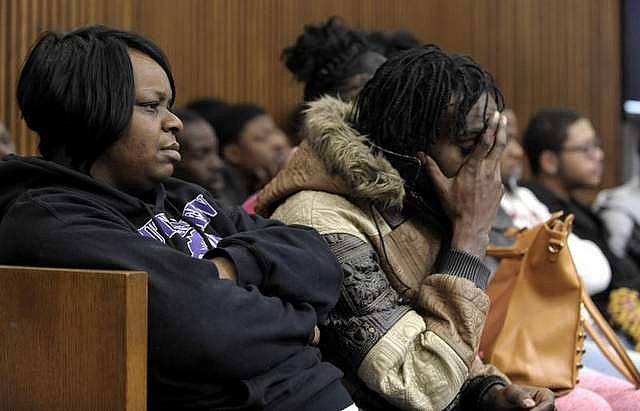 Published on
February 1, 2014
Nearly 500 Detroit children have died in homicides since 2000 — an average of nearly three dozen a year.
Most were gun-related, and most were among children 14-18. Many youngsters just got in the way of a bullet intended for an adult, or for no one in particular.
Names on the sad, memorial roll call are etched into the hearts of those who loved these children:
Mariah Smith, 5, whose burned body was found in an abandoned house in 2011, the alleged victim of her aunt's 22-year-old boyfriend; 9-month-old Delric Waymon Miller, who died as he slept last February, when gunmen armed with an AK-47 sprayed his home with bullets; Robert Mosby Jr., 14, shot four times by an adult in a dispute over a bike; and Jamel Witcher, 4, who was playing at his grandfather's house this month when his 4-year-old cousin found a loaded shotgun in a closet and the weapon went off.
A Detroit News probe into what's killing Detroit children ages 18 and younger pinpointed violence — including abusive caretakers and gun play between kids — as the No. 2 cause, behind infant mortality.
The findings came from a six-month News investigation, during which thousands of bits of data from state health departments across the country were gathered and analyzed. The News found that the death rate from all forms of violence in 2010, the most recent year for which comparable data are available on other communities, is higher in Detroit than in any other major U.S. city: 15.7 per 100,000 children.
The number of child homicides increased in Detroit during the Great Recession, peaking at 45 in 2009. And while the number fell somewhat after that, there's no evidence that the deadly violence will evaporate any time soon.
It's a bitter reality for parents like Lyvonne Cargill, 42, whose 17-year-old son, Southeastern High School senior Je'Rean "Blake" Noble, was shot to death May 14, 2010, when he stopped at a party store on his way home from school. By all accounts, Je'Rean was an innocent — a good kid who was a member of the ROTC, who dreamed of becoming a Marine and then going to college to become an engineer.
"I'm 100 percent hurt," Cargill said Thursday outside the courtroom where two men are standing trial this week in her son's death. "My life is gone. When his life was stolen, it stole my heart."
In a bizarre twist, the encounter outside the party store ended up in two dead youngsters. Seven-year-old Aiyana Stanley-Jones was fatally shot two days later, when police entered the little girl's home in search of suspects in Je'Rean's murder. Officer Joseph Weekley's trial on involuntary manslaughter charges ended in June with a mistrial; a pretrial hearing on his new trial is scheduled for next week.
Guns 'very common'
Activists working to curb crime in the city say kids like Je'Rean fall victim to a culture of violence that is out of control, though they see glimmers of hope that change is underway.
Lynda White, an attorney with the Michigan Children's Law Center and executive director of Detroit's Ark NonViolence Program, said many Detroiters feel they must arm themselves — but often that leads to more violence. Ark provides anger-management and conflict-resolution training to Detroit Public schoolchildren starting in second grade, in an attempt to equip them with skills to resolve conflicts peacefully.
"They may have a gun for protection, but if there's a conflict that arises, they use it in a completely inappropriate way," White said.
"If you have a gun ... it emboldens you, so that if you started out having it for protection and you become mad and someone else threatens you, then you use it. And that is a big problem with the culture."
Twelve-year-old Kenis Green Jr. was on his front porch during a birthday party for his uncle on Aug. 31 when a gunman in a burgundy car sprayed the house with bullets. His mother, Sunsearae "Lo Lo" Green, says the bullets were intended for Kenis' uncle.
Kenis, an eighth-grader, just got in the way.
Hall said it was the third time in as many days that a neighbor living across the street had pulled out a gun. Alvin Conway, 33, was allegedly upset with Hall's brother, Willie Hall, over a perceived slight. He was slated for trial earlier this month, but it was postponed to allow time for psychiatric reports. Asked why nobody called police the first two times a gun was pulled out, Hall said "it's very common" for people to show their guns when there's a confrontation. "I see it all the time."
"A lot of people feel like 'They have one, so I might as well get one,' 'If that's the way they're gonna solve their problems then that's how I should solve it' — that's how people look at it," she said.
"They don't think like, 'Well, we can talk, or just leave it alone.' They think that they should use a gun to solve their problems."
Hall counts five family members who have been shot to death in Detroit in three years. About two weeks after Kenis' death, one of Hall's cousins, Robert Barnes, 44, was found shot to death on a Detroit street.
Children armed
Gun violence is so pervasive that some parents give guns to their children, White said.
"I work in the Wayne County Juvenile Court, and these children are obtaining guns from adults," White said. "They're obtaining guns illegally from people who are supposed to be responsible and people who are supposed to protect them. And if that person who has a huge influence in your life is giving you a gun, some of them tend to think it's OK to carry it. And they're being told, 'You need this for your protection, you live in Detroit.' "
White said nonprofits, churches, neighborhood organizations and school groups work with the Detroit Police Department to end violence in the city, but their efforts lack "cohesiveness."
"If we're not all working together, then nobody is, and these kids are falling through the loophole and they become adults who have no resources, no skills, no employment, and they do what they think they need to do to survive."
Family seeks healing
Before Je'Rean was killed, Cargill had a job at Target. She's given that up to cope with the emotional aftereffects on herself and her family.
She wanted to go to college to become a nurse, and was about to take a certified nurse assistant course so she could earn a good wage while working toward her nursing degree. Those plans were derailed.
Both families have sought counseling. Cargill and her 14-year-old son, Jamall — who was just 10 when his big brother was slain — have seen therapists, and both take medication to help them sleep at night.
Hall and her three remaining children moved in with Hall's mother, Chandra Holloway. Every week, Holloway takes DeChan, Jasmine, Kailyn and her other grandchildren to Open Arms, a support group for grieving children and families run by the St. John Providence Health System. Hall receives one-on-one therapy.
"The kids, they really like to go together," Hall says of the grief support group. "My mom has 17 grandchildren, so we took all of them."
This story was originally published in The Detroit News and includes videos, more photos, and an interactive graphic.
Photo Credit: Todd McInturf/ The Detroit News