Domestic Violence in Alaska: A crisis at home
This project was originally published in Alaska Beacon with support from our 2023 Domestic Violence Impact Fund.
Image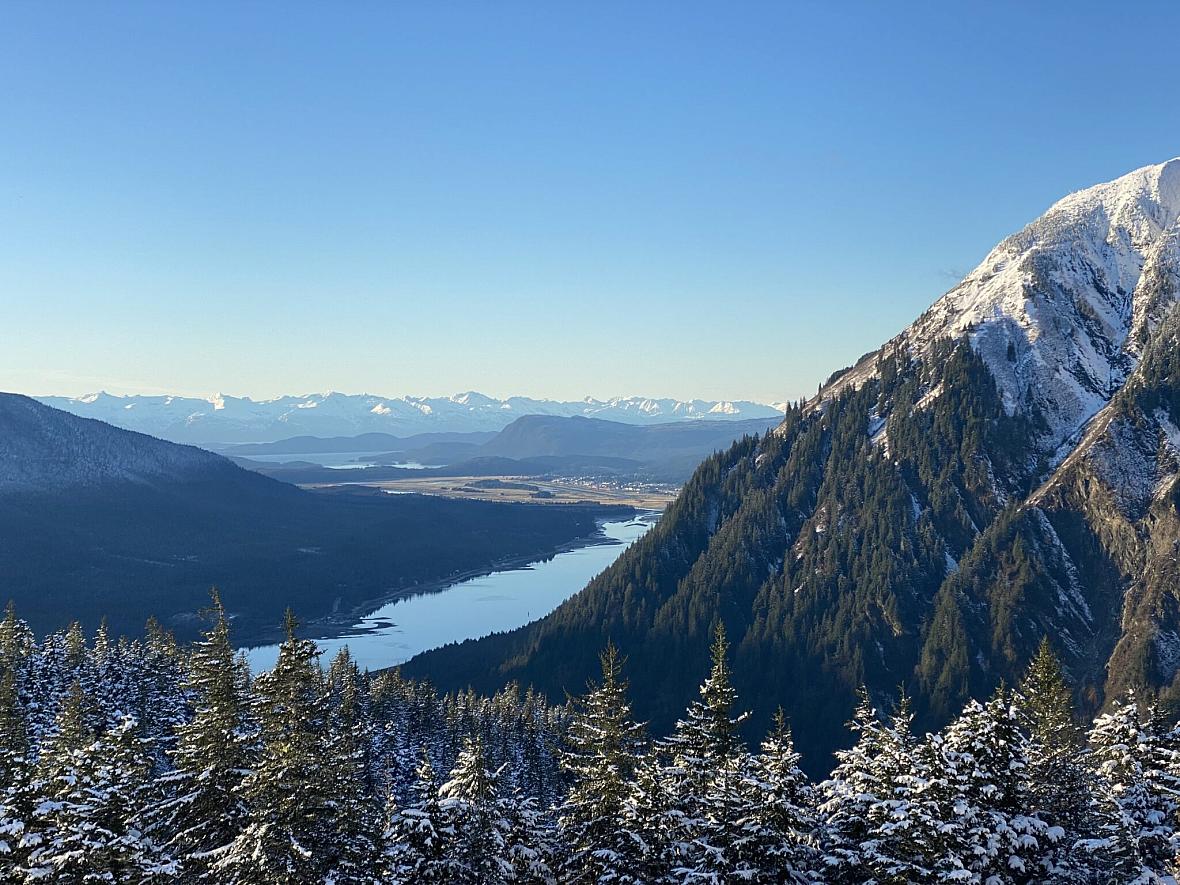 (Photo by Claire Stremple/Alaska Beacon)
Published on
October 31, 2023
T.'s relationship with her husband didn't become violent until six months into her pregnancy with their first child.
"Then it turned ugly. It was like a mask came off," T. said. "He was free to say or do whatever he wanted because I was pregnant, and where was I going to go?"
For safety reasons, the Alaska Beacon generally does not identify victims of abuse by name and is identifying T. by her initial with her agreement.
One night, after the baby was born, T.'s husband tried to stop her when she attempted to leave the house. She said they both ended up on the ground, but she had the baby in her arms. "I'm a big girl; I can defend myself," she said. "But he wasn't being mindful of the baby." She left, for three months. But she said he convinced her to come back — this was her husband, and the father of her child. Then, she got pregnant again.
Like T., nearly half of women in the state of Alaska have experienced domestic violence in their lifetimes, according to a University of Alaska Anchorage survey. It can touch just about every aspect of their lives, so its full effects can be hard to fully comprehend and difficult to repair. Domestic violence is also referred to as intimate partner violence between couples. It is an urgent issue in Alaska, which has the third-highest rate of intimate partner violence against women among the states, where men kill women at a higher rate than anywhere else in the country, and where women are most likely to be murdered by their spouse or boyfriend.
The state spends millions each year to fund community programs aimed at treating and ending domestic violence, yet the groups that offer services often report they are limited by their budget. Dozens of nonprofits tend to the impacts of domestic violence and state departments and councils examine response methods, but state data shows that the rate of domestic violence is as high as it has been in a decade.
Time and money
The state's Council on Domestic Violence and Sexual Assault is part of the Department of Public Safety, but it also partners with the Department of Corrections to shepherd millions of dollars in state and federal money to communities and programs across the roughly 660,000 square miles of varied geographic and cultural terrain that makes up Alaska.
Diane Casto has led the council for the last six years as its executive director. She will retire on Nov. 2; the state has not yet named a successor. She works in a light-filled office in downtown Juneau, Alaska. Her salt and pepper hair is cropped and spiky; she wears tidy suits.
It takes years, generations, to change attitudes, beliefs and behaviors. And if you don't give it that time, you're not going to see change. And I think that's where we have really failed in domestic violence. Diane Casto, executive director, Alaska Council on Domestic Violence and Sexual Assault
As she leaves her post, nearly three decades after beginning her public service career in the state, she said the rate of domestic violence remains high and she feels "burnt out," a feeling she said is common among people who push against the prevailing attitudes that surround domestic violence.
"It takes years, generations, to change attitudes, beliefs and behaviors. And if you don't give it that time, you're not going to see change. And I think that's where we have really failed in domestic violence," she said. "We have failed and we are not alone. Alaska is not alone. There are very few states who have really made significant progress and reductions in rates across the whole state."
The state puts millions of dollars towards the response to domestic violence each year.  In the 12 months that ended in June, the Council on Domestic Violence and Sexual Assault had roughly $32 million to fight domestic violence — more than half of it came from the state.
"Many states around the country get no state funding [for domestic violence]. They get the federal formula funding and that's it. We get significant state funding; we always have," Casto said, adding that Gov. Mike Dunleavy's administration has been supportive of funding for domestic violence.
But it isn't enough, Casto said. Each year, she has to ask the Legislature for more money.
"The first question they asked me is: 'Why haven't you solved domestic violence and sexual assault? Why do we still have the rates that we have?'" she said. "Well, there's many reasons. And part of it is money, but part of it is commitment. Part of it is time."
Most of the money goes to victim services, rather than outreach, education and other prevention efforts.
"Part of the problem is, even though we give out a lot of money, shelter programs are very expensive," Casto said. "So it's not like they have a lot of extra money for kind of helping those who have been victimized get job skills, get financially secure or get [long-term] housing."
A lack of security often will send people who have experienced domestic violence back to abusive situations, she said. That leaves the state and various nonprofits to address the cascading consequences of abuse: physical and mental health effects, housing needs, and police and court involvement.
The other issue — time — is a big one. The project of changing attitudes and beliefs around violence operates on a different timescale than the budget cycle, or the tenure of an elected official.  "Funding wants to see results and outcomes now," Casto said.
She managed the council through a pandemic, steered it through years of erratic federal funding and will leave it with a detailed plan for the next several years of work. That management has helped programs statewide to direct services where they are needed most and in the hardest to reach parts of Alaska, and she said she hopes it has set up her successors to make serious inroads against violence and the prevailing cultural attitudes that support it.
"Change will happen at the local level," she said. "If a community would gather together and get everyone on the same page and say, 'We are no longer going to accept domestic violence in our community,' then it would start slowing down."
She said that hasn't happened yet statewide.
Power and control
T. and her husband tried couples therapy.
He told her she had postpartum depression; she said he wasn't carrying his weight with the baby. If he came home from work and saw lunch dishes in the sink, "I'd get accused of not doing anything all day," she said. "To him, it doesn't look like I did anything and I'm just laying around, leeching money off of him."
Domestic violence can be accompanied by other abusive behavior like financial control and emotional manipulation, experts say. Women in households that experienced financial or employment problems during the pandemic were about twice as likely to experience violence.
"There was a lot of inequality with spending money," she said.
In T.'s case, she would be financially unstable and unhoused if she were to leave her partner. She also experienced setbacks related to domestic violence – after one altercation, where T. said she was acting in self-defense, she was arrested and put in jail for several days, which later made it difficult for her to find housing and regain custody of her children.
Emotional and legal ties can keep unhealthy couples together until a dynamic that advocates call "power and control" escalates to the point of crisis. This can pose particular problems in much of Alaska, where the vast, often roadless geography makes access to safety, services and even law enforcement difficult or impossible.
T. is an Alaska Native woman, which means she is part of a population that is disproportionately affected by intimate partner violence.
Understanding abuse
Domestic violence usually originates from other violence. Perpetrators are often people who have been abused themselves. In a snapshot study from the Anchorage Police Department in 2019, half of all domestic violence calls involved people who had been arrested for domestic violence before. Nearly half of perpetrators had also been victims.
That premise underlies the disproportionate rates of Alaska Native families that are affected by domestic violence, according to experts like Charlene Aqpik Apok, the executive director of the research nonprofit Data for Indigenous Justice.
The continued structural violence that was happening persists. . . . And that's why we keep seeing more cases of missing and murdered folks. Charlene Aqpik Apok, executive director, Data for Indigenous Justice
Apok maintains a database of missing and murdered Indigenous people and wrote a doctoral dissertation on Alaska Native masculinity — they spend a lot of time considering the origins and effects of violence. They said the violence perpetrated at colonial boarding schools and within churches is a root cause.
"In Alaska, the history of colonization is relatively recent, comparatively, to the Lower 48. And ongoing colonialism is active today. And I think that that often gets unsaid," they said.
"The continued structural violence that was happening persists," they said. "And that's why we keep seeing more cases of missing and murdered folks."
Eileen Arnold, the director of Tundra Women's Coalition in Bethel, said she sees a link between colonization displacing subsistence culture with a cash economy, and the high rates of domestic violence  in the region.
"The reason for that is what's happened historically, sort of the ghost echoes of that original sort of violence against the culture, against a way of life. A lot of people have internalized that and it also gets passed down historically, from generation to generation," she said.
Community support, and the good news
The work advocates and state officials do may be expensive, difficult and time consuming, but they say it is working.
It took T. years, and another abusive relationship, before she gained independence through the shelter system and a housing program. She lives in supportive housing, which is low-cost housing that can be paired with services — in Alaska it is supported with vouchers from the Alaska Housing Finance Corp.
Housing stability helped T. regain custody of one of her children, despite her criminal record. She lives in the same building as a number of other survivors. Now, in the afternoons, she picks up one of their children from school with her own daughter and walks them to afterschool activities.
"The first day that I came in, people were helping me move furniture in and providing things that I didn't have," she said. "We all kind of support each other and it feels very much like a family."
That family feeling is something T. said she had been seeking for a long time.
Support between survivors is one thing; they understand each others' experiences firsthand. But building support from the wider Alaska community is more complicated; advocates observe that many people consider domestic violence to not be their business, even if its effects can last for generations.
It is well documented that the effects of domestic violence are deep and far-reaching — and that by stemming the flow of violence, the state could see improvements in social indicators like physical and mental health outcomes and student success.
There are dozens of groups already breaking trail to a less violent future for Alaska families. They include those who are tending to the immediate needs of domestic violence survivors, who are creating new pathways to safety, who are helping survivors rebuild their lives after violence, who are raising awareness of the issue and teaching future generations how to self-regulate and create healthy, violence-free relationships.
This series chronicles their work, digs into the lesser known effects of violence and reveals what remains to be done.
A full list of Alaska shelters and victim's services providers can be found here.