Domestic Workers Learn From Past Disasters In New Labor Rights Fight
Image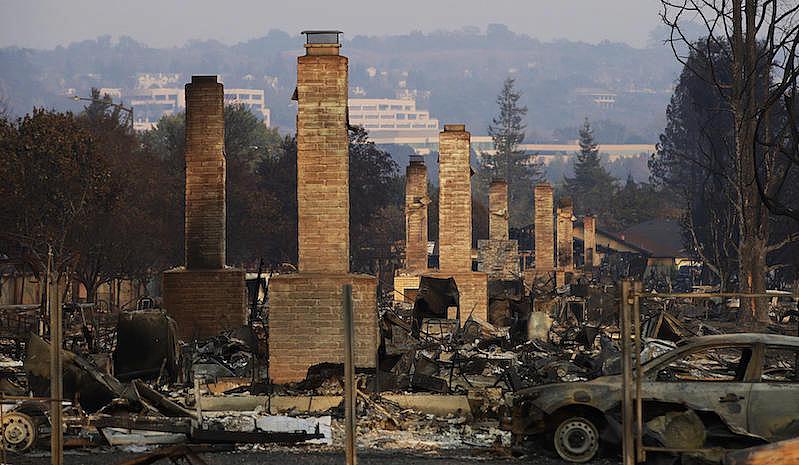 Published on
April 13, 2020
When the Tubbs Fire burned through Santa Rosa in 2017, Socorro Diaz started losing work. She cleans houses for a living, and when several of her employers' homes burned to the ground, she didn't know how she was going to pay her rent. So she picked up jobs where she could.
"I cleaned all the ash out of certain properties," she says. "Homes that hadn't burned to the ground but were close to ones that had."
Socorro is one of dozens of domestic workers across California who've shoveled wildfire ash out of houses like this. Wildfire ash can be toxic, but a previous KALW investigation found that many domestic workers are not provided with masks, gloves, or other safety gear by their employers. Socorro says her employer didn't give her any either. She remembers her head throbbing as she worked; at one point, her nose started bleeding. When the job was over, she says her doctor prescribed her an inhaler to treat the respiratory problems she developed.
Now, Socorro's sheltering in place with her family, trying to scrapbook and distract herself. The Tubbs Fire was bad, but this pandemic? Socorro says it's worse.
"At least during the wildfire, you could go outside, even with all the smoke," she says. Now, she doesn't have any work at all. When California issued its shelter-in-place order, Socorro abruptly lost all fifteen of her regular clients. Several of her employers offered to keep paying her, but she still hasn't received checks from two of them. Most of them offered to rehire her when the pandemic's over, but right now, that's not much help.
"I have employers but I don't have a job!" Socorro says. "I have no idea when it'll come back." When we talked to her last week, she was worried about her rent and water bill.
'Natural Disaster Upon Natural Disaster'
As the COVID-19 pandemic grinds into its second month, California's shelter-in-place order is pushing some domestic workers into an economic freefall. Many of the housekeepers and nannies who've lost their jobs don't have access to basic social benefits, and the workers who have retained their jobs are jeopardizing their health to go to work.
For wildfire survivors like Socorro, this is a familiar pattern, which means they have some systems in place to respond to it.
Socorro is also a leader and community organizer at the Graton Day Labor Center, a worker-led organization that connects low-wage immigrants with jobs around Santa Rosa. "We've been through, in two-and-a-half years, two major fires," says Christy Lubin, the Center's director. "This is natural disaster upon natural disaster, and what I'm learning is I know how to transition into crisis mode very rapidly."
Christy says the pandemic has left her community reeling. Of the 200 workers that the Graton Day Labor Center regularly connects with, she estimates that at least ninety percent of them have lost their jobs in the past month. "Nobody has any money to buy food, buy gas," she says.
Many domestic workers are also undocumented, which means they're prohibited from claiming unemployment and ineligible for state or federal aid.
In response to this crisis, Graton and its partner organizations have re-launched the UnDocufund, a program they created in the aftermath of 2017's Tubbs Fire. It provides disaster relief to undocumented workers who don't qualify for federal aid. According to Christy, nearly 4,000 people have applied for assistance, but the fund has only netted a fraction of the donations it received during wildfire season.
The City of Oakland established a similar program in conjunction with local non-profits, and San Francisco is offering to pay undocumented families $500 a month to help them weather the crisis. But workers and their advocates worry that financial aid won't be enough.
Fighting For Protection From Future Disasters
"This moment has really made visible and amplified the challenges that domestic workers have faced for many years," says Kim Alvarenga, the Director of the California Domestic Workers Coalition.
For labor advocates, the pandemic is just the latest in a series of disasters that have instilled their cause with a sense of urgency. While many domestic workers have lost their jobs, Kim says some caregivers and personal attendants are still going to work.
"Those that are working are being affected by their health, being impacted by this crisis," she says. "We have members that work as caregivers in residential care facilities that are being exposed."
Aleja "Lee" Plaza is one of them. A caregiver in Los Angeles who works with elderly patients, she's also an organizer with the Domestic Workers Coalition.
"I am actually quarantining myself as we speak, because I may have been exposed to the coronavirus," she told the audience at a press conference last Wednesday, which the Coalition organized by Zoom.
Lee's employer didn't give her an N95 or surgical mask to protect herself. While personal protective equipment is in short supply, some California employers aren't required to provide safety protection to in-home caregivers even if it is available. "Household domestic service" jobs aren't covered by Cal/OSHA, which means domestic workers are excluded from California's health and safety laws.
"The facility and my agency did not even tell us that any of the residents were sick," says Lee.
At the press conference, the Domestic Workers Coalition and other advocacy groups launched a statewide campaign to pass the Health and Safety for All Workers Act, or SB 1257. Introduced by State Senator Maria Elena Durazo (D-Los Angeles), the legislation that would eliminate Cal/OSHA's exclusion of domestic workers once and for all.
Last February, Coalition members agreed to prioritize this legislation after discussing it with workers like Socorro, who were exposed to toxic ash during wildfires. Now, they're hoping it will help workers like Lee, too.
Domestic Worker Coalition Director Kim Alvarenga says her organization considered stepping back from their legislative agenda this year. It felt like workers were already going through enough.
"We had a hundred members on a call and asked them, 'is this the time to pursue this, considering the financial crisis you all are going through?'" She says. "And they overwhelmingly came back and said to us, 'there is no time but now. Our lives depend on it. Like, these health crises and these natural disasters are going to happen again.'"
If we want better labor protections during California's next major disaster, workers argued, we'd better start fighting for them now.
This story was supported by the USC Annenberg Center for Health Journalism's 2019 National Fellowship and the Dennis A. Hunt Fund for Health Journalism.
[This article was originally published by KALW.]