Duggan to tackle infant mortality in wake of News' study
Image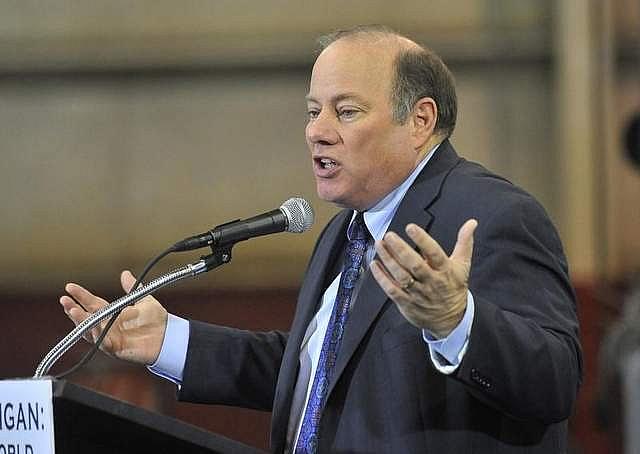 Published on
February 2, 2014
In March, Detroit Mayor Mike Duggan will roll out a massive campaign to attack infant mortality in the city, he told The Detroit News Friday.
Duggan's announcement follows a Detroit News study, published Thursday and Friday, that found a greater percentage of children 18 and younger die in Detroit than in any city in America its size or larger. The vast majority of those deaths occur before a child's first birthday. Homicide ranks second as the most frequent cause of children's deaths.
Detroit kids died at a rate of 120 per 100,000 in 2010, the most recent year comprehensive national data is available. It was the only city to top a death rate of 100 per 100,000 children. At 95.7 child deaths per 100,000, Philadelphia was a distant second.
Asked about The News' findings at the Michigan Press Association conference Friday in Grand Rapids, Gov. Rick Snyder defended the state's initiatives for children, mentioning expanded preschool enrollment and a Michigan State Police initiative to create safe routes to school. He also touted new data showing Detroit's crime rate declined by 7 percent in the first 10 months of 2013.
Snyder also noted the Michigan Department of Community Health's "safe sleep" campaign to prevent deaths that occur when an adult sleeping with a child rolls over onto an infant, or when babies are suffocated by blankets or pillows.
"We've actively been working that issue," Snyder said. "… There's a whole series of things that we're working hard on in terms of dealing with that issue."
Duggan said he will draw upon his experience as president and CEO of the Detroit Medical Center, a position he held from 2004 until he resigned to enter Detroit's mayoral race. He said he's well aware of Detroit's infant mortality problem — it's worse than in some Third World countries — and formed a health transition team in the run-up to his inauguration on Jan. 1.
"It's the community that we're in; there wasn't anything in (the Detroit News study) that came as a surprise," Duggan said Friday. "It's going to be an aggressive campaign."
Duggan said he won't comment on public safety issues until he takes over command of the Detroit Police Department when Emergency Manager Kevyn Orr leaves, which is slated to happen on Oct. 1. But he can do something about the infant mortality rate.
His initiative will focus on prevention of preterm birth, which accounts for the vast majority of infant deaths in the city. He has named Wayne State University Assistant Dean Dr. Sonia Hassan to lead the effort. Hassan is director of advanced obstetrical care and research for the National Institutes of Health's Perinatology Research Branch, which is located at the Detroit Medical Center, and has been part of his health transition team.
"We have been working on it for three months and are excited to launch it," Hassan said Friday.
Major funding has already been secured, primarily through "two major foundations," Duggan added. He wouldn't name the foundations or say how much money has been raised so far.
Duggan is keeping most details about the initiative under wraps until the March 1 rollout, but he said there will be two components: getting doctors to embrace the best strategies for reducing preterm births, and a major public advertising and promotional campaign to reach pregnant women.
A major cause of preterm birth is shortness of the cervix, the narrow passage at the base of the uterus through which a baby passes to be born. Hassan and other researchers from Wayne State University and the Perinatology Research Branch discovered that treating affected women with vaginal progesterone can reduce their chances of a preterm birth by as much as 45 percent. They are recommending universal cervical screening, and progesterone treatment where it's called for.
"It will involve media, the way (obstetrician's) practice medicine, and obviously the progesterone breakthrough that was developed right here in Detroit," Duggan said. "We're going to do the traditional outreach to pregnant women but it's also going to involve doctors and hospitals."
This story was originally published in The Detroit News and includes videos, more photos, and an interactive graphic.
Photo Credit: Daniel Mears/ The Detroit News