The Fantastic Mr. Argueta and El Heraldo Hispano
This is a story about Oscar Argueta who has enough ambition to make important contributions to the city of Mount Pleasant, to the region and his hometown of San Luis Jilotepeque in Guatemala.
Image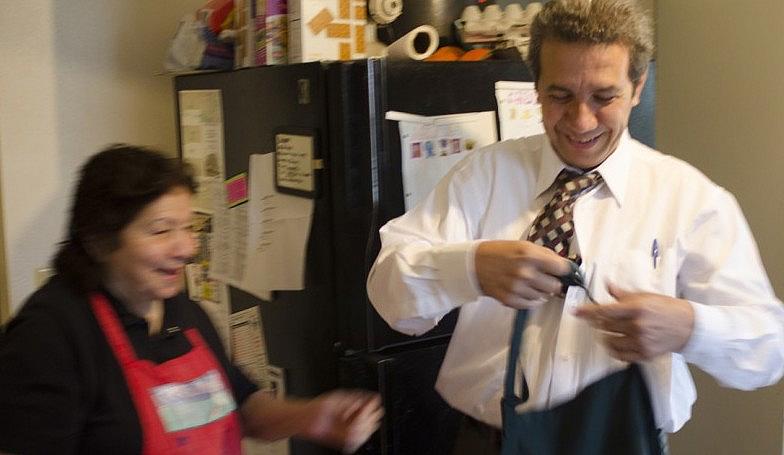 Published on
June 14, 2012
My brother Jon and I were enjoying a glorious feast of rice, beans, chicken with cream, meat, plantains and tortillas made at the home of Oscar Argueta when one of his three daughters snapped.
"Daddy it's like that quote about Theodore Roosevelt," he said. "He wants to be the corpse at every funeral and the bride at every wedding."
We could see what she meant.
Our host was able to engage in an impromptu poetry reading and then suddenly wonder about the food they had spent the previous day preparing. You had asked us, "What do you think of me?" After telling details about his life history, in direct and subtle ways, he'd turn the conversation back to his favorite subject: him.
But it would be erroneous to regard the Mormon, Republican newspaper editor, originally from Guatemala, as a case in need of attention.
And a severe case.
Besides having a curious personality, Argueta has enough ambition to make important contributions to the city of Mount Pleasant, to the region and his hometown of San Luis Jilotepeque in Guatemala.
Among his achievements are: the founding in 2000 of El Heraldo Hispano, a bi-weekly 24-page color he delivers himself to a dozen communities in four different routes throughout eastern Iowa and Western Illinois.
Managed from his home office, located at a table next to where we tasted the food that Argueta prepared, the newspaper that he started without any bank loan and a desire to help his community, has grown to become an award-winning publication with a circulation of 6,500 copies.
Argueta reveals that the paper began as a vehicle to demonstrate his love of writing and as a way of strengthening the collective health of the growing Latino community in the area through the dissemination of information and a showcase for area businesses.
The media content reflects the diversity of the communities of Mount Pleasant.
The Guatemalan-type cover story of each issue, along with the editorial page and a poem per issue. The cover story often features the stars in a community performing positive actions. Among the publications of Argueta is a long-running series on the memories of his childhood living with his grandmother. As one of 10 siblings, he moved in with her after his father, a wealthy, abusive alcoholic, died.
Iowa attorney, Miryam Antunez de Mayolo, writes about U.S. immigration law. The Argentine Claudio Correa, wrote in first person about life as a deportee (he was deported from U.S. to Chile). David Suarez Moreno, a traditional Ecuadorian journalist, was the second employee of El Heraldo Hispano, and looks to fill the gaps in coverage for the newspaper.
Production and assembly of the content is just the beginning of a long list of tasks that Argueta must achieve every two weeks. It takes three days to deliver the newspapers in an intricate web of communities. He also meets with clients, many of whom are entrepreneurs with businesses in financial difficulties. "We know your pain, your complaints," he says.
El Heraldo Hispano is just one of a number of companies in which Argueta has been involved.
In Mt. Pleasant, he helped establish a neighborhood store where the clothing and other items are sold for 25 cents.
And every time he goes to his hometown, three times a year, he carries suitcases full of clothes to give, which he stores throughout the year in his garage.
He has also organized other church members to accompany him on his travels to participate in seminars on business development.
For Argueta, all these actions stem from his faith, which, together with family and work are hallmarks of his life.
It is a faith to which he joined in his native country 40 years ago.
His faith led him to marry his wife, Arleta, in 1980.
The marriage produced nine children, all educated in the beliefs of his church, and so far, also a dozen grandchildren.
He knows that his religious beliefs are sometimes not compatible with those of his fellow Pentecostals, but continues with his faith.
He also knows that in politics nothing counter-current, unlike the majority of Latinos in the United States. He is a Republican, but says that evaluates candidates based on their positions on immigration.
The meal came to an end and our stomachs were prepared for digestion.
Argueta let us know politely but firmly that now is the time to go.
He had time to spend with family, writing articles, contacting customers, planning trips and reciting poems.
This article was originally published on http://www.vivelohoy.com/