Harris County juvenile judges and private attorneys accused of cronyism: 'Everybody wins but the kids'
This story was published with the support of the USC Annenberg National Health Fellowship and the Fund for Journalism on Child Well-Being.
Image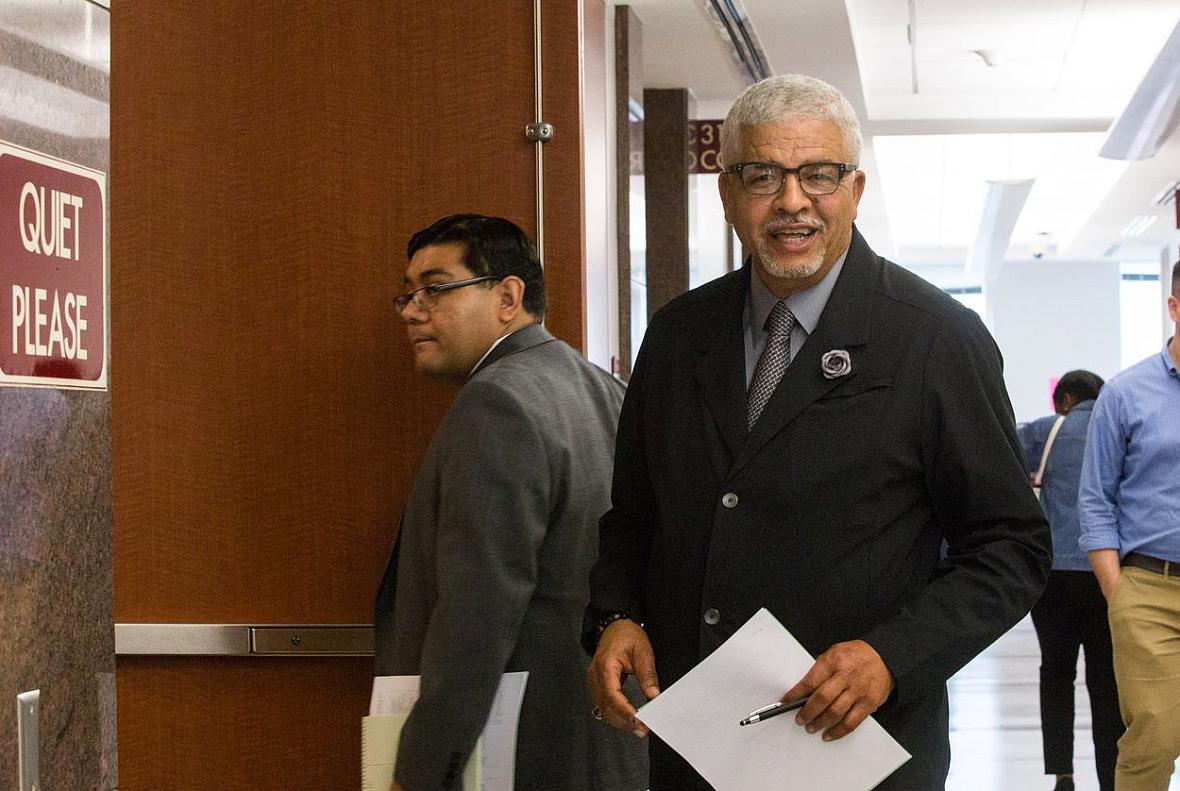 (Photo: Pu Ying Huang/The Texas Tribune)
Published on
November 1, 2018
HOUSTON — Across the country, many public defender's offices are overwhelmed with cases. But the public defenders in Harris County's juvenile division are in an unusual situation: They say that they aren't getting assigned enough cases. And advocates say cronyism between private attorneys and powerful judges is to blame.
An analysis of state and county data by The Texas Tribune shows that the county's three juvenile district courts — led by Republican Judges Glenn Devlin, John Phillips, and Michael Schneider — have been assigning an extraordinary number of cases to a handful of private lawyers.
Meanwhile, the public defender's office — which handles everything from probation violations to serious felonies and has strict caseload limits — has been receiving fewer assignments from those same courts.
A state-funded study found that a lawyer could reasonably handle at most 230 juvenile cases in a given year — and that's only for minor cases, like misdemeanors or probation violations. Lawyers who also handle serious felonies could effectively manage a much smaller caseload, the study said.
But several private lawyers are taking on far more than that in Harris County, thanks mostly to appointments from the juvenile courts, according to data from the Texas Indigent Defense Commission. Those courts are also appointing the same lawyers to dozens of family court cases, where the same judges preside over child custody disputes, protective orders and decisions for kids in foster care.
The Tribune found that:
Houston attorney Oliver Sprott took on 377 juvenile cases in the previous fiscal year, along with 126 family court cases and some probate cases. That work brought his total haul in taxpayer money for the year to about $520,000, data from the county auditor's office shows.

Harris County paid attorney Bonnie Fitch about $350,000 last year for her work on 300 court-appointed juvenile cases, 71 family court cases and some probate work. Fitch is also amunicipal court judge in the small city of Arcola, about 25 miles south of Houston.

Attorney Gary Polland earned about $515,000 for his court-appointed work in 227 juvenile cases, three juvenile appellate cases, more than 100 family court cases, and probate court cases. He also does civil and commercial litigation, according to his web site.
Norman Lefstein, a professor at Indiana University's McKinney School of Law, called such caseloads "ridiculous." He added: "It's a joke. It's just a joke … It tells me immediately that you're not really investigating the cases, and you're not doing what you need to do ... and young clients especially, they just don't know any better." Lefstein is considered a nationwide expert on acceptable caseloads.
In a phone interview last week, Sprott told the Tribune that "I devote as much time as I can to each [client.] I don't know that any are complaining." He said he has very few paying clients.
Fitch and Polland did not return multiple phone calls and emails seeking comment.
By contrast, the highest workload last year for a public defender in Harris County was 141 juvenile cases — well below their allowed limit of 200. Juvenile public defenders don't handle family court cases, and their average salary is $117,500.
A state grant helped launch the local public defender's office in 2011, but it only represents a small fraction of poor defendants in the county; private lawyers handle the rest of the court appointments.
Alex Bunin, chief of the county public defender's office, said his staff has the capacity — and the budget — to represent more kids if the courts would assign them more cases. "We would love to make juvenile a bigger part of our work, and we've been somewhat frustrated that we couldn't," Bunin said.
The vast majority of juveniles facing charges in Harris County can't afford to hire a lawyer, so the courts must appoint them one. Attorneys were appointed to more than 5,800 juvenile cases in the county last year; they were hired in fewer than 900 juvenile cases, according to state data.
Jay Jenkins, a lawyer with the reform-minded advocacy group the Texas Criminal Justice Coalition, said Harris County judges and lawyers have long been part of a "pay-to-play system" in which lawyers contribute to judge's campaigns in exchange for appointments, or they help judges politically in other ways.
Sprott has donated $6,250 to Schneider's re-election efforts since 2014, campaign finance records show, and Fitch gave him $3,500. Sprott has given Devlin $7,500 in the same time frame.
Attorney Mark Castillo has given Schneider and Devlin a combined $7,250 since 2014. He earned nearly $300,000 for his work in 360 juvenile cases in their courts last year, and some additional family court cases. He declined to comment for this story.
Polland has given Schneider and Devlin $1,000 each since 2014. He also edits an influential local political newsletter called the Texas Conservative Review, which recently endorsed Devlin, Schneider and Phillips for re-election.
Polland has also donated $2,500 to a new local political action committee called Citizens for a Quality Judiciary that has mailed out flyers encouraging voters to support local Republican incumbent judges: "It is too risky to hand over our courthouse to unqualified Democratic judicial candidates," the flyer says. The PAC has also received donations from many other local lawyers who receive a large number of court appointments.
Image
"What we ultimately got was a juvenile system where the lawyers get rich ... and everybody wins but the kids," Jenkins said.
The judges strongly dispute that notion. Schneider said campaign donations have no bearing on court appointments, adding that his court coordinator and other staffers handle the appointments, not him.
"I doubt they're going and looking up who's making donations, or that they would even care," he said, adding that he wasn't aware of the high caseloads for certain lawyers.
Sprott agreed: "I would want to think that judges want lawyers that are actually qualified to handle certain categories of cases," he said.
Devlin, the judge in the 313th Juvenile Court, told the Tribune in an email that he also was unaware of attorneys' caseloads. "Each attorney is responsible for managing their cases effectively, and ethically for their clients. I have no knowledge of their caseload."
Neither offered explanation of why the county's seven full-time juvenile public defenders get so much less work than many of the private attorneys.