Hawaii Bill Aims To Make It Easier To Do Dialysis At Home
Image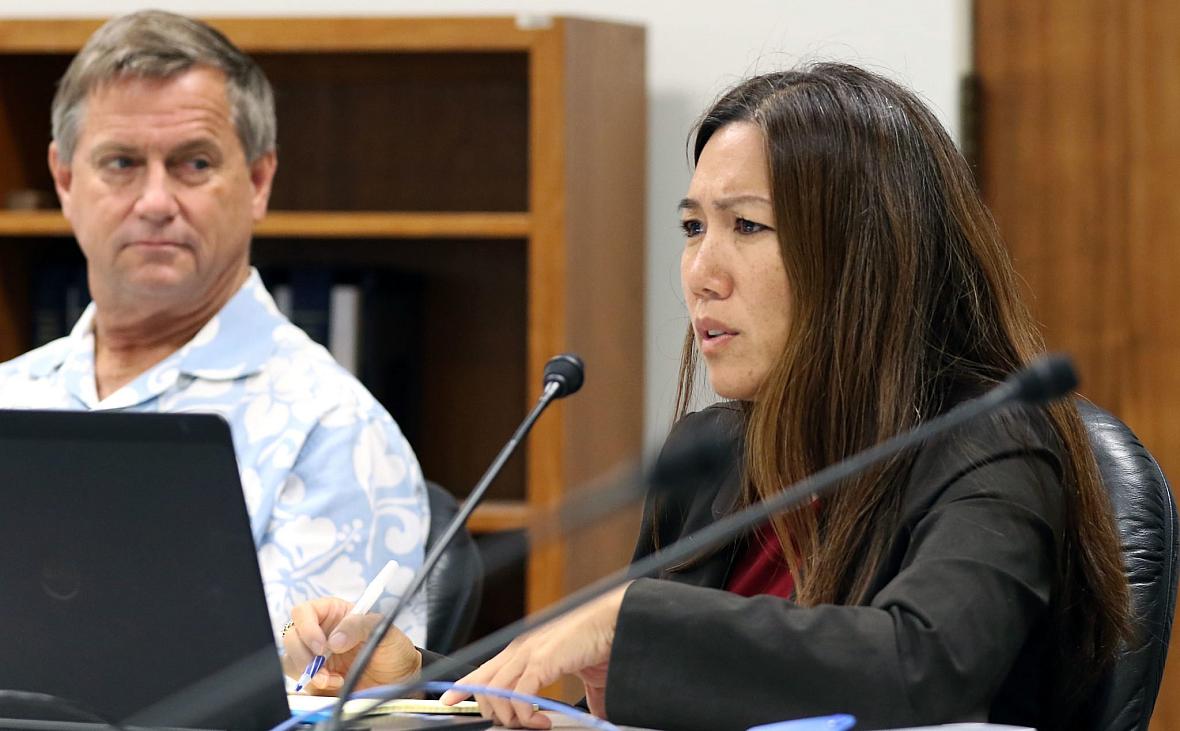 (Nathan Eagle/Civil Beat/2017)
Published on
January 26, 2023
A legislative proposal to change in a little-known provision of Hawaii's health care regulations could make it cheaper and easier to import products used for in-home dialysis treatment.
Baxter International, an Illinois-based multi-billion dollar medical device company that sells blood-cleaning solutions for peritoneal dialysis, approached Sen. Maile Shimabukuro to introduce the bill. She co-sponsored the measure, Senate Bill 473, along with Sens. Stanley Chang and Lorraine Inouye.
Shimabukuro said she thought the bill was a good idea because she knows many of her constituents in West Oahu struggle to drive or get rides to and from dialysis clinics. She thinks increasing access to in-home dialysis would help them avoid the commutes.
Her own relatives rely on dialysis and she says it constantly interferes with their lives.
"We'll be at a family party and they have to leave early because they have to go to dialysis," she said.
Peritoneal dialysis is one of two types of dialysis for patients whose kidneys can't filter blood properly. Hemodialysis, which can be done at home or in a clinic, involves removing blood from the body and filtering it, and is often done three times a week.
Peritoneal dialysis is primarily done at home and involves injecting a solution that filters blood and then removing that solution. Patients on peritoneal dialysis may filter their blood as often as every day, sometimes doing it while they sleep so that they can work during the day.
Baxter manufactures peritoneal dialysis blood-cleansing solutions, and current Hawaii law requires a licensed pharmacist to oversee the distribution of the product in the islands once it's sent from the mainland.
"We are requesting to amend the pharmacy practice act in Hawaii to remove the extra step of having a second pharmacist oversee the distribution of home dialysis solutions that are under our control from manufacturing in FDA-regulated facilities until they are delivered to the patient's home," said Jill Carey-Hargrave, spokesperson for Baxter. "The bill also mirrors current practices for manufacturers of home dialysis products in 34 other states."
Kekoa McClellan, a Hawaii lobbyist for Baxter, said California has had a similar exemption on the books for 26 years. The idea behind SB 473 is to make the importing of the peritoneal dialysis solution faster and cheaper.
"We have to have a licensed pharmacist sitting at the warehouse to look at and review this prescription after a licensed pharmacist has already looked at and shipped them," he said. "(The bill) would mean that we wouldn't have to have a pharmacist sitting there or on call to come and review basically a packing slip."
The measure also would free up Hawaii pharmacists to help patients elsewhere, McClellan said, helping to alleviate the state's health provider shortage.
"It reduces the need for organizations like Baxter to have a full time or on-call pharmacist where he or she could be serving our community elsewhere actually filling prescriptions where they're needed," he said.
The Hawaii legislative session just started and the bill hasn't come up for a hearing yet, so there hasn't been an opportunity for any opposition to raise concerns. The Hawaii Pharmacy Association didn't respond to an email seeking comment.
Glen Hayashida, chief executive officer of the National Kidney Foundation of Hawaii, said he thinks the criteria listed within the bill will ensure the quality of the products will be maintained while streamlining the delivery process of much-needed supplies.
Image
(Cory Lum/Civil Beat/2022)
"It is a good thing overall but I wasn't aware it was a monumental problem for home patients," he said.
The measure has been referred to the Senate Health and Human Services Committee, led by Sen. Joy San Buenaventura, and the Senate Committee on Commerce and Consumer Protection, led by Jarrett Keohokalole. It has not yet been scheduled for a hearing.
Hayashida said if the bill advances he will confer with at-home dialysis patients to see whether it would be helpful.
In Hawaii, the dialysis industry has been booming, with companies like U.S. Renal Care doubling its brick-and-mortar dialysis clinics in Hawaii over the past decade to serve patients with end-stage renal disease, particularly in rural communities. Native Hawaiians and other Pacific Islanders have disproportionately high diabetes rates, which is a leading cause of renal failure.
Demand for in-home dialysis is growing locally and nationally as well, and companies are touting the option more frequently in the wake of a 2019 change in Medicare reimbursement rates for in-home dialysis. Not every patient is eligible for peritoneal dialysis, but some who choose to go that route say it's less exhausting than hemodialysis because it's conducted more frequently and more closely mirrors how kidneys work.
Fresenius Kidney Care, which operates as Liberty Dialysis, said last year that 17% of its patients in Hawaii were dialyzing at home, noting the rate grew more than 18% over the past three years. The company hopes 25% of its patients nationally will be conducting dialysis at home by 2025.
Nationally, between 2010 and 2020, the percentage of new dialysis patients using in-home machines grew from 6.8% to 13.3%.
In Hawaii, peritoneal dialysis is most popular in Kauai County, where 14% of dialysis patients use it, and least popular on Oahu and Maui counties, where about 10% of dialysis patients use it. Nationally, rates vary from as low as 4.2% in parts of New York City to 46.5% in Ketchikan, Alaska, according to the U.S. Renal Data System.