Louisville has a fresh food problem. Can we fix it?
Image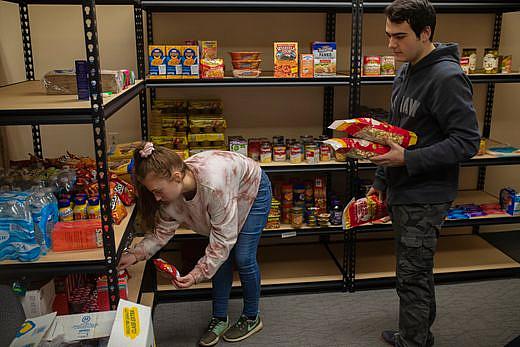 (Photo Credit: Alton Strupp/Courier Journal)
Published on
January 10, 2019
SINCE 2016, MORE THAN A DOZEN GROCERY STORES HAVE CLOSED CITYWIDE, OFTEN ABANDONING NEIGHBORHOODS THAT ALREADY HAD SOME OF THE WORST OPTIONS FOR FRESH FOOD.
Editor's note: Across Louisville, more than 120,000 people are living with food insecurity, meaning they don't have reliable access to healthy, affordable food. The issue is linked to higher rates of illness and lowered life expectancy in predominantly low-income neighborhoods. And it's costing taxpayers in Louisville and around the nation millions of dollars in emergency health care.
In June 2018, Courier Journal reporter Bailey Loosemore received a six-month fellowship from the University of Southern California's Center for Health Journalism to learn how food insecurity affects Louisville and how the complex problems could potentially be solved.
This series addresses the local food insecurity crisis. This article looks at the city's response to the crisis and how the community as a whole can make long-term change. We also explain how food access issues arise and how they affect people of all backgrounds.
Growing up in western Louisville, Michael George hated grocery shopping.
The closest store to his home was at least 2 miles away, and when his family needed food, they'd load their arms with a month's worth of groceries that they struggled to carry back by bus. They called the trip "Grocery Store Saturday."
George despised it.
Now, as the director of after-school programming at Western Middle School for the Arts, George sees students facing the same difficulties he did. Last year, a Pic Pac near the Portland school closed after 35 years in business, and families that relied on it must now spend more time and money to get the food they need.
George knows his students have to eat healthily if they want to succeed. So he found a way to help them get vegetables easier: They'd grow them at school.
In 2017, George and a small group of students built a small aquaponics system that uses waste produced in a fish tank to grow vegetables in a connected bed. It's a sustainable operation that requires little upkeep, and the students see it as a way to end the city's food access crisis.
Image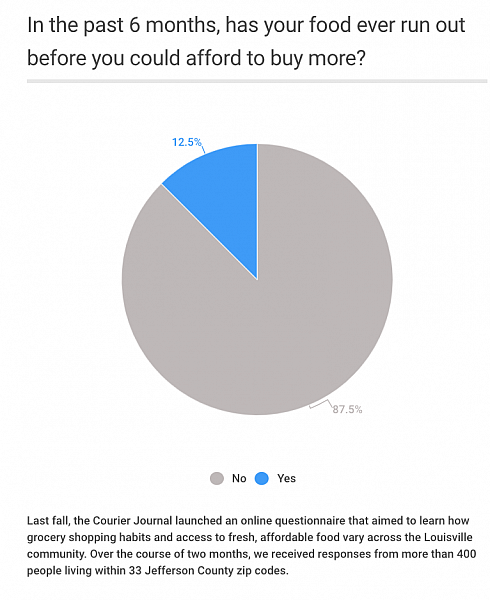 Since 2016, more than a dozen grocery stores have closed citywide, often abandoning neighborhoods that already had some of the worst options for fresh food.
Across Louisville, dozens of people think they have the answers — or at least part of them — to improving food access, proposing urban farms, community gardens, a mobile market and a community-owned grocery store as potential solutions.
But while many groups are working to solve the multifaceted problem, some say the movement has been stifled by elected officials who are not open to supporting innovative change.
Over the past six months, the Courier Journal spoke to more than 60 residents, nonprofit leaders, health care providers and Louisville Metro employees about how inadequate food access affects our city and how it can be solved.
Several expressed frustration with Mayor Greg Fischer for not making a larger commitment to ending food insecurity, which affects people of different races, ages and employment status.
In 2016, more than 120,000 people living in Jefferson County were considered food insecure, meaning they did not have reliable access to affordable, nutritious food, according to data from Feeding America, a Chicago-based nonprofit.
"Why have we not made this more of an issue?" said Barbra Justice, an Old Louisville resident who volunteers for New Roots, a local nonprofit that connects residents to farmers. "Why have you not at least issued some sort of declaration or something that fresh food is a basic human right and that we've got to address this issue?"
In an interview with the Courier Journal, Fischer said three Louisville Metro departments are working together to identify long-term, sustainable solutions that the city could support.
But he acknowledges that most residents want traditional grocery stores, and there's only so much city leaders can do to convince businesses to open — or stay — in low-income areas.
"What you see here is for-profit businesses saying we can't make money anymore locating in this space," Fischer said. "So they're making an economic decision to close, and we're basically left picking up the pieces of all the people who have developed life patterns around one of the retail outlets that people are most intimate with. 
"It's a significant issue for us."
City Short-Sighted?
City officials say they got serious about addressing food access issues after the 2017 closure of a Kroger in Old Louisville, south of downtown.
The neighborhood has large populations of seniors and people with disabilities, and city leaders knew it'd be hard for residents to get to another store.
Some residents and advocates, however, say the city should have been involved in food access conversations sooner. If they had, they may have been better prepared to deal with the Old Louisville blow.
The city's food access issues didn't start in Old Louisville, and several reports have laid out how predominantly low-income, African-American neighborhoods have for decades been affected by an insufficient number of grocery stores.
A groundbreaking 2007 report from the Community Farm Alliance, a nonprofit based in Berea, Kentucky, discussed how structural problems within Louisville's food system prevented vulnerable residents from making healthy choices. The report also drew a correlation between lower access to groceries and higher rates of illnesses, such as diabetes and obesity.
New Roots founder Karyn Mosowitz said one thing the city can provide more of is money.
The nonprofit operates Fresh Stop Markets that sell shares of local organic produce on a sliding pay scale. In 2018, the nonprofit served 1,400 distinct families and operated on a $325,000 budget.
"A lot of other cities invest more in food justice than our city," Moscowitz said. "... We're kind of holding up this movement as a very viable, very successful movement that needs to grow. To grow, we need money, we need resources."
In its 2018-2019 budget, Louisville Metro Council awarded nearly $400,000 to six food-related nonprofits, including $270,000 to Dare to Care and $70,000 to New Roots.
The city also awarded more than $1.1 million to 15 community ministries that provide emergency assistance, including food, to residents citywide.
But the city doesn't have to be the only entity to fund food access projects. Quarterman, the hunger innovation fellow, said federal programs have distributed more than $320 million since 2011 toprojects that will improve food access in low-income neighborhoods.
"How much of that could we claim if we worked together to go after it aggressively?" Quarterman said.
[This story was originally published by Courier Journal.]