Moments of high anxiety for deported dad on custody quest
Image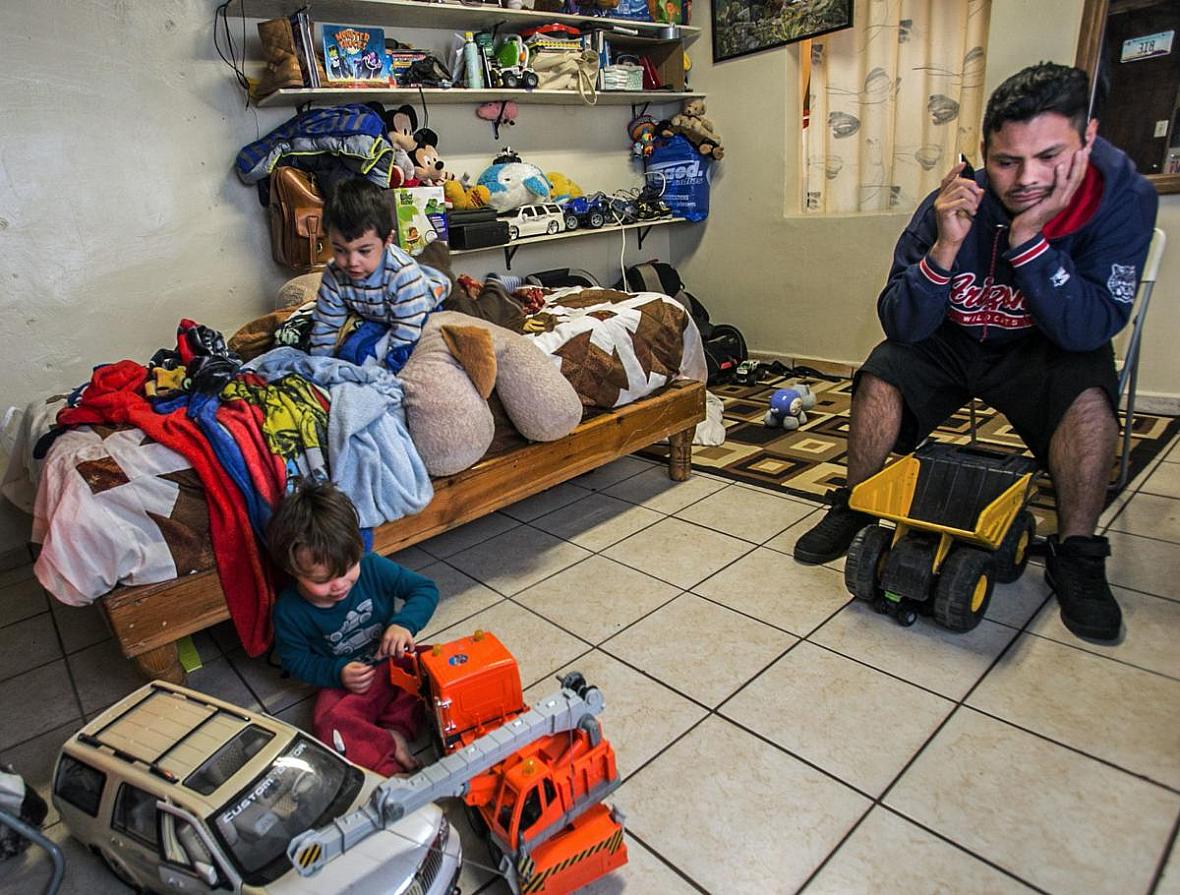 (Photo Credit: Ron Medvescek/Arizona Daily Star
Published on
March 8, 2018
It was 8:15 on a December morning, and the court hearing that could determine the future of Adrian Quiroz's family was to begin in 15 minutes in Phoenix — but Quiroz was 180 miles away, in Nogales, Sonora.
The 30-year-old Mexico native was deported in April 2016, and since then has tried to regain full custody of his children from the other side of the border, unable to easily communicate with his caseworker or his attorney.
A judge had allowed Quiroz's two sons to live with him in Sonora for five months while the case proceeded. But Arizona still had legal responsibility for the kids after the Department of Child Safety removed them more than two years ago because of neglect allegations related to the mother's drug use.
Quiroz called in, then called back when he was told the attorneys were running late, then waited some more. After about five minutes of trying to hear the lawyers and the judge, the call was dropped. He dialed again.
When Dad is deported
State child welfare workers don't track how many children of detained or deported parents are involved in the child welfare system. 
There were about 12,000 deportations in Arizona and 193,000 nationwide of people who claim to have U.S. citizen children from October 2013 through June 2017, Immigration and Customs Enforcement data show.
While the numbers have not significantly climbed since the Trump administration promised to crack down on illegal immigration, some think it's only a matter of time. Immigration arrests are up nationwide, often of people who have lived here for years and are more likely to have U.S. citizen children. There's no way to tell how many of these children end up in foster care.
"We know from past experience that increased immigration enforcement puts families and whole communities under incredible emotional, financial, and structural stress," said Emily Butera of the Women's Refugee Commission, a nonprofit group based in New York that advocates for detained or deported parents to be reunited with their children.
"The Trump administration's targeting of undocumented and mixed-status families shows no signs of abating, so we fear that childcare arrangements may begin to collapse, leaving children in unsafe or unstable situations that can lead to child welfare involvement and threats to parental rights," Butera said.
Most of the deported parents who arrive in Nogales, Sonora, say they've left their children in the U.S. with the other parent or a caregiver. But often their kids are not in stable, long-term arrangements and problems may arise later, said Joanna Williams of the Kino Border Initiative, a Jesuit binational migrant aid organization.
"With the dad being deported, we are seeing a number of cases where there's anxiety in the long-term about the financial impact of their deportation, which makes it very difficult for the parent to take care of their kids," she said. "Wives, girlfriends struggling to provide, and the anxiety of DCS stepping in and taking custody of their children."
While there's more awareness in places like Southern Arizona of the need for contingency plans in case of a deportation, Williams said most she talks with at the border don't have one. Since 2016, the center has seen a 118-percent rise in people receiving assistance who reported being separated from their children — 981 from January through November 2017.
Most states, including Arizona, lack policies to work with transnational families. That can result in children staying longer in foster care — costing the state more money — and parents disappearing and losing their rights when no one knows how to find them.
Image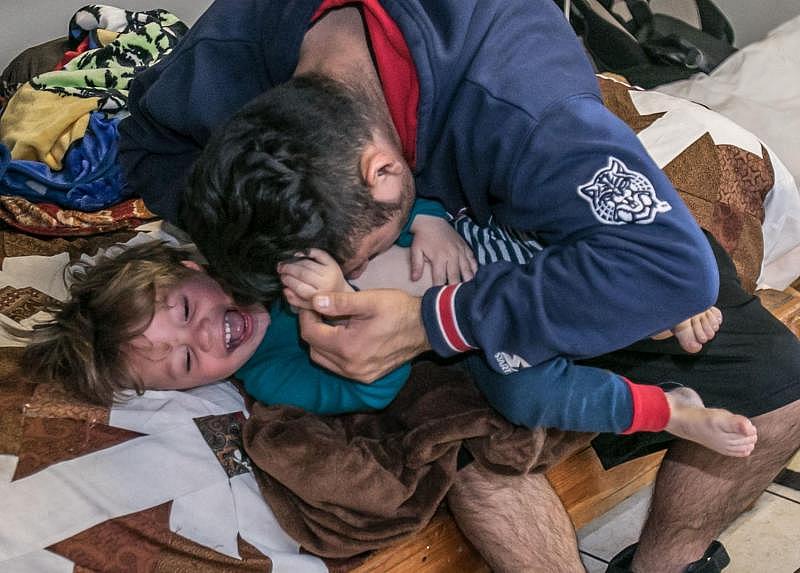 Doing what DCS asked
Quiroz, who had lived in Phoenix since he was about 12 years old, spent his first night as a deportee on a park bench in Nogales, Sonora. 
The following day he heard of the "comedor," a dining hall run by the Kino Border Initiative. 
There, he met a worker who listened to his story and asked if he wanted to fight for his two boys.
"Of course," he replied.
Most deported migrants arrive with nothing, said Williams. "Getting into a position where you can rent an apartment decent enough for however many children you have is very difficult."
"One of the biggest challenges is the lack of access to information that a parent has when he or she is deported," said Ana Esther Alvarez Villa, director of child welfare agency in Nogales, Sonora. "They arrive in a very vulnerable condition, without money, food, without knowing what the future holds for them." 
Thanks in part to the help from the comedor, within four months Quiroz had a job at a local factory, a house near the border, and his mother had moved in with him for support.
He said he was attending parenting classes and had done a psychological evaluation — everything he thought DCS needed to return his children, now 3 and 2, to him.
"But it's never enough," he said. "I invited them to come and see for themselves, but they say they can't do that" because of the border.
In July 2016, three months after he was deported, he wrote a letter to his sons telling them he would do everything he could to bring them home to him.
"I'm going to fight until the end for my family," he told them. "I pray to God everything goes well in our case. Grandma is here in Nogales with Daddy, we're waiting for our family to be reunited."
Not ready to give up
The reasons children of undocumented immigrants end up in foster care are as varied as the community itself.
As with the rest of the population, families come to the attention of DCS based on reports of neglect associated with substance abuse or domestic violence. About 70 percent of the child abuse and neglect cases that came through Pima County Juvenile Court in 2016 involved substance abuse.
For Quiroz, it started when his then-partner gave birth to their first son in July 2014 in Phoenix and tested positive for meth and marijuana. The woman, an Arizona native, had already been involved with Child Protective Services, now DCS, for similar reasons with her oldest daughter, who has a different father.
Quiroz, who said he did not use drugs, thought she was getting better. "She was going to school," he said. "I thought things could change, that we could make a life together."
DCS removed the baby, citing neglect and failure to protect the child from the mother's substance abuse while she was pregnant.
Days later, Quiroz was offered services in his home as long as the mother didn't have unsupervised visits. Workers determined he had a job to support his family, he was clean, willing to work hard and was a good support for the mother, according to his case file.
By December 2014, he had full custody of his 6-month-old baby.
But then things took a turn for the worse. Quiroz was arrested for ramming his car into the mother's with the baby in his back seat. He was charged with aggravated assault with a deadly weapon and child abuse.
He says it was the mother who got in front of him as he tried to avoid her. Regardless, in July 2015 he landed in jail, where ICE put a hold on him.
In order to avoid spending years in jail and risk losing custody of now two sons — the youngest had just been born — Quiroz pleaded guilty to one of the assault charges, he said. He spent six months at the Maricopa County jail and four more in immigration detention.
By January 2016, the state moved to terminate parental rights. The case cited the mother's addiction despite all the services provided and said Quiroz "failed to maintain regular contact with the children, paid no support, sent no cards, gifts or letters ... since his incarceration."
Quiroz says that was part of his not fully understanding the process. 
"The longer that people are in detention, the more likely it is that their parental rights will be terminated given current severance statutes," said Rebecca Curtiss, staff attorney with the Arizona-based Florence Immigrant and Refugee Rights Project. "So often, detained parents find themselves considering whether or not to accept removal to their home country just so that they can advocate to have their children returned to them."
While the mother's rights were terminated, Quiroz was not ready to give up.
Image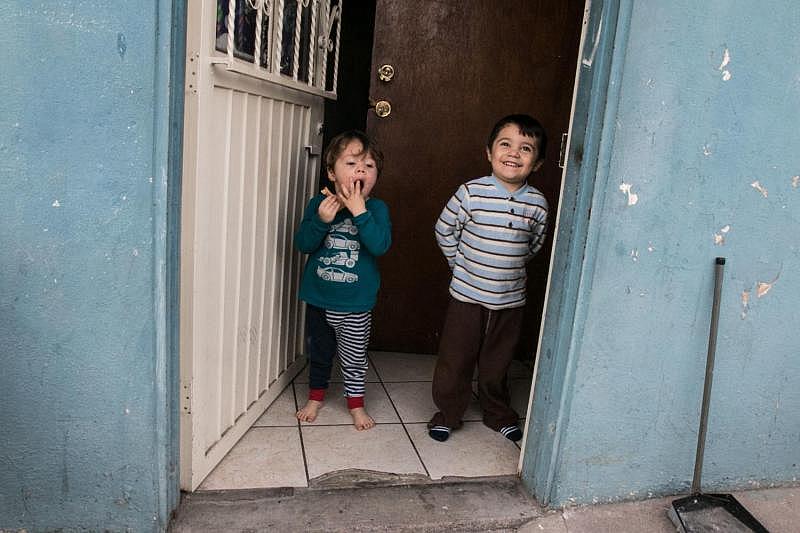 Foster parents go the extra mile
Quiroz was able to stay in touch with his attorney and caseworker, even from inside the immigration detention center.
While his immigration status was mentioned on several occasions under "safety issues and concerns," his motivation to take care of his children and be a support to their mother was ultimately considered to be more important.
There is no statutory guidance or case law for judges regarding how, if at all, immigration status should be considered.
A caseworker or a judge might not feel comfortable sending a U.S. citizen to Mexico, or placing a child with people not legally in the country, or be unclear if state law allows them to work with families without reporting them to immigration authorities. 
Without specific policies, it often falls on individuals — the caseworker, the attorney, the judge, the foster family, and above all, the parent — to work through the case. 
After Quiroz was deported, he found support in the Mexican child welfare department in Nogales, which guided him through DCS' requests. Workers in the Mexican consulate helped make sure he saw his children again. And in Arizona, the children's foster parents were willing to go the extra mile when they saw he genuinely wanted to reconnect with his sons.
A judge granted him visits with his children in January 2017, but DCS officials kept asking for extensions because they couldn't figure out the paperwork, the foster parents said. The foster parents worked with him and the consulate to figure out what they needed to do to make sure the children could travel to see their father.
While DCS said it would take the agency months to get birth certificates, the foster parents got them within a week.
"DCS is so overwhelmed and there's so much red tape to get certain documents on the children that it takes forever," said the children's former foster mother. She asked that her name not be used because she and her husband continue to foster children and don't want to affect other cases.
The case worker said she didn't know how to work a cross-border case because she hadn't done it before, the foster parents said. It required a lot of research — calling the court, lawyers, caseworkers and customs — to make sure the foster parents could bring the boys back across the border because the children didn't have IDs.
Children are now with him
During the boys' first visit to the child welfare offices in Nogales, Sonora, in June, the oldest recognized his father immediately, running towards him and yelling, ''Daddy!'' But the youngest one whom he hadn't met, clung to his foster father's leg until Quiroz took out an Oreo cookie.
Now, Quiroz fixes his sons' breakfast — an egg and cheese sandwich on toast is a favorite. He asks if they want to watch Mickey Mouse, their favorite cartoon, and teaches them Spanish. They know how to say lluvia (rain), tengo hambre (I'm hungry) and hermano (brother), although their preferred language is still English.
The slow process, the challenges with communication and the hoops he's had to jump through still frustrate him, he said, but at least the children are now with him.
Until Quiroz has full custody, he can't fully integrate his children into life in Mexico. The birth certificate for his youngest son still lacks Quiroz's name; he can't apply for their Mexican nationality and enroll them in services. They can't move away from the border, perhaps somewhere less expensive and safer.
"I love my kids and would not forgive myself if I didn't do everything for them," he said.
'We wish the father well'
During the phone hearing to decide his family's fate, as Quiroz struggled to understand what was being said over the poor connection, his children's attorney said the boys were doing well.
His own attorney said the children were adjusting to life in Mexico.
The judge said something along the lines of, "We wish the father well," and then the hearing was over. Quiroz wasn't sure what had just happened.
After waiting so long for resolution, it was hard to believe it was all over after a five-minute hearing. Surely the call had cut off.
Days later, he received an email.
"This agency would like to commend you on the level of commitment you have displayed toward regaining care and custody of your children, ensuring your children are safe and have stable housing, ensuring that your children have all their needs met, and ensuring the children are safe and appropriately supervised at all times," it read.
It was over — he had full custody of his boys.
[This story was originally published by Tuscon.com.]