Nine sick of valley fever at Monterey County solar construction site, one hospitalized
Image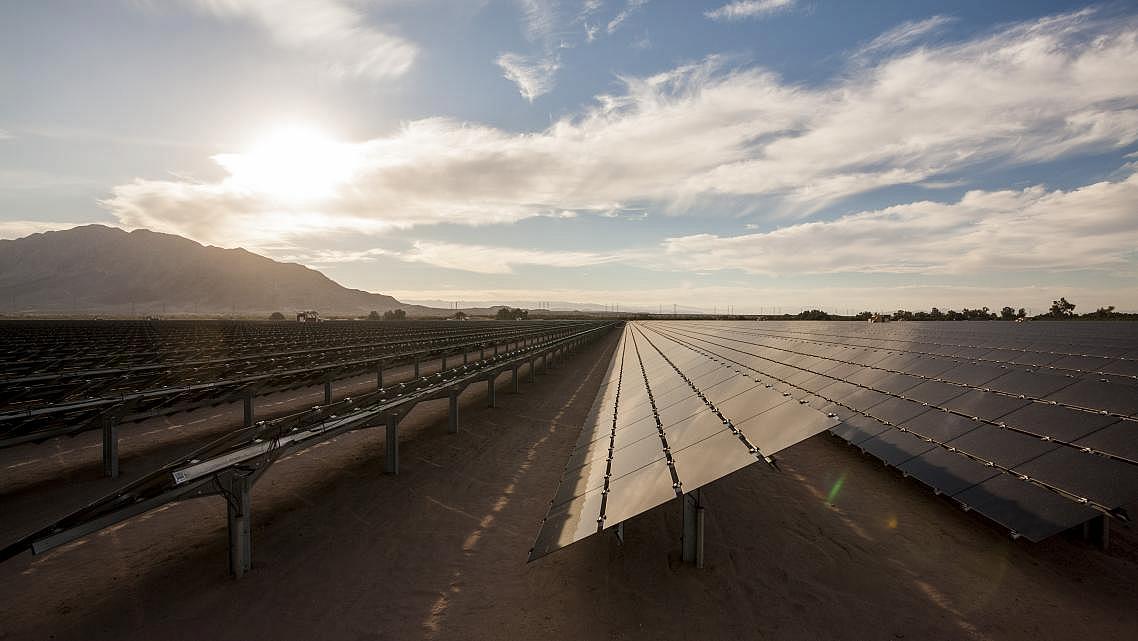 (Photo courtesy First Solar)
Published on
November 22, 2017
Nine construction workers fell ill to valley fever this year while working on a solar panel project in Monterey County after employers allowed serious lapses in training and safety precautions, according to new information obtained by the Center for Health Journalism Collaborative on the recent outbreak.
Five of those workers laboring at the 2,900-acre California Flats Solar Project in Cholame Hills visited emergency rooms and one was hospitalized, according to a Nov. 7 letter that Barbara Materna, chief of the California Department of Public Health's Occupational Health branch, sent to the work site's project managers. The letter's findings and recommendations came after a whistleblower tipped off the California Division of Occupational Safety and Health.
That state agency fined six employers at the work site more than $240,000 this week for exposing workers to valley fever without ensuring proper training and safety precautions were in place to minimize workers' risk of getting infected. At least one of the employers, Papich Construction, had been cited for the same violations in 2013 on another solar panel project.
Valley fever, or Coccidioidomycosis (cocci for short), is caused by a fungus that grows in the soil throughout the Southwestern United States. When disturbed, often through construction and agricultural tilling, fungal spores can become airborne, and when inhaled, cause valley fever.
Valley fever is a punishing disease that induces flu-like symptoms and extreme fatigue. It's not uncommon for those infected to spend months recovering. Of the eight employees interviewed by the CDPH, seven said they were out sick from work for anywhere between one day and 10 months because of the infection.
All of those infected were diagnosed between August and December 2016, the peak season for valley fever.
Those nine cases — seven of which are confirmed and two probable — bring the rate of infection to between about 852 and 1,171 per 100,000, according to the CDPH letter. That's roughly three times higher than the rate of infection in Kern County last year, which is in the middle of an epidemic and consistently produces more valley fever cases than anywhere else statewide.
By comparison, the rate of infection in Monterey County in 2016 hovered around 17.5 per 100,000. California's average rate totaled less than 14 per 100,000.
State public health officials blamed that high rate of infection to lapses in safety precautions at the work site. They recommend that construction workers take common sense precautions in affected areas, including soaking dirt while digging, minimizing hand-digging in favor of heavy equipment with enclosed, air conditioned, HEPA-filtered cabs, and ensuring workers have respirator masks.
Employees interviewed by CDPH said they had access to N95 respirator masks, but some workers, including managers, said they didn't think those masks were effective.
"Workers reported rarely, if ever, wearing respirators — even those workers in the most high-risk jobs for dust exposure," Materna wrote.
When public health officials visited the worksite in August they found ample water trucks to soak soil, but workers said that during the first phase of the project, that wasn't the case.
"There were not enough water trucks to suppress dust, and water trucks were slow to respond when conditions were dusty," Materna wrote.
Beyond worksite safety lapses, there were inaccuracies in what workers were taught about valley fever, public health officials said. Training materials said there was no way to prevent valley fever, which is not accurate. Those materials also inaccurately taught workers that 30 to 60 percent of people living in endemic areas get valley fever, which public health officials say isn't a substantiated claim.
At the top of the department's list of recommendations was the emphasis on the potential for valley fever to be a "severe illness which can lead to death." It also urged employers to inform employees that cases of valley fever had occurred as a result of employment at the site.
For more stories in this series, click here.