Nursing Care Crunch Puts The Onus On Patients To Expose Problems
Image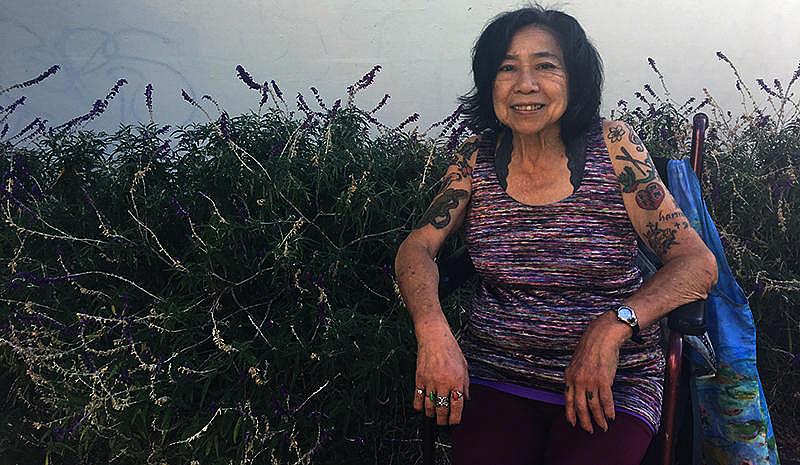 Published on
September 18, 2019
Stories of abuse or serious neglect in nursing homes make headlines, but patients and consumer advocates are trying to bring attention to overarching issues and push for a better system.
Laurie Young frequently performs at Stagebridge, a theater company of older adults. Many of the songs she sings have high sentimental value for her. Some of them, she writes herself.
Young and I meet at the Oakland library, one of the places where she finds and copies sheet music. This is part of her effort to preserve a legacy for her grandchildren – a musical legacy. She takes well-known music and writes new lyrics to it. Sometimes it's parody, sometimes it just a new idea set to an old tune. For example, "Show Mom You Love Her Each Day" is a song she set to a relatively unknown Frank Sinatra tune. She's also written new lyrics to the tune of a song called "I Will," with lyrics using a Chinese word for "grandma." 
"And that's so that my grandchildren will know it," Young says. "It's important for my grandchildren to know that there's music besides 'the itsy bitsy spider' and 'the wheels on the bus go round and round,' that they'd never hear if I wasn't going to play it or introduce it to them."
We take the elevator to the second floor to talk. She's using a wheelchair – not one with big wheels she can grab, but one with small wheels at the bottom and bars at her back meant for someone else to push her. She's not being pushed, though, she's walking herself along with her feet while seated. 
Young says she suffered two strokes in rapid succession in 2012 and went through a lengthy recovery process. Then, nearly two months ago, at 71, she says she fractured her pelvis in a fall.
"It was excruciating pain. It was 10 times worse than childbirth. Every little bitty baby step I took, I was screaming," she recalls. 
Young tells me, after her third visit to the emergency room, she was sent to a nursing home, the Rehabilitation Center of Oakland, to recover. This is the most common way for someone to be admitted to a nursing home. 
Young tells me, her experience was mostly negative. She says she couldn't receive cell phone calls, and that calls to a landline provided for her weren't patched through. She loves good food and cooking and describes eating lukewarm, mediocre meals. And she says, a few times, when patients would go out to the parking lot to smoke, she felt unsafe.
"Two days in a row, the person watching people in the parking lot had left and didn't come back. The second day she did this, I was rolling backwards in the parking lot and wasn't able to stop because I didn't know how to put the brakes on. I would I waited. No one came. Finally, I went back in. There were nine people left in the parking lot. Any one of them could have just taken off and left," Young says.
Still, she wishes she could have stayed longer to heal fully, she says. Because, to her dismay, after just 12 days, she was discharged. 
"I told them I wasn't ready to be discharged, because I hadn't healed, and because I still didn't feel that I was physically rehabilitated or was knowledgeable about using the equipment," Young says. "And they felt that the criteria for me to leave was that I knew how to go to the bathroom on my own how to dress myself on my own and how to feed myself. So they just discharged me."
She says she learned recently that it had been the facility doctor's decision to discharge her.
"And he told my daughter that she would appeal it but I would lose sight of that anyway. Well, I filed the paperwork but nothing transpired and they discharged me. So it obviously didn't fly, right?" Young says.
Young says she was sent home. She's very independent and uses the wheelchair to get around. But that has its limitations. She told me she spent a few days after her discharge having to travel to appointments. Things like getting dressings changed on a burn wound she had, and treating a laceration she got while trying to maneuver through her house with a walker. 
She said, while she was given a wheelchair to use at the nursing home, she wasn't taught how to use her own wheelchair – which she was sent home in. So one day, she says, she took a ride home in a taxi from a medical appointment, and the driver dropped her off at the driveway.
"From the driveway, I wasn't able to go uphill, towards the handrail. [It's] not a steep hill, but a hill up nonetheless. And the chair was going backwards and I didn't know how to stop the chair, or [...] where the brakes were to put them on. So I just got out of the chair and decided to slither across the sidewalk instead," Young tells me. She had to slide over to the steps leading up to her home, which she says she's usually able to scale by relying on the handrail. 
Young says none of that would have been necessary or happened if she had been able to stay at the nursing home to recuperate. She took her case to the California department that licenses nursing homes, the local long-term-care ombudsman, and the California Advocates for Nursing Home Reform. 
"I just hope that they investigate these facilities that this corporation owns and see to it that they then, you know, they straighten up," she says. 
I reached out to The Rehabilitation Center of Oakland, but the facility didn't respond to several requests for comment. I wasn't able to reach either of the management companies associated with the center. One of them has been the subject of multiple citations by state agencies, and accused by the California Attorney General of being a "serial violator of rules within the skilled nursing industry."
Young's stay was shorter than average. Medicare, the government insurer for seniors, only fully covers 20 days of rehab care at a nursing home, and the average length of stay for rehab is just undera month. 
Patients Must Speak Up For Their Rights, Advocates Say
What Young did is exactly what consumer advocates say nursing home patients and their families need to do: Speak up. File appeals. Get help. Eric Carlson, an attorney with the senior advocacy group Justice in Aging, says the Nursing Home Reform Act of 1987 set out great standards to protect patients.
"The requirements of the law are strong. What's missing is the compliance and the enforcement," he tells me. "The way the enforcement system is set up. Most violations require only a plan of correction from the nursing facility which oftentimes turns into paper compliance."
Watchdogs say one of the problems is the rise of nursing home chains. The nursing home where Laurie Young stayed, for example, is allegedly owned by an organization whose facilities across the state have been repeatedly cited for violations of health department policies. But it continues to operate dozens of facilities around the state, which the health department regulates. 
I asked the department if it ever takes enforcement actions against operators of multiple facilities. A spokesperson wrote that enforcement actions are facility-specific. They happen as a result of investigations, which are driven by complaints, incidents, or department surveys. 
Carlson, with Justice in Aging, says that at the federal level, there is a problematic relationship between enforcers and operators.
"The federal government – the Centers for Medicare and Medicaid Services – has put out written documents that, that talk about the nursing facilities for example as the "clients" of the agency," he says.
Carlson suggests that's backwards. Oversight bodies should serve patients, not providers.
"It's troubling, because the people in the system who need the most protection are the consumers, and they need to be the focus of the regulatory agency," he says.
In California, Politico reported last year that Dr. Karen Smith, then director of the California Department of Public Health, had a financial stake in a publicly-traded nursing home company through a family trust. That department is responsible for enforcing nursing home regulations. A spokesperson said Dr. Smith is no longer with the department but didn't specify why. 
The Department of Public health is one of the three agencies that oversee different aspects of nursing care, along with the Department of Health Care Services and the Office of Statewide Health Planning
and Development. The Health department decides whether or not to grant licenses to potential nursing facilities, and also performs inspections and enforces quality requirements.
Carlson, with Justice in Aging, says it's going to take a collective realization that the problem is much bigger than any one horror story.
"People are drawn to the horror stories," he says, but adds that the problem isn't just a few rogue actors. "It's more about the the the rottenness of the entire system or the weakness of the entire system as opposed to a couple of really malicious bad apples."
And it's growing increasingly urgent to fix this system: California's senior population is estimated to increase by 87 percent by 2030.
State Assemblymember Jim Wood, who represents a stretch of California's northern coastline, says seniors need a champion, and he wants to take on that role. Wood says he sees programs for seniors being cut rather than supported. Last year he remembers meeting with a senior group, talking about the Meals on Wheels program.
"They were talking about the fact that that these seniors get these meals five days a week but because of budget issues they're going to have to cut it down to four days a week. And I'm like, gosh, you know, these meals don't cost that much money. Why is this so difficult to do?" Wood said. "The economy is booming and we're gonna take a meal away from a senior one day a week? I'm sorry, that just felt really unfair. And so that was one of the things that really motivated me to start looking at other ways to help, especially our low-income seniors who just don't have a voice right now."
Wood has put forward a few different legislative packages related to senior care and nursing homes. Last year Gov. Brown signed his law requiring owners of long-term care facilities to report how they use what's called 'related-party businesses.' Critics call this 'self-dealing' or 'insider transactions.' 
"So you may have a company that owns the buildings and leases them to the facility. You may have a company that is the laundry service or the foodservice, but they're all really tied to the same person," Wood explains.
Starting next year, the new law will allow the Office of Statewide Health Planning and Development to scrutinize how a facility is managing to pull in lots of money.
Investing In Senior Care
Wood says the real power the state has, in this case, may not be legislation, but rather, controlling the purse strings. He says a lot of programs for seniors haven't gotten even their pre-recession levels of funding. 
"And that's not a great reflection of how we take care of our vulnerable populations," he says.
Lower levels of care than a nursing home, like home care or residential facilities, can cost thousands per month – but subsidies can be more limited. In fact, state Medicaid programs (Medi-Cal, here) are obligated to provide nursing facility services to those who need them and can't limit access or make it subject to waiting lists. But the state can do that for home or community-based services.
Wood brings up the Multipurpose Senior Services Program, which serves a maximum of 12,000 seniors at a time who would otherwise need a nursing facility. 
"The program gives them home-delivered meals, it helps with transportation and some of the hygiene and daily activities, and even some counseling and adult daycare. And the investment in this program, you know, saves people from having to go to nursing homes and, by extension, because they're so low income, it saves the state a huge huge amount of money because the cost of care in nursing homes is so much higher yet it's really difficult to squeeze the dollars out for a program like this," he says. 
Investing in supportive services for elders, Wood says, is important for seniors, but also just makes more financial sense than incentivizing expensive nursing home stays by failing to support other kinds of care.
"It's mind-boggling that we would do what I call a lot of activities that are penny wise and pound foolish," he says.
Since we talked, Laurie Young has been able to start getting around with a walker. She recently performed a song, Bluesette, at the senior theater company, Stagebridge. She says it brings back memories of performing it when she was younger, sweeter, more innocent – she learned it in 1964.
Young's stay in a nursing home was short – shorter than she'd like. But she said she feels bad for people who have to stay for long stretches in substandard care. She told me, it seems to her that, compared with other hot-button issues, people aren't as interested in ensuring that seniors have high-quality nursing care. 
"Maybe they just don't know," she says. "Maybe they don't have any idea how awful it is to have to live out the rest of your life that way, to be neglected. I mean it's like, you know, what kind of life is that?"
That, at least, may be changing. When he took office, Governor Gavin Newsom called for a Master Plan on Aging. He's now signed an executive order calling for its creation, with a deadline of October 2020. Among his priorities? Addressing the state's shortage of in-home services and nursing care, and making sure that care is "person-centered." 
[This story was originally published by KALW.]