This nursing home 'angel' struggled to support her family. Then she got coronavirus…
Image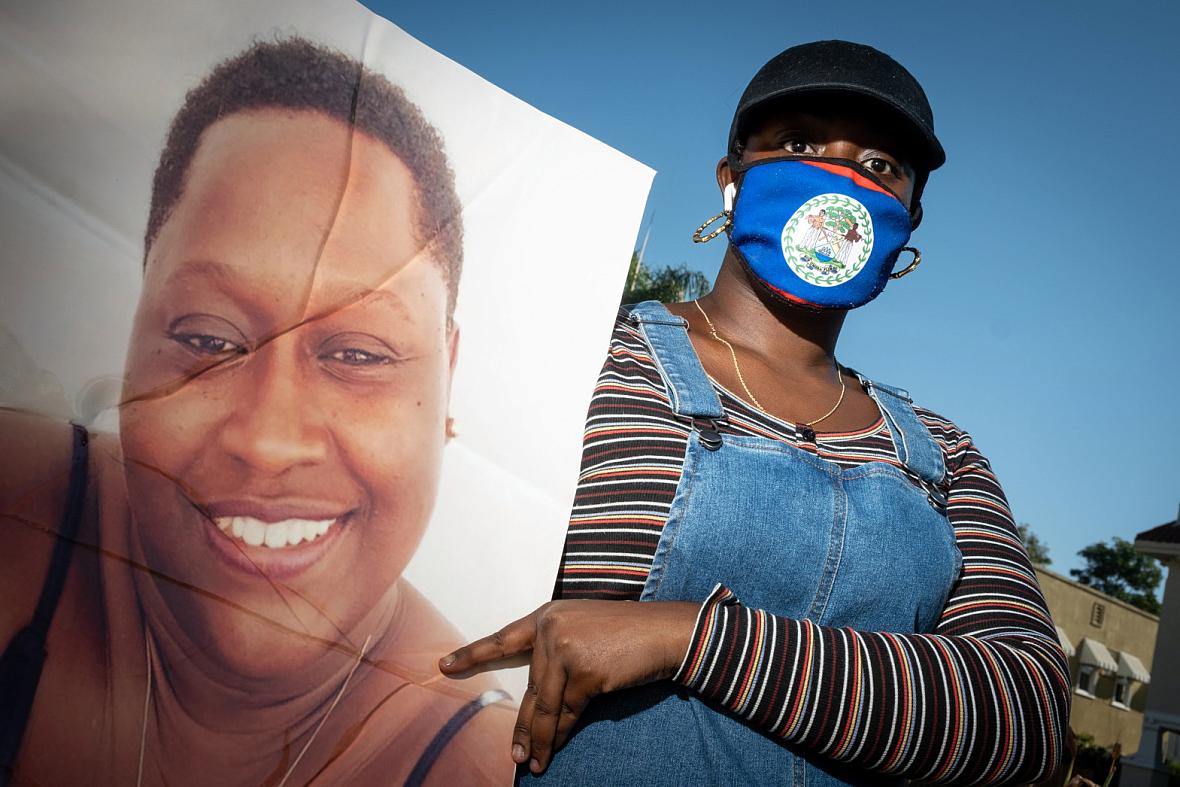 (Photo by David Crane, Los Angeles Daily News/SCNG)
Published on
November 20, 2020
By Elissa Lee, Contributing Writer 
Eyvette Diane Pascascio repeatedly assured her mother she was doing all she could to protect herself at the Los Angeles nursing home where she worked.
The 45-year-old health care worker always wore her mask and gloves, she told her mother, and made sure to change gloves between patients.
"She always told me she was cautious but it takes one little thing — touch one thing, take off your mask — you know, in that environment when you know people like that are sick," said her mother, Sandra Codd.
Despite all her precautions, Pascascio on June 16 became one of the more than 165 health care workers from California nursing homes to die after contracting the novel coronavirus.
Besides her mother, Pascascio is survived by her two daughters, Courtney Milliner, 23, and Raven Pascascio, 19.
'Always helpful'
"Everyone knew her to be this loving person," Milliner said of her mother, a restorative nursing assistant. "She was always helpful, always on top of her job."
That sentiment was echoed by Denise Rodriguez, admission director at Country Villa Terrace Nursing Center on West Pico and South Crescent Heights boulevards.
Image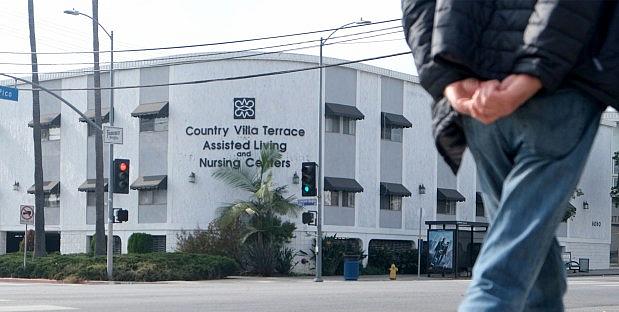 "She was always willing to help out," said Rodriguez, who added that she misses Pascascio's beautiful smile in the mornings and their chats about their daughters. "She was always at work. She was dependable."
Nursing home workers like Pascascio are among the most vulnerable and arguably most overlooked heroes of this pandemic. As of Dec. 9, nearly 55% of the 116 COVID-19-related deaths among health care workers/first-responders in Los Angeles County worked in skilled nursing or long-term care facilities, according to the Los Angeles Department of Public Health.
Amid an unprecedented surge of coronavirus cases, front-line health care workers at hospitals began to receive the Pfizer COVID vaccine in recent days. Nursing home staff and residents in Los Angeles County are expected to start receiving the Moderna COVID vaccine as early as this week.
Better protection needed
Meanwhile, advocates say the nursing home industry overall needs to better protect and respect its workers by ensuring adequate amounts of personal protective equipment, training and compensation.
These workers are largely women of color who are disproportionately affected by the pandemic and don't have the luxury of sheltering in place, said Kim Evon of Service Employees International Union Local 2015, which represents nursing home and in-home care workers.
Image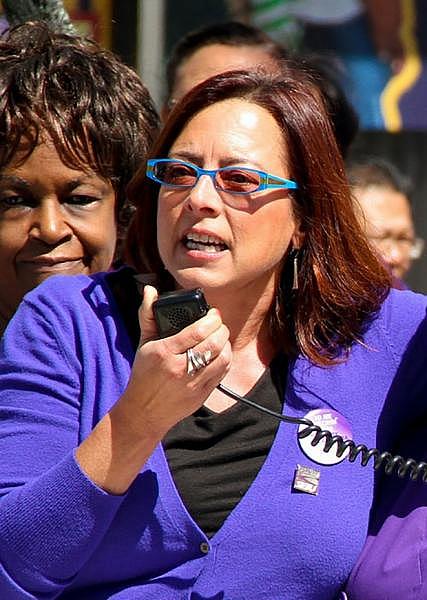 "These employers need to show these workers the same love and commitment they show every day by ensuring they are keeping them safe and, by doing so, they are keeping the residents safe," Evon said. "You can't do one without the other."
Certified nursing assistants, who do the bulk of the back-breaking and intimate patient care at such homes, made about $16.70 an hour on average in the Los Angeles, Long Beach and Anaheim region in 2019, according to the U.S. Bureau of Labor and Statistics.
"We have to double down, increasing pay, increasing benefits, putting money for training to keep the angels in the workforce right now and attract more people," Evon said.
Immigrant from Belize
Pascascio immigrated to the United States from Belize at age 19, earning her high school diploma before going straight into CNA training.
For 22 years, she cared for elderly and disabled residents at the Country Villa Terrace Nursing Center.
"She was always trying to make her patients feel better, always laughing and bubbly, no matter what was bothering her," said Codd, her mother. "She loved her co-workers, she loved her patients. She loved working with the older people. She just felt like she wasn't getting paid enough for what she was doing."
Evicted from home
In early 2018, Pascacio and her family fell on hard times. The single mom was evicted from her home, her mother said. She and her daughters spent the last few years staying with family, moving from place to place. Pascascio considered finding another job.
"But she never got around to that," said Codd, who also works as a caregiver. "Her first priority was her children. She would work six, seven days a week just to provide for those two children."
Despite her busy schedule, Pascascio always made time for her daughters. Every day, on her break from 11 to 11:30 a.m., she would call her older daughter before she headed to her job at a beauty supply store.
"We'd talk about silly stuff like celebrity gossip, family, and figure out what is going to be our next move before she'd go back on the shift," Milliner said. 
Supported daughters' dreams
At the end of the day, no matter where they were, the mother and two daughters would get together, steaming cups of hot ginger tea with lemon and honey in hand, to dish about their days.
"We would always sit and have talks about how our days went … to understand this is what happened today, what went wrong, what we could do to make it better, what can we do to better ourselves," Milliner recalled. "That's all she wanted us to do, just always realize we all are human, we all have feelings … and to always be comfortable in who you are."
Pascascio supported her daughters' dreams, encouraging them to do what they love, her family said.
"She was always supportive in everything we did, no matter what it was," said Milliner, who recently returned to school to take culinary arts classes. "She was always there and she's still going to be there in spirit, just not in the physical form."
Treated for pneumonia
In April, Pascascio told her mother she wasn't feeling well. She had gone to a doctor and was diagnosed with pneumonia and prescribed antibiotics. A few weeks later, she hadn't improved. Codd, worried, urged her to go to the doctor again.
But she never got around to it.
"She was so busy trying to make ends meet," Codd said. "And she didn't tell me how sick she was."
Then her mother got a call from Pascascio on June 9, when she had checked herself into Olympia Medical Center, saying she had a horrible headache, nausea, and could barely stand up, her mother said. Pascascio was transferred to the intensive care unit shortly afterward for shortness of breath.
Due to visiting restrictions, both Pascascio's mother and daughters could only check in by phone, which they did daily. Toward the end of the week, Pascascio could only text back. On the night of June 15, Codd called her to wish her a good night's rest, and promised to check in with her in the morning.
But the next morning, Pascascio didn't pick up the phone.
Her daughter heard her mother's last moments by way of a doctor on the phone.
"They were saying — she's passing away, and they were trying to revive her, and she was fighting, even at her last moments," Milliner recalled.
Daughter lost her 'cheerleader'
After her mother died, Milliner was left feeling dazed and distressed.
"I lost my mom, my number one cheerleader, the one who believed in me the most, the one that's been through everything from the time I was a child," she said.
Milliner said in August that she's still in the process of learning how to be a full-grown adult.
"It's still so hard to process. It's unreal — like why is she gone? Why is this happening? I don't know why. 
But it's just hard."
A GoFundMe page created on behalf of Eyvette's mother in June had raised about $2,800 of its $20,000 goal as of mid-December. Funds raised are said to be going to Pascascio's funeral costs and her mother's "newfound responsibility of helping support two more grandchildren."
Contributing writer and editor Brenda Gazzar contributed to this report. 
This article was produced as part of a project for the USC Center for Health Journalism'sCalifornia Fellowship.
[This story was originally published by Los Angeles Daily News].