Obamacare Coverage expansion in Texas prompts alternative health care models
Although the Affordable Care Act has led to thousands of people in Texas getting insurance for the first time, many consumers aren't turning to care at a doctor's office. Instead they're turning to places that are convenient, like Walmart.
This story was produced as a project for The California Endowment Health Journalism Fellowships, a program of the USC Annenberg School for Communication and Journalism.
Image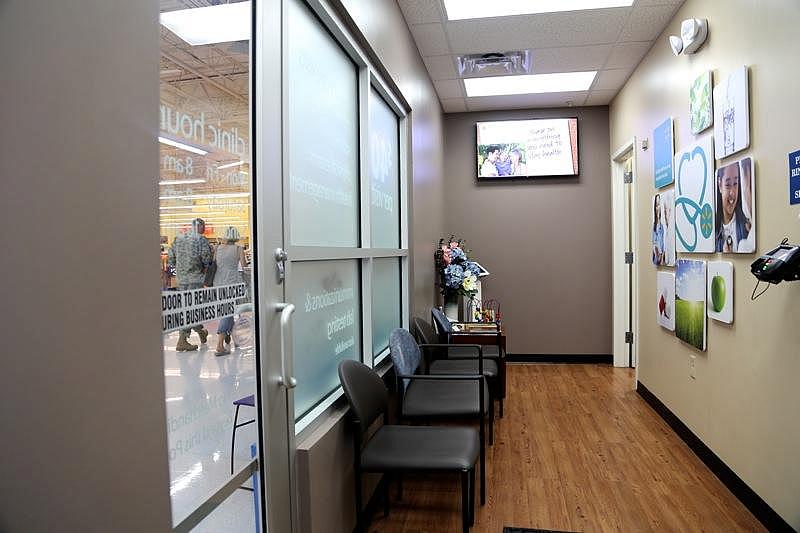 Published on
October 17, 2014
Although the Affordable Care Act has led to thousands of people in Texas getting insurance for the first time, many consumers aren't turning to care at a doctor's office.
Instead they're turning to places that are convenient — places like Walmart.
In Copperas Cove, close to the Fort Hood military base, Walmart recently opened a Care Clinic that has everything a typical doctor's office has – except a doctor. It's staffed by nurse practitioners. Walmart employees and their dependents on a company health plan pay $4 for an office visit; everyone else pays $40 per office visit. External lab tests or immunizations come at additional costs.
Texas and a few other states have a handful of these new clinics. Walmart spokesperson Danit Marquardt says the company considered a few things in picking its first locations: "areas with a lack, shortage of primary providers, areas with a high propensity of uninsured, underinsured or Medicaid participants, areas with high likelihood of chronic disease and also areas where there are a high number of Walmart associates."
Their customers are people like Ricardo Trejo, who's uninsured and says he'd rather come here than an emergency room.
"It's close to my house, it's convenient. I can also do my shopping here, so it's good," said Trejo, as he and his wife loaded shopping bags into their trunk in the parking lot.
Dr. Ateev Mehrotra sees more and more companies catering to people who want the convenience Trejo does.
"I call this the convenience revolution in health care," says Mehrotra, a Harvard Medical School professor and a policy analyst at the RAND Corporation who studies consumer-centric care, "which is trying to provide care for patients at places that are more convenient for them — their homes, their work sites, places where they shop frequently."
Millions of people have gotten insured because of the Affordable Care Act, but experts say this is leading to longer wait times at doctors' offices. What's more, Texas, like much of the country, has a shortage of doctors.
"So therefore there is a need for an alternative, and I think these retail clinics in their simpler form, or the form that Walmart has, really meet that need," he says.
Right now, the Walmart clinics don't take private insurance. They do accept fee for service Medicare and there are plans to start accepting patients on Medicaid. The clinics offer a range of care.
"On the one hand if they need an acute service that is more time sensitive, they will see whichever nurse practitioner is in the clinic," says Dr. David Severance, the corporate medical director at QuadMed, the contractor Walmart hired to staff their clinics.
"However, if they're looking for a service that is more in the line of routine follow up, routine primary care things that they can schedule in advance, then they certainly have the opportunity to schedule that with the same provider every time," Severance adds.
That's important, says Dr. Austin King, the president of the Texas Medical Association. King says he worries about non-traditional health care settings undermining the relationship between patient and physician.
"I think that's paramount — it's built on trust," he says. Because of that trust, a patient's more likely to follow the doctor's orders.
"Now we realize that from a convenience standpoint, that people's jobs and their activities that sometimes they have to use these clinics but they're not a replacement for a true physician home," King says.
Harvard's Dr. Mehrotra says that's a valid point.
"But one larger point is the majority of patients who go to a retail clinic in our data do not have a primary care physician, so there is no relationship to disrupt," he says, adding there's money to be made if companies can develop business models that deliver convenient care.
He points to another example — WhiteGlove Health, an Austin-based company. It has mobile nurse practitioners in all of Texas' major cities and also in Phoenix. Its nurse practitioners are on the road seven days a week and they drive to their patient's homes or work sites.
"Our customers are organizations that want to truly change the culture of how health care is consumed," says Michael Roeder, vice president of business development and customer relations for WhiteGlove. Roeder says they're not trying to replace traditional health care, but he says they do keep people from missing work because they're sick, or just not getting care at all.
"We actually ask and we document where would you have gone if WhiteGlove was not available at that point in time? And it's staggering the percentage of members that we see that would not have sought care," he says.
At the Walmart in Copperas Cove, Nicole Metts was leaving the Care Clinic with her children and husband around 8 p.m.
"I work full time and my husband works full time. It's very hard for us to squeeze a doctor's appointment in," Metts says. "They're open the weekends and late and that is why they're best."
So far, only Texas, South Carolina and Georgia have these Walmart Care Clinics. All of these states have relatively high rates of people without insurance, none expanded Medicaid eligibility under the Affordable Care Act or launched a state-run health insurance marketplace.
This story was originally published on KUT News 90.5.
Photo Credit: Veronica Zaragova