One year after federal health officials launch first-of-its-kind valley fever drug trial, few have enrolled
Image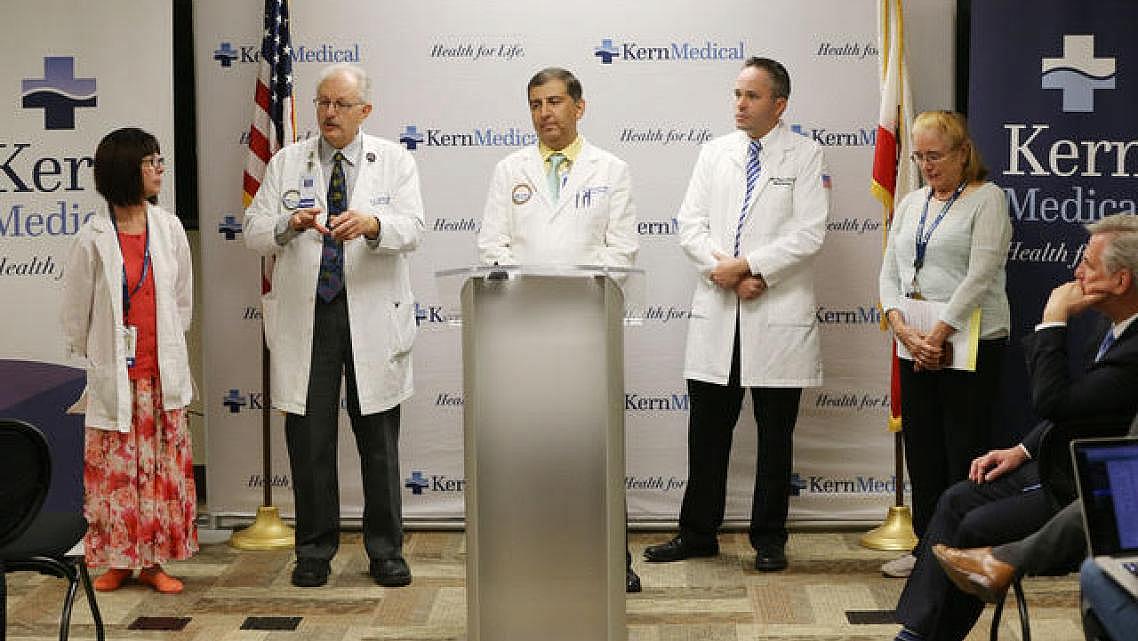 (Credit: Casey Christie/The Californian)
Published on
February 19, 2018
Click HERE for the Spanish version.
More than one year after House Majority Leader Kevin McCarthy secured $5 million in federal funding to launch a five-year clinical trial of a drug used to treat valley fever, health providers are struggling to enroll patients.
Just 48 people have signed up across California and Arizona, and in Bakersfield — which sees more cases than anywhere else in the state — Kern Medical Center hasn't enrolled a single person, according to Dr. Dennis M. Dixon, chief of the National Institutes of Health bacteriology and mycology branch.
Disease experts initially set a goal of enrolling 1,000 patients in October 2016 when the National Institutes of Health, U.S. Centers for Disease Control, Duke University and a handful of health providers teamed up to launch the FLEET Trial, short for Fluconazole as Early Empiric Treatment.
"It's been tough with the whole study," said Dr. Royce Johnson, clinical director of the Valley Fever Institute at Kern Medical Center. "No one has been anywhere near as successful as we anticipated with enrolling patients. Some places have done better, but no one has done well."
The trial aims to answer this question: How effective is the early treatment of valley fever with the antifungal drug Fluconazole? The drug, long prescribed off-label to treat the disease, has never been clinically tested among patients until this trial.
Testing patients in a clinical trial could allow doctors to tell valley fever patients definitively whether their health will improve if prescribed the drug, said Dr. John Galgiani, director of the Valley Fever Center for Excellence at University of Arizona.
Valley fever, or coccidioidomycosis, is a respiratory disease caused by inhaling microscopic fungal spores that live in loamy soil throughout the southwestern United States. The vast majority who breathe in the spores don't develop symptoms, but others come down with a flu-like illness and an extreme fatigue that can last months. In other cases, the spores spread into the bloodstream, leading to a host of health issues, and in rare cases death.
Patients disinterested in study
The FLEET Trial sought to recruit patients with community-acquired pneumonia who may have valley fever. Researchers have determined that valley fever is responsible for causing community-acquired pneumonia in about one in three Arizona patients.
Half of all enrollees would be treated with a placebo, and the other half with Fluconazole.
The study has so far enrolled 17 people in Arizona, which recorded more than 6,000 cases in 2016, and 31 people in California, which recorded more than 5,300 cases the same year. Researchers have been aiming for 1,000 enrollees, with the assumption that about 200 to 300 will have valley fever, Dixon said.
The lack of enrollees doesn't stem from a shortage of patients, Johnson said. Plenty of people in the region come down with valley fever, but nobody has wanted to donate their time to a trial, which requires at least three follow-up visits within the first 42 days, plus lab work and X-rays, Johnson said.
"We're prepared to do the medical part of this, but patients say they don't want to come. People have even turned down being paid $100," Johnson said. The multiple visits required by the trial are especially hard on very ill patients, he added.
Other potential enrollees worked and couldn't devote time to the study, while others were pregnant — making them ineligible — or lived in distant, rural parts of Kern County.
In response, Kern Medical Center is in the process of hiring a project manager who could bring the trial to the patients, making home visits to collect data as a way to attract more enrollees.
"If we get a project manager, maybe we can do more to take the study to the patient, rather than making the patient come to the study," Johnson said.
The NIH responded to the low enrollment numbers by bringing on board the Kaiser Southern California health system, which maintains centers in Antelope Valley and Bakersfield, Dixon said.
"Getting these centers fully up and running resulted in 17 patients enrolled in January alone, our best monthly enrollment to date," Dixon said.
That might not be enough, however, to get patients over one of the biggest hurdles in participating.
Advocates question funding of Fluconazole
When patients enroll in clinical trials, they are sometimes lured by the opportunity of being prescribed a promising pharmaceutical otherwise unavailable to the general public.
But Fluconazole is a widely used and readily available drug with a track record of improving patient health, Galgiani said. Some patients may worry they would blindly be prescribed a placebo, and as a result, might not recover as quickly as they would have with Fluconazole.
"It gets in the way of enrollment," Galgiani said. "If the drug is in everybody's pharmacy, why bother going into a clinical trial? Why not just get going with a prescription?"
Meanwhile, some advocates have questioned why $5 million — a significant amount of federal funding for valley fever — would be allocated for the trial of a drug that has a track record of success, instead of putting the money toward other drugs in development.
Nikkomycin Z, for example, has shown promise in eliminating fungal spores in lab mice. Researchers in Arizona began human clinical trials last year, but ran out of pills, stalling the trial. The cost of manufacturing those pills would cost roughly $1 million to $2 million, and an additional $50 million to bring it to market, Galgiani said in August.
Dixon said knowledge about those drugs and vaccines are important, and that the NIH is actively supporting research on both Nikkomycin Z and a vaccine called Delta CPS-1, but that "they are not yet available for clinical practice."
The decision to choose Fluconazole for a trial came down to timing.
Five years ago, valley fever gained national attention. The Center for Health Journalism Collaborative — a group of 10 different news outlets coordinated by USC's Center for Health Journalism — began publishing a years-long series of stories titled "Just One Breath" that spotlighted the struggles of valley fever patients, the lack of funding the disease receives and the difficulties researchers have faced for decades while fighting to find a vaccine or cure. In response, McCarthy gathered leaders from the NIH and CDC for an unprecedented symposium in Bakersfield to brainstorm ways to address the toll the disease had taken.
The FLEET Trial was born.
"The NIH was trying to respond to increased enthusiasm from Congress," Galgiani said. "The question was, 'What could you do right now?'"
At the time, other potential drugs weren't ready for a trial. Researchers took aim at Fluconazole, wanting to know definitively whether patient health would improve faster with the drug.
"On one hand, you can say: 'Is it worth knowing the answer to?' That's valid," Galgiani said. "On the other hand, if somebody says you might be sick for two or four weeks, and we know if we treat you it would be only two weeks, would you take the treatment? Maybe, if you were sick, you would want to know the answer to that question."
SIDEBAR BOX
KNOW THE SYMPTOMS
Valley fever, or coccidioidomycosis, is caused by inhaling spores from a fungus that grows throughout the southwest United States. Because its symptoms mimic pneumonia, it's often misdiagnosed, leading to the potential for greater health risks. Here are the symptoms:
Fever
Cough
Extreme fatigue
Skin lesions
Chills
Night sweats
Muscle and joint pain
Lack of appetite and weight loss
If you think you have valley fever, insist your doctor test you immediately.
For more stories in this series, click here.