The Paradox of Latino Health
Low-income Mexican immigrants with little formal schooling are healthier than the overall U.S. population, according to a number of measures. But once in the U.S., Mexican immigrants lose their health advantages within a generation, despite the improvement in their standard of living.
Amy DePaul reported this series for Voice of OC as a 2013 California Endowment Health Journalism Fellow.
Part two of this series is available here: A Paradox That Starts Before Birth
Part three: Asian Immigrants Confirm, Complicate Health Paradox
Image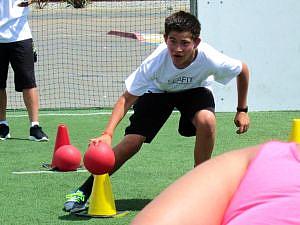 Published on
October 2, 2013
Like any truth that is counterintuitive, the medical theory known as the "Latino health paradox" doesn't seem to make sense at first.
The theory is that even though better health is usually linked to wealth and education, low-income Mexican immigrants with little formal schooling — ninth grade on average — are healthier than the overall U.S. population, according to a number of measures, including certain cancers, heart disease and mental health. In addition, immigrant Latinos have lower rates of smoking, drug use and sexually transmitted diseases, according to experts.
The effects of the paradox are evident in Orange County, where despite fewer resources and less access to regular medical care than wealthier white residents, Latinos have a longer average life expectancy and are more likely to have healthy birth outcomes.
But once in the U.S., Mexican immigrants lose their health advantages within a generation, despite the improvement in their standard of living, according to experts.
"Their health goes south very quickly," said Professor David Hayes-Bautista of the David Geffen School of Medicine at UCLA, where he directs the Center for the Study of Latino Health and Culture.
And things get progressively worse for their children.
Research confirms that the second generation winds up in poorer health than the immigrant generation in a number of key areas: type 2 diabetes, cancer, birth outcomes and heart disease. While a number of factors contribute to this downward slide, the modern, U.S.-influenced diet is a key culprit.
Ignacia Roman, who was born in Mexico but now lives in Santa Ana, offers a real-life window into the decline of immigrant health. She has type 2 diabetes and so does her 12-year-old daughter. Her parents did not. In addition, she has coached Latino patients for five years in managing diabetes as part of a UC Irvine research project.
On one hand, she believes her Mexican patients are too attached to their sweet breads and rice, need to exercise more and take a more active role in their own medical care. But at the same time she also acknowledges the inevitable dietary changes that come with moving to the U.S.
In Mexico, she said, "We ate a lot of vegetables." But life here is faster paced, and because of work demands, there is less time to cook. Sometimes families try to sidestep fast food by setting aside "un dia sano," that is, a healthy day, Roman said. "But one healthy day isn't enough."
Paradox Past and Future
Latinos aren't the only immigrants who arrive healthy, only to see a decline over time. The "healthy immigrant effect" has been documented among European, African and Asian immigrants, and it is explained in a number of ways. One assumption is that immigrants tend to be young and strong with sufficient physical vigor to uproot their lives and in some cases make an arduous journey to arrive here.
"You're not going to cross the desert in 110 degrees Fahrenheit if you're weak. Immigration is a selective process. It's for people who are relatively hearty and optimistic," said Professor Leo Chavez, a UC Irvine anthropologist who studies immigrant health in Orange County.
Lifestyle is a prime factor in good immigrant health, since Mexican immigrants traditionally hail from rural areas, which means they walk more and eat more fresh fruits and vegetables, experts say. Strong family networks are also believed to have a positive effect on health.
But the increasing number of food options in Mexico as it continues to industrialize may erode immigrant health advantages. A study this summer by the United Nations revealed that Mexico has surpassed the U.S. as the world's most obese nation.
Mexico has undergone the "epidemiological transition" that is part of becoming a modern economy, according to Hayes-Bautista. He said that Mexico's health profile is now more like that of the U.S.: problems with weight and diabetes, lower infant mortality and lives ended by cancer and heart disease rather than communicable diseases.
It's not yet clear how changes in Mexico will affect immigrant health in Orange County. The question may become less important over time, since immigration from Mexico has slowed to a standstill after the economic crash five years ago.
Perhaps the more important question is what health challenges the American children of immigrants will face, an issue made particularly relevant by the Latino youth surge in Orange County. Census data show that more than half of the one million Latinos in the county are between the ages of 5 and 34, with only 11 percent older than 55.
Meanwhile, 40 to 50 percent of schoolchildren are overweight or obese in Stanton, Santa Ana and Anaheim. Some will certainly find themselves among the growing ranks of type 2 diabetes patients, said Allison Hickey, executive director of the American Diabetes Association's office in Costa Mesa.
"If trends continue the way we're going now with obesity triggering diabetes at younger ages, by 2050 one of three minorities will have diabetes by the age of 40," Hickey said.
Diabetes is linked to low income in part because of food economics, she said. "A bag of chips is cheaper to buy than an orange, and that is true even when you order fast food. The healthier options are not on the 99-cent or dollar menu."
'Eat Like Where You Came From'
The challenge for Orange County's health professionals may lie in persuading immigrant families not to assimilate to American life in certain key ways.
Dr. Patricia Riba, who specializes in treating overweight and obese children from underserved communities in Orange County, said she actively encourages immigrant parents not to acculturate to American tastes. Even though hygiene and dental care are better in the U.S., she said, the food choices are not, at least when it comes to her patients' budgets.
"I tell parents, 'Eat like where you came from.' The more families keep to their culture, the healthier they are," said Riba. "My patients' families came here for a better life – my Vietnamese and Mexican families – but it's not always available to them. When they come to America, they pick up on our bad habits."
Martha Lopez of Santa Ana is trying to resist bad habits. She enrolled two of her three children in Riba's summer fitness program and works hard to feed her family fruits and grains as well as homemade soups and stews with chicken, carrots and potatoes she grew up eating in Jalisco, Mexico.
But she puts in long days cleaning hotel rooms at a Best Western near Disneyland, and sometimes she is tired and buys fast food. It's easy to put on weight in the U.S., she says, spreading her hands wide to demonstrate the size of servings in U.S. restaurants. "You come here, you gain weight," she said.
Gabriela Menendez, Riba's program and clinic coordinator, also reminds parents not to abandon their culinary traditions from small-town Mexico. But sometimes the parents she serves, despite being among the county's poorest, take pride in having more money to spend on brand-name snacks and sodas, which their American kids crave.
"You buy Coke to impress others," Menendez said. "And sometimes parents feel guilty saying no."
It's easy to say yes when the cost of tasty, filling, protein-dense food offers clear economic incentives to eat it. In Orange County's urban centers, mom-and-pop taquerias purvey meat-filled tacos at $1 each, and bakeries sell huge sweet rolls at three for a dollar.
Fast food restaurants are ubiquitous, as are vending trucks laden with chips and candy. In Anaheim, there are 4.79 times as many fast food restaurants and convenience stores as supermarkets and produce vendors.
Food Evolution
If food is an important reason for the decline in immigrant health, it might also offer a solution. After all, traditional rural Mexican food is built on the heart-healthy "Aztec trio" of beans, squash and corn.
"Classic Mexican food is pretty healthy," Chavez said, but recipes change over time and distance. Tex-Mex dishes that developed here in the U.S. are an example, Chavez said. "Cheddar cheese and sour cream lathered over a burrito is not a healthy Mexican dish."
Handmade corn tortillas have given way to the less nutritious flour version, experts say. Mexican immigrants eat more meat upon arriving here, both in their home recipes and in fast food. But local journalist Gustavo Arellano, who recently wrote a book about Mexican food, isn't so sure that meat is the key dietary change among Mexicans living in the U.S.
"In my case, my parents are from Zacatecas, beef and goat country. We've been eating meat our entire lives," said Arellano, who grew up in Anaheim. Instead, he said, better diet in Mexico is more likely due to the practice of eating fresh and local. "In Mexico, you grew your food yourself or bought from a local market from farmers in the region."
In addition to the loss of corn tortillas, reduced access to certain foods here in the U.S. has left a void, Arellano said. Cactus, for example, was a staple in his family's diet, along with avocados that grew in his yard. He noted that living in a single-family home rather than in a crowded rental unit, was key to his family's access to high-quality produce.
"My mom to this day grows a lot of her food," he said. "But you can't do that in apartment complexes."
Cramped apartments — sometimes shared by strangers — have become the norm in Santa Ana, Anaheim and Stanton, which are the cities with the most crowded housing in the county. These three cities are also the highest in youth obesity and child poverty in the county, prompting the question, is ill health the price of the gains achieved in immigration?
"It's the price of living in poverty in a prosperous country," Hayes-Bautista said.
Photo Credits: Caitlin Whelan and Amy dePaul
This story was originally published on October 1, 2013 by the Voice of OC.