S.F. Sees New Success in Treating Homeless People with Hep C
Image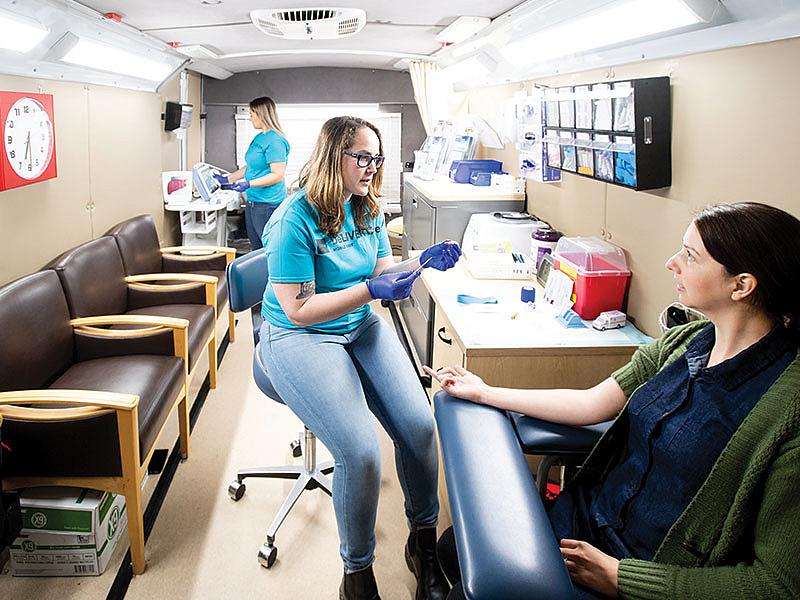 (Photo: Noah Berger/UCSF)
Published on
August 21, 2019
For many unhoused people living on San Francisco streets, maintaining good physical health is fairly low on a long daily to-do list. Basic survival — finding water, food, and shelter — can occupy much of one's day and energy.
As a result, diagnosing and treating people always on the move requires flexibility, and creativity. The city's Street Medicine Team treats people where they're at — whether it's under a highway overpass, or in a tent in the Tenderloin.
This model of mobile outreach is now being used to tackle hepatitis C — a viral infection that can lead to serious liver damage. Until a few years ago, treatment for the virus required a referral to a specialist, a series of invasive tests, and a cocktail of drugs to cure.
But new developments on a federal and local level have changed things; people are now being diagnosed, treated, and cured at rates never before seen in San Francisco.
"Until 2014, hep C was mostly managed in specialty clinics with a hematologist or a gastroenterologist, because Interferon — which was the treatment in the old days — was so intense, and made people so sick," says Katie Burk, the viral hepatitis coordinator at the city's Department of Public Health.
That all changed five years ago, when new drugs were approved by the Federal Drug Administration. The medication has much fewer side effects than Interferon, and in most cases can cure hepatitis C in eight weeks. Now, primary care doctors can be trained in treatment, cutting out the need for referrals to specialists, except in extreme cases.
"All of a sudden we were really able to make the goal of hep C elimination possible," Burk says, referencing the city's similar goal to reach zero transmissions and zero HIV/AIDS deaths.
It's ambitious: there are an estimated 12,000 people living with active hepatitis C in San Francisco. But the fresh availability of new drugs and Medi-Cal's subsequent adoption of them makes such a lofty vision seem possible. In 2016, Burk, Dr. Annie Luetkemeyer of UCSF, and Dr. Kelly Eagen of the city's Department of Public Health teamed up to launch End Hep C SF.
The coalition has some big players: the Department of Public Health and UCSF teamed up with a slew of already-existing community health organizations like Tenderloin Health Services, Glide, and the AIDS Foundation.
"Homelessness itself is a health crisis," Luetkemeyer tells SF Weekly. "Being homeless directly impacts your health."
Some regular hazards of homelessness include sleep deprivation, bad nutrition, and dehydration. Constantly losing survival gear like tents and blankets can also have a serious impact on one's immune system. Given the ways in which hepatitis C is most commonly transmitted — through sharing needles or during unprotected sex — and it's no wonder that rates are so high among the city's unhoused residents.
But there's another issue at play: Many of the people living on the streets don't know they have it.
"It's often called a 'silent killer' because people don't have symptoms, or don't recognize that they have symptoms," Luetkemeyer says. "It takes a long time for people to get liver disease."
The slowness with which hepatitis C develops means that people often get used to a slow change in their bodies, and it can take decades to fully destroy a person's liver.
"Each day it shifts a little bit, but in imperceptible ways," Burk says. That makes prioritizing care more difficult. "We hear a lot of people say, 'I had no idea how sick I was until I was cured.' They say, 'Wow, I'm thinking so clearly,' or 'I have so much energy,' or 'I'm not depressed,' or, 'I don't have achiness in my body anymore.' They just thought that's how they were and how they felt, and didn't know it was attributable to hepatitis C."
The hurdles of diagnosing and treating unhoused people who don't know they have the virus has forced medical professionals to get creative and take testing to the streets.
In January, UCSF started a state-of-the-art mobile facility. Called the DeLiver van, workers invite people on board and phlebotomists can administer a rapid 20-minute hepatitis C test on the spot. In addition, a mobile fibroscan machine in the van can track the effect of the virus on someone's liver — a procedure which, until this year, could only be done in a medical office.
Dr. Jennifer Price, a hepatologist at UCSF, runs the program. The changes she's seen in her field in the past five years have transformed her style of care.
"For years we were requiring people to interface with a provider in a four-wall clinic," she says. "We thought, 'What if we screened on a van?' — we could go wherever, and then link to primary care providers in the community."
Where and when to park the van is an ongoing process — but at the moment, it's being deployed outside nonprofits that serve homeless people, like Glide or the Gubbio Project, and at large community events like Sunday Street or a Lava Mae shower pop-up. But one of the best locations thus far has been partnering with methadone clinics. People often visit such places daily, making it easier to follow up with care for people with no fixed address. 
Since starting in January, Price and her team have done more than 420 screenings on people through the DeLiver van, and 140 fibroscans. The population is largely their target audience: 25 percent live outdoors or in their car, 15 percent are in shelters, and 20 percent live in a single-room-occupancy or short-term hotel. Of the 420 people tested, more than 30 percent tested positive for hepatitis C.
Once a positive test comes back, staff work to connect the patient to a clinic that can provide ongoing care. The van doesn't have a dedicated hepatologist on board for each site visit, but Price is also testing out a new method: video chatting with patients to provide them care on the bus instead of sending them to a separate clinic. Down the line, she'd like to start offering people who test positive immediate prescriptions — that way those who are diagnosed immediately receive a package of pills to begin their journey toward a cure.
Testing and diagnosing is a big part of ending hepatitis C citywide, but there are other challenges, too.
Holding onto eight weeks worth of medication is not easy, particularly for people who can easily lose their belongings. At the Sixth Street Harm Reduction Center, operated by the AIDS Foundation, 36 lockers are used by participants in their hepatitis C treatment program. They can pick up a week's supply of medication, or a few days at a time — but the prescriptions are automatically refilled and placed inside each individual's locker. They're accessible 45 hours a week, whenever the center is open.
"Hep C meds are really expensive, and the majority of people who come in are experiencing homelessness, or are housing insecure," says Sixth Street Harm Reduction Center's Associate Director Ro Giuliano. "They're heavily impacted by the sweeps that happen all the time. Folks have all their belongings — everything they own — taken."
The lockers help alleviate that issue — and their popularity is growing. In the 2016-2017 fiscal year, 12 people were cured. In 2017-2018 that number rose to 52. From January of this year to the end of July, 27 people receiving treatment have gone through the eight-week course of treatment.
The positive impacts of being cured of hepatitis C are multifold, Burk says.
"It's so amazing to be able to tell someone, 'You're cured of this serious disease you've had for 20, 30 years'," she says. "It's a very powerful thing. Often, they then decide they want to take care of their health in other ways. We see really remarkable changes."
The journey to get people with hepatitis C diagnosed and through treatment is an ongoing battle, but changes in medication, insurance, and the evolution of care to meet people where they're at makes getting to zero a goal that Price, Luetkemeyer, and Burk finally believe is possible.
"We need to problematize the idea of people being 'difficult to engage' or 'hard to reach' because the truth is they're showing up at different places across the city, and we just need to adjust our models to reflect that," Burk says. "Even folks who have a lot of chaos in their lives can do very well with the right kind of support."
[This story was originally published by SFWEEKLY.]