S.F. streets particularly mean for pedestrians
With the number of traffic fatalities on the rise, San Francisco is quickly becoming one of the country's most dangerous cities to navigate on foot.
Published on
December 20, 2010
Image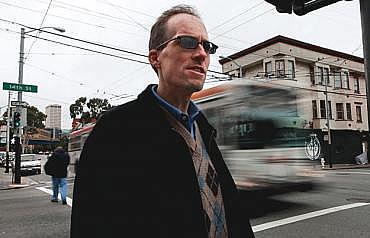 More than 800 people are hit by cars in San Francisco each year, making it one of the most dangerous cities in the state - and possibly the country - for pedestrians.
This is a city that last year was named the best walking city in the country by the American Podiatric Medical Association and Prevention magazine because of the many city agencies assisting in walking issues. Yet more than two pedestrians are hit each day on average, accounting for about a quarter of all injury crashes and, according to some reports, nearly half the city's traffic fatalities.
The streets of San Francisco are especially dangerous in December, when shorter daylight hours, holiday-swollen numbers of pedestrians and cars, increased alcohol use and winter weather lead to the highest number of pedestrian-vehicle accidents.
The problems aren't all in December, however. A series of daytime collisions last month showed just how dangerous the city's streets can be.
-- On Nov. 17, 65-year-old Nu Ha Dam was struck and killed by a UCSF shuttle bus at lunchtime while crossing Geary Street at Leavenworth, two blocks from her home.
-- On Sept. 2, a hit-and-run driver who was later arrested killed 70-year-old Joyce Lau as she was crossing Cole Street at Waller shortly before 8 a.m.
-- Later that same day, around 5 p.m., a 79-year-old woman whose identity has not been released sustained life-threatening injuries while trying to cross Bayshore Boulevard at Bacon Street.
Each of the victims was in a crosswalk when she was struck.
"Why isn't that seen as a priority public health problem?" asked Dr. Rajiv Bhatia, director of occupational and environmental health for the San Francisco Department of Public Health.
Transit problem
But the high number of pedestrian fatalities, both locally and nationally, is typically viewed as a transit, rather than a public health, problem.
"There's a federal goal for zero airplane fatalities and a federal goal for zero railroad fatalities," Bhatia said. "Yet we have these acceptable levels of people getting hit by cars and killed."
When ranking traffic fatalities per 100,000 residents - including people killed in cars as well as pedestrians - San Francisco fares worse than such far larger cities as New York, London, Hong Kong and Tokyo, according to a report released in August by the New York City Department of Transportation, using 2008 data.
While San Francisco obviously is a dangerous city to walk in, the city's size may skew the numbers. Since the city is relatively small - with fewer than 800,000 people - and has a large number of pedestrians, especially downtown, the number of people hit might appear high when based on per capita rate.
Inattentive drivers
The San Francisco Municipal Transportation Agency released a report in October that found that the actual number of fatalities has consistently declined over the years, although the city still has a higher percentage of such deaths than other major cities. Motorists who fail to yield and inattentive drivers are the primary causes of the accidents.
Pedestrian advocates say the 800 pedestrian collisions a year - a number that has held fairly steady in recent years - is far too many, no matter how it's calculated.
"You don't really need to know more than the number of people being hit," said Elizabeth Stampe, executive director of Walk San Francisco. "The absolute number in issues of health is what really matters."
While the health effects of traffic include pollution, noise, stress and higher rates of asthma hospitalizations, pedestrian injuries are a blunt measure of the human cost of driving.
The top 10 most dangerous parts of San Francisco for walkers are concentrated in the Financial District and the Tenderloin, South of Market and Bayview neighborhoods. While those 10 U.S. Census tracts are home to less than 4 percent of the city's population, they account for about 21 percent of pedestrian collisions, according to an analysis of the data.
Those areas also have some of the lowest percentages of car ownership in the city, which means they tend to have residents who are lower income and rely more on walking and public transit. Areas of high racial diversity and poverty rates tend to be nearer to highways and have higher traffic density, which leads to greater exposure to collisions, as well as noise, pollution and other environmental hazards.
But not all neighborhoods affected by traffic and collisions are in the downtown corridors. Residential areas such as Glen Park, the Castro, the Mission, Excelsior and the Western Addition all had higher-than-average rates of injury accidents involving pedestrians. Some of those neighborhoods are close to freeway ramps and wide, one-way streets that serve as commute zones where speeding is common.
More than 98 percent of people who are hit by cars in San Francisco are sent to the city's only trauma center, San Francisco General Hospital.
Millions in medical costs
A study by the hospital's injury center found the cost of treating 3,619 injured pedestrians between 2004 and 2008 amounted to $171 million in 2008 dollars. Three-quarters of the medical costs were paid by public funds.
John Alex Lowell landed in San Francisco General after he decided to take a jog during lunch on March 23, 2001. He got to the intersection of Mission and 14th streets and was crossing at the signal when a driver heading north on Mission ran through the red light and struck Lowell.
Lowell, now 40, suffered massive head trauma and remembers little from the year after the collision other than what friends and family members have since told him. After years of surgeries and physical therapy, Lowell has recovered remarkably well and has few side effects from the extensive injuries.
"I do have a passion to prevent it from happening to others," said Lowell, who graduated this year from the Pacific School of Religion and now serves as vice chairman of the city's Pedestrian Safety Advisory Committee.
Last week, the committee approved a report on pedestrian safety that it intends to present to the Board of Supervisors next month with the hope that the city will come up with a plan to reduce the pedestrian death toll.
"We hope the city would take a stronger leadership position on this," said Deland Chan, senior planner with the Chinatown Community Development Center. "There's a pedestrian crisis going on."
Pilot project
Board of Supervisors President David Chiu has pledged to take up the issue early next year by calling for a new study into how the city's agencies have been addressing the issue. Meanwhile, the city's transportation agency is planning a pilot project designed to lower speed limits to 15 miles per hour in targeted neighborhoods.
For Michael Bianco, such changes can't come soon enough. Bianco's 32-year-old daughter was hit in a crosswalk at the intersection of 33rd Avenue and Taraval Street on Oct. 2, 2005, by a hit-and-run driver. She suffered major brain trauma and is unable to live independently.
Bianco, who is suing the city for negligence, believes San Francisco is far more dangerous to walk in than the numbers suggest.
"Whatever can be done to prevent something of this kind occurring again is time well spent," he said.
The human cost of traffic in S.F.
Crashes: More than 800 collisions involved pedestrians in 2008. Thirty-five people were killed that year.
Deaths: Pedestrians account for about half the people killed in traffic collisions in San Francisco.
Locations: Pedestrian collisions are most common at intersections, on Fridays, in December and between the hours of 3 and 6 p.m.
Costs: Collisions on San Francisco streets cost an estimated $280 million per year, or about $350 per resident annually. The costs include medical care, property damage, insurance expenses and loss of income.
Source: "New York City's Pedestrian Safety Study and San Francisco Data," San Francisco Municipal Transportation Agency, Oct. 21, 2010.
E-mail Victoria Colliver at vcolliver@sfchronicle.com.