'That's Just What We Learned': Klamath Residents Share How They Help Each Other In A Remote Community
Image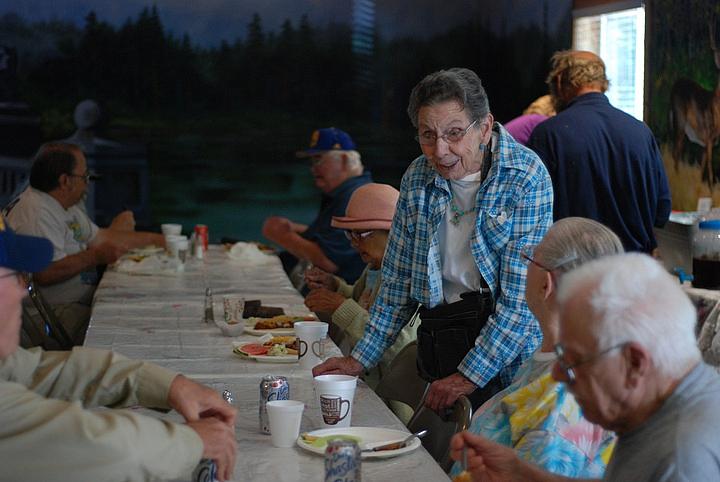 Published on
October 4, 2019
Ora Collins remembers Klamath before the 1964 flood.
There were grocery stores, drug stores and a movie theater. The town had personality, she says. A heart.
But after 1964, it was never the same.
"There was a strong sense of community," Collins says. "But after that it didn't come back."
At 87, Collins is the oldest of a group of native women hoping to re-forge those connections. Calling themselves the Wisdom Keepers, the group plans to use potlucks and other gatherings to find out what their community's greatest needs are, Collins told the Wild Rivers Outpost in June.
Collins had joined Wanda Shafer, 95, at the Klamath Senior Center for its monthly luncheon. In between chili dogs and hot dogs prepared for local and visiting elders by volunteers, both women shared their opinions on the community's needs.
For many Klamath residents, making their way north on U.S. 101 to purchase groceries in Crescent City is an inconvenience at best. Collins and Shafer say that with the highway like it is, the trip makes them nervous.
Both women agree with a majority of respondents in a Wild Rivers Outpost survey, "Where do you get food where you live in Klamath?", who say the community needs a grocery store with affordable prices. But Collins, Shafer and several who took the survey say teaching young people how to garden and cook inexpensive, healthy meals is just as important.
Many Klamath residents already do this. Chrystal Helton, who lives in Klamath Glen with her husband and four children, said her garden, backyard chickens and the ability to hunt and gather makes trips to the supermarket rare. She said one of the more than 60 feral cattle roaming the Klamath River area since the 1964 flood also helped feed her family this winter.
Though by U.S. Department of Agriculture standards Klamath is considered a food desert, Helton said she doesn't feel that definition applies to her family. But she said she realizes not everyone is able to be as self-sufficient.
For those who don't have the time or skills, it's easier to go to the grocery store if you have the transportation, Helton said.
"It's an all-day event to get groceries," she said. "It's the same if you don't have transportation. We need to think outside the narrow 'we-have-to-shop-for-food.'"
When she responded to the Wild Rivers Outpost survey, Helton said the way she would address the issue of food insecurity in Klamath is to invest in small farms.
"We have the soil and climate to produce our own food," she wrote. "Our community garden was a failure. If we put real effort into teaching folks how to raise their own food, it would be a game-changer."
One idea the Wisdom Keepers are considering is a community kitchen with the equipment people need to preserve their food and workshops that would teach them the skills.
"We could do a lot of canning there, and teach canning, and have a stockpile of goods so that if there was a road closure or the whole road falls in, or if it's blocked by snow going north and south, we would have access to food," said Wisdom Keeper Susan Masten. "We could, at a very low cost, help with the lights and whatever overhead... Everyone could afford the items and we would have food. We wouldn't have to depend on anyone else. The community could survive in an emergency."
Masten and Janet Wortman, sisters and owners of the Steelhead Lodge and Requa Inn, respectively, and with Margaret Caldwell, who is on the Klamath water district, participated in a group interview with the Wild Rivers Outpost in June. All are involved witht the Wisdom Keepers project. During the interview, the women discussed their concerns, which ranged from Klamath's isolation, a perceived lack of communication and a disconnect between native and non-native residents, as well as the community itself and the rest of Del Norte County.
Another concern of theirs is access to fresh produce. Caldwell noted that many in Klamath linger on pasta and potatoes, things that are easy to store, but  have problems with diabetes. She said she had volunteered to make lunches for a group of children, many who didn't know what an olive or a carrot was, but "scarfed down that fresh stuff."
"I know their parents don't have access because a lot of them don't drive," she said. "A lot of them don't get to town."
According to Masten, the community kitchen idea came up when the group was discussing the gardens their grandparents kept. They shared their fruits and vegetables and bartered for other things, she said. United Indian Health Services brings fresh produce from its garden in Arcata, but is only in Klamath once a month.
"It's really limited and then if we have snow or we have a slide or we have any of that, we don't get to town for a week or so," she said.
Image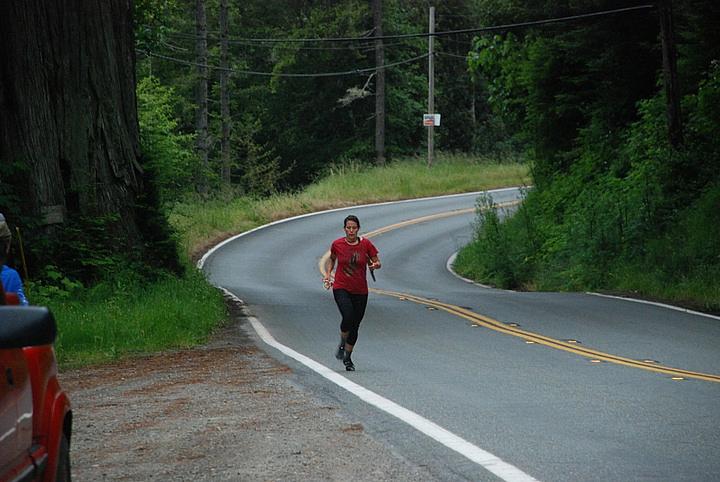 An unreliable vehicle and a tight budget gives Jeanette Lambeth few options beyond Grocery Outlet and the occasional trip to Safeway in Crescent City. Her family has also visited the Rural Human Food Bank at the town site and has participated in Santa's Workshop and other programs. Lambeth estimates she has about $300 to $400 a month or less to spend in groceries, so she buys things in bulk and makes enough food for leftovers.
With her 9-year-old daughter Skylar battling multiple health issues related to her digestive system, including having to travel to UCSF Benioff Children's Hospital for regular doctor visits, Lambeth says eating healthy is particularly important for her family.
Because of this, Lambeth said, her daughter has turned into quite the cook. Skylar will regularly make eggs Benedict with homemade hollandaise, her mother said. The 9-year-old also knows how to make fried chicken and potato soup. There's English muffin pizzas, homemade donuts and biscuits, as well as Hamburger Helper with vegetables and other additions, Lambeth said.
"She's a good chef," Lambeth said of Skylar.
Ashley Powell, who works at the Yurok Tribe Head Start program and at the tribe's Redwood Hotel and Casino, said though it's easy to grab chips and soda, if the options are there, kids love fresh fruit and vegetables. The Head Start program would often allow their students to pick local fruit and berries, she said.
Powell also noted that the tribe tried establishing a community garden in Klamath Glen, but there was a lack of follow through.
"We see things start to happen and fail," she said.
What was needed, Powell said, was someone who could get out into the community and help residents feel the garden was for everyone.
"If they aren't consistent, people will not give it a chance," she said
In addition to gardening, canning and hunting, many Klamath residents share what they have with those who may not have much. In addition to the one feral steer that fed her family during the winter, Helton said, her husband killed two more and used them to help her friends and their families.
In the Wild Rivers Outpost survey, in addition to feeding themselves and their families, many people said they shared their food with whoever is hungry. Marilyn Lunsford and her husband Ken fall into this category. If her brother-in-law gets a deer, everyone shares, she said.
Lunsford, a Resighini tribal member who grew up in Klamath, said she and her husband come from families of 10 to 11 people and sharing is the way they were raised. Now, though they rely on the Yurok Tribe's nutrition assistance program, they'll feed whoever comes off the river or highway.
Sometimes this means making do with what they have — throwing everything in a pot and adding seasoning to make it spicy, Lunsford said.
"My mom and dad always fed a bunch of kids," she said. "They fed the neighbor kids too when they came over. That's just what we learned."
Bartering and sharing was a way of life for Hop Norris too. Though he and his wife Brigette live in Yurok housing in Crescent City, they get much of their food from the Klamath River. They also gather berries and acorns from the forest and seaweed and mussels from the beaches.
When he was a kid, Norris said, his family had first rights to their fishing hole. Once they had what they needed, they'd give others a turn, he said. Sometimes they would barter with someone else who was able to take an elk and has more meat than he can use, Norris said.
Now, Hop and Brigette Norris have made their home a safe place for children and adults. Anyone who is hungry or needs a place to sleep has a place at their house, they say. When Hop fishes, he shares his catch with his neighbors, though due to diminished salmon runs that has been difficult lately.
"Pretty much everybody in this complex eats," Hop Norris said. "We got these elders down here and the single mom. They've got no way to go and get fish for themselves. That's what real fishermen do. We go and we fish for the people and to maintain the balance of our deal with the river."
###
Jessica Cejnar reported this story as part of her University of Southern California Annenberg Center for Health Journalism 2019 California Fellowship. The Center's interim engagement editor, Danielle Fox, contributed engagement support to this article.
Do you have questions about what you just read or a personal story about this issue? Share your feedback here and reporter Jessica Cejnar will get back to you.
[This article was originally published by Wild Rivers Outpost.]