U.S.-born children struggle after parents are deported
Image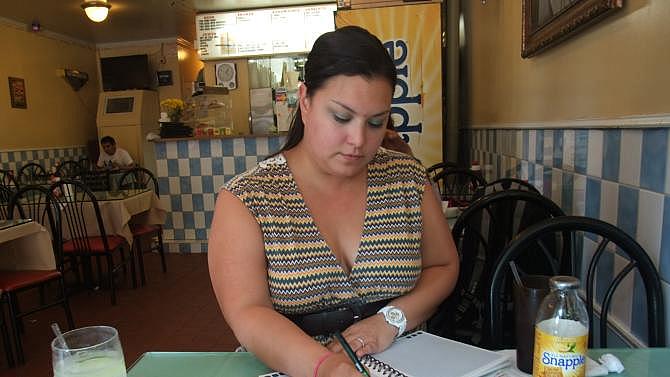 (Anthony Advincula/New America Media)
Published on
February 18, 2014
Myrna Orozco will never forget the phone call she got from her cousin in October 2011.
Immigration officials had arrested her father and taken him to a detention center in Kansas City, where the family was living at the time.
"I was in shock," she said. "I immediately thought about my mother and my younger siblings, and what was going to happen to all of us."
What made it even more frightening for Orozco was her own immigration status. She was the only undocumented child among four siblings. Now 23, Orozco says she has never felt as scared and helpless as when she heard the bad news.
Juan – the name the family asked to be used out of fear of further legal trouble – had been deported previously to his native Mexico, but he reentered the United States without permission. When he was arrested again in 2011, he was charged with the federal crime of illegal reentry. Juan has been serving a five-year imprisonment and will most likely be deported after completing his sentence.
Image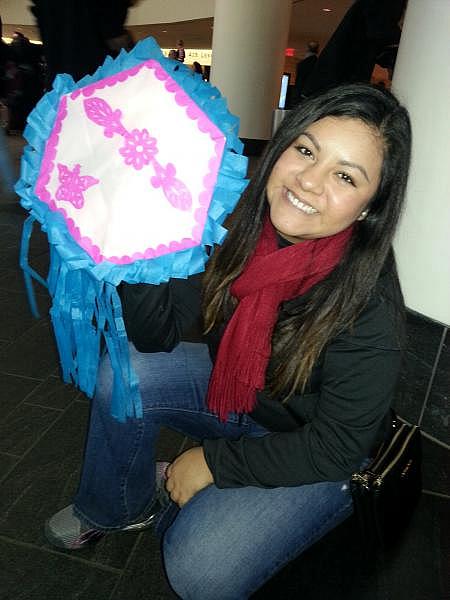 Her father's detention had a ripple effect throughout the family. Anna, the youngest daughter, was 15 at the time. She began to behave badly, alternately acting withdrawn or clamoring for attention. Anna dropped out of school, Orozco says, and ran into legal trouble on different occasions, getting caught driving a car without a license, stealing her teacher's cell phone, and trying to break into someone's house. 
Last year, police caught Anna with marijuana, and a judge ordered her to be placed in a juvenile facility. Since then, the family has had limited contact with her.
"It's been very hard for all of us," Orozco said. "My mother is going above and beyond to get through these things."
Parental separation and mental health
Researchers who have examined the mental health problems connected to forced family separations find a daunting web of factors at play, including economic conditions, family relationships, trauma, and childhood upbringing. 
"The consequences of separating parents from children can include causing or exacerbating mental health problems such as depressive or anxiety disorders, but it's worth remembering that there can be lots of effects which undermine healthy development and that they do so in an inter-related way," said Dr. Schuyler Henderson, a pediatric and adolescent psychiatrist at NYU Langone Medical Center.
Henderson, who has studied the effects of parental deportation, said that mental health problems present themselves in many ways among children who are left behind.
"Kids respond differently depending upon factors including -- but not limited to -- their age, their resilience, how their other family members react and support them, and whether or not they can maintain contact with the deported parent," he said.
U.S.-born children affected in large numbers
Image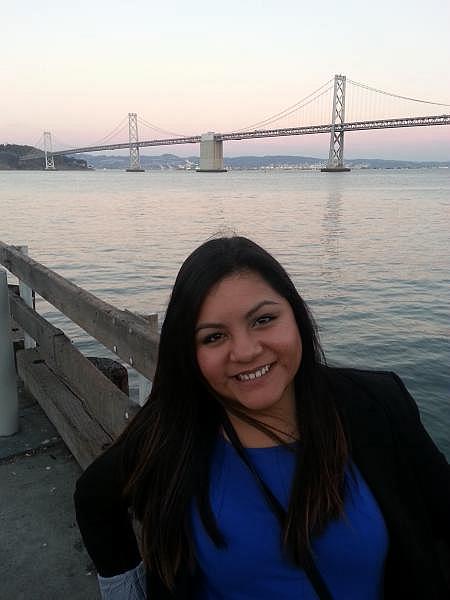 About 369,000 individuals were deported nationwide between October 2012 and September 2013. The federal government does not track how many of those deportees left children behind, but according to a Department of Homeland Security report to Congress (PDF), in the six month period between January and June of 2011, more than 46,000 people with U.S.-born children were deported from the United States, or about 7,600 every month.
In December of 2012, the Applied Research Center, which focuses on immigration policies, asked the U.S. Immigration and Customs Enforcement (ICE) agency for records of all immigrants removed from the U.S. and leaving behind a U.S.-born child. Those records show that more than 200,000 deportees reported leaving behind U.S.-born children between July 2010 and December 2012, a rate of about 6,600 monthly.
"We don't know how many kids whose parents are deported will suffer from a serious mental or emotional disorder as a consequence," NYU's Henderson said. "But we do know that all the children suffer, and that deportation makes their lives, their education and development harder."
Flashbacks and depression
Jessica Ordeñana Papa was a 15-year-old junior high school student when her mother was taken away from her.
In 1998, DEA officers apprehended her mother, Ligia Elena Ordeñana, in front of her and her younger brother, Omar, while they were walking together one early morning near their apartment outside Fort Lauderdale, Fla.
"It was our first day of school," Papa recounted, "and our mom was going to drive us."
Then, suddenly, Papa remembers that several agents appeared, handcuffed their mother, and put her in a car. Horrified, she and Omar could do nothing but cry as the car drove away from them. They and their older sister all were born in the U.S.
"I was completely numb, and I didn't quite understand what was going on," she said. "It happened so fast that I just stood there in shock. I thought it was a mistake."
Over the years, ICE has issued several guidelines giving its agents leeway (PDF) in handling undocumented immigrants with families. But according to a report (PDF) by Stanford Law School and Center for Justice and International Law, immigration officers fail to exercise prosecutorial discretion in a manner that protects the right to family and the best interests of children.
Image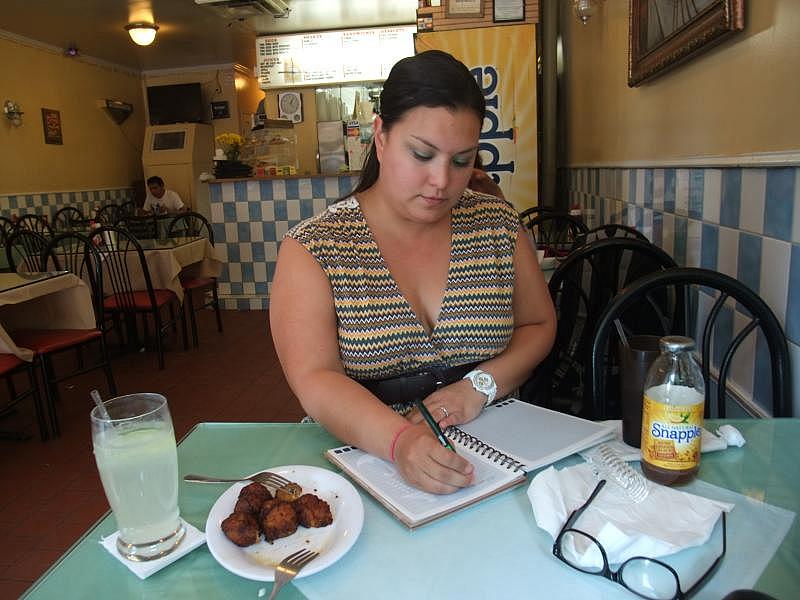 In the case of Papa and her siblings, none of the arresting officers stayed with them, Papa said. Their relatives temporarily took care of them while awaiting resolution of their mother's deportation case.
A legal permanent U.S. resident, Papa's mother was convicted of drug conspiracy and was detained in a Miami prison for four years, before she was deported back to her native Colombia. She has been separated from her children since then.
"We didn't even get a chance to say goodbye to her before she boarded the plane," Papa said.
According to Papa, their father was the one involved in drugs and left them when she was a child. But when DEA agents did further investigations, she said that friends of her parents pointed at her mother.
"At first I was blaming my mom. I don't know why, but I was angry at everyone," she said. "I began having nightmares."
After almost two decades, Papa, now 31 and a mother to a 2-year-old daughter, says that she still experiences flashbacks and recurring nightmares.
"It's been a long time since my mother was deported," she said, "but I'm still having a hard time dealing with it. I'm still depressed."
She finds herself breaking down when a scene in a television show reminds her of that day.
"I could still see my younger brother kicking and cursing at the officers," she said. "[Him] yelling, 'Don't take our mom away from us!' still haunts me."
Seeking help and finding barriers
Papa said she lost her focus in school and started to miss classes. Eventually, she dropped out and moved in with her boyfriend.
"I remember my sister and I were fighting a lot. I think there was too much pressure on us to be on our own," she said. "At 16, I had to work full time and, on my free hours, I had to babysit my nephew so my sister could also go to work."
Then, at 19, Papa got pregnant.
"It was the most difficult thing to go through, emotionally and psychologically," she said. "She [my mother] could not be there for me, and I felt so alone."
Hoping to pick up the pieces of her life, Papa said she sought the help of a therapist, who diagnosed her with depression. But after a few months of therapy, she said, she felt that her concerns were not being addressed.
"I felt like it was not for me," Papa said. "My mom is still far from me, and the therapy would not change that."
Dr. Rosa Maria Martinez, an internal medicine provider in Yakima, Wash., told Human Impact Partners that it could be difficult for children to work through the trauma of an immigration-related separation.
"I have patients who are very anxious and try medication and try different things, counseling, and it's really hard to help them because their personal circumstances you cannot change," Martinez said.
In August 2013, ICE issued guidelines advising its agents to find out whether the immigrant being detained was a primary caregiver and to place detained parents in facilities near their children. The directive also allows the parents to make decisions about who will take care of their children in their absence. This follows President Obama's announcement in 2011 that he wanted ICE to focus on deportations of criminals, although immigration experts have noted that non-criminal detainees continue to be deported in high numbers.
Even though she didn't have health insurance, Orozco, too, visited a therapist.
"I'm not a very open person and I like keeping to myself a lot, which does in turn lead to me feeling depressed," Orozco said.
Her therapist, Orozco said, diagnosed her with post-traumatic stress disorder. But she had to stop seeing the therapist because she could not afford it anymore.
As an undocumented immigrant, Orozco also could not avail herself of most public health services, including counseling.
Road to recovery
To help U.S.-born children in families separated by immigration actions, there needs to be an increasing awareness among health practitioners and researchers that these children have mental health needs that demand attention, said Gifford Smith, acting executive director of National Alliance on Mental Illness (NAMI).
"There are many other factors that play a role in recovery, but having a lot of support for these children could greatly improve their conditions," Gifford said.
That support includes helping the children build close relationships with their parents, despite their separation.
"With the kids I have seen, we have strongly supported helping them stay in touch with their deported parents," Henderson said. "They love their parents, and their parents love them. And they deserve to have each other in their lives."
Orozco, who now lives and works in Washington, D.C., said she tries not to dwell too much on her family's current situation, although she hopes that her sister will be able to recover.
"I try not to focus on it and just press forward," she said. "I'm afraid I won't be able to cope, so I pretend things are OK, and that's the only way to do it.
Papa has sought refuge by joining support groups of people who have lived through similar experiences.
She also started to blog, posting her personal story online and encouraging other U.S-born children to share their own stories.
Papa has not visited her mother in Colombia, but they chat online.
"She loves her granddaughter. They tell stories to each other a lot," Papa said. "But, then again, there are times that I feel it was even better when she was in jail because we could see her, touch her, kiss her, hug her when we wanted to. I miss her so much."